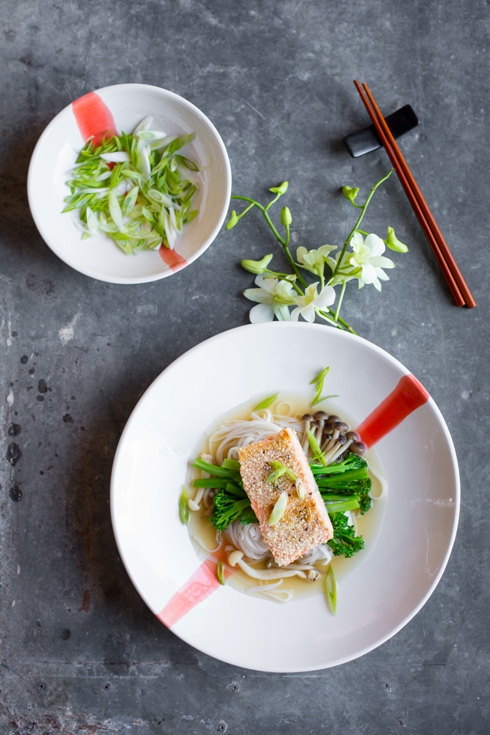 I'm constantly looking for new ways to cook with trout – new flavour combinations, new techniques, fresh approaches. Trout is such a fabulous choice of fish in South Africa as it is sustainably farmed, delicious and very rich in the good Omegas.
I adore simple, traditional Asian flavours: ginger, star anise, cinnamon, lemon grass and soy.  In this light summery recipe, I've combined these flavours in a broth, adding glassy rice noodles and exotic mushrooms topped with blanched bright green tenderstem broccoli and pan fried sesame-crusted trout fillet portions. The result is a delicate meal with beautiful colours and varying textures, perfect for lunch or dinner – slightly more sophisticated than my usual rustic fare.
PS: Most Asian food stores stock rice noodles (or you can use glass noodles), but you should also be able to find it at some of the bigger commercial supermarkets. In Stellenbosch, you'll find it at the Boord SPAR.
Ingredients for Asian broth: (serves 4-6)
4 cups (1 litre) good quality chicken stock
1 cinnamon stick
1 star anise
6-8 slices fresh ginger (you can leave the skin on)
1 piece of lemon grass
juice of 1 small lime
2-3 teaspoons (10-15 ml) good quality soy sauce (I use Kikkoman)
Method:
Place all the ingredients in a saucepan, then bring to the boil and simmer gently for 5 minutes. Remove from the heat, then leave to infuse for 15 minutes. Strain the broth through a sieve (or use some muslin cloth for a less cloudy result), then set aside.
Ingredients for rest of the recipe:
250 g rice noodles
1.5 litres boiling water
a few small shiitake mushrooms or other small exotic mushrooms (optional)
125 g tenderstem broccoli (or other green vegetables that you love)
1-1,2 kg of fresh trout fillets, rinsed under cold water
salt and freshly ground black pepper
1/2 cup of sesame seeds
15 ml canola oil for frying (or vegetable oil)
sliced spring onions (for garnish, optional)
Place the glass noodles in a large mixing bowl, then cover with recently boiled water and leave to stand for about 10-15 minutes (or according to the instructions on the packet. Drain in a colander just before you're reade to plate.
Return the strained broth to a small saucpan on the stove top, then add the mushrooms and bring to a slow simmer. Cook for 1 minute, then remove from the heat and set aside. Taste the broth and add some more salt or soy sauce if necessary.
Blanch the broccoli for 1-2 minutes in a pot with simmering water, lid on. Remove from the heat at once and plunge the broccoli into some iced water to retain the bright green colour. Remove from the iced water and set aside.
Cut the trout fillets into 6 portions. Season well with salt and pepper, then cover the flesh side of the fish in sesame seeds (no need to cover the skin side).
Heat a large non-stick pan with oil until it is very hot, then fry the trout portions skin-side down first for about 2 minutes, then turn them over and fry on the sesame-crusted tops for about 30 seconds to 1 minute. The middle should still be just slightly darker pink than the cooked outside.
To plate: in a suitable bowl, place some noodles, then cover with about 150 ml of broth (or more if you like) and a few mushrooms. Top with the broccoli, then place a portion of cooked trout on top. Garnish with some freshly cut spring onions.
Credits:
This post was especially written for The Pretty Blog by Ilse van der Merwe from The Food Fox.
Recipe, food preparation and text: Ilse van der Merwe.
Photography: Tasha Seccombe.
Styling: Nicola Pretorius & Tasha Seccombe.