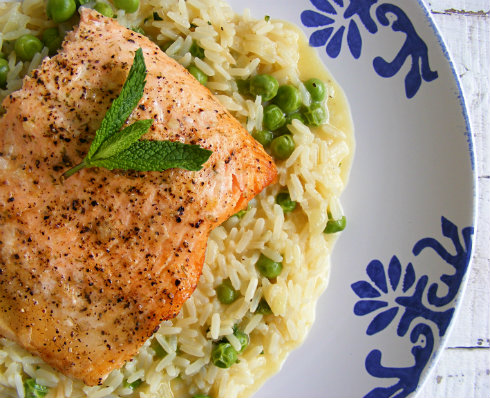 Some ingredients are so brilliantly vibrant and inspiring that you have to let them speak for themselves. This was the case with the organic peas that I got from Genesis Farm, and the trout fillets from Lourensford Trout (SASSI green listed). Neither of them have ever been frozen, nor have they ever seen the inside of a retail shelf. Straight from the farm(s) to my kitchen!
I decided to bake the trout fillet whole in my oven, brushed with melted butter and seasoned lightly with salt, pepper and a pinch of dill. I made a simple risotto using dry apple cider (instead of white wine) and chicken stock. I added the freshly shelled peas and chopped mint close to the end, then rounded it off with loads of grated gruyere cheese and a large knob of butter. It was slightly runny, like hot lava – just perfect.
This is such a comforting yet refreshing meal, perfect for Spring or Summer – lunch or dinner. I love the texture that the peas add, so it is imperative that they are not overcooked. They should still "pop" softly in your mouth!
Ingredients for risotto: (serves 4)
2 T butter
2 T olive oil
1 onion, finely chopped
250 g arborio rice (I used long grain rice because I forgot to buy arborio! It still worked, but arborio is better.)
125 ml dry apple cider (or dry white wine)
800 ml warm chicken stock (or vegetable stock)
250 g fresh peas (or use good quality frozen peas, thawed)
1 T freshly chopped mint
about 60 g gruyere cheese, finely grated (about 1 cup when grated)
2 T butter
Method:
In a medium sized pot over medium heat, add butter and olive oil, then fry onions until soft and translucent (about 5-10 minutes), but not brown.
Add rice, then fry for about 3 minutes until they are slightly toasted.
Add apple cider, then cook until the the liquid ha been absorbed. Now start adding the stock, one ladle at a time, and cook on medium to low heat until the liquid is almost completely absorbed before adding more. The rice should never cook completely dry. Stir every now and then to make sure that the rice doesn't stick to the bottom.
When the rice is almost cooked but still has a slight bite, add the fresh peas and chopped mint, then add the last of the stock and cook for about 3-5 minutes. Remove from heat, then stir in cheese and butter. Cover with a lid and leave for 5 minutes. Remove lid, then stir to combine everything. Season with salt and pepper.
Ingredients for baked trout: (serves 4)
about 600 g rianbow trout fillets (allow roughly 150 g per person)
2 T butter, melted
a pinch of dried dill
salt flakes and freshly ground black pepper
Method for trout:
 Pre-heat oven to 200 C.
Line a baking tray with baking paper, then place the fillet(s) on top, skin side down.
Mix the melted butter with the dill, then brush all over the fillets.
Season with salt and pepper, then bake for 15 minutes or until just done.