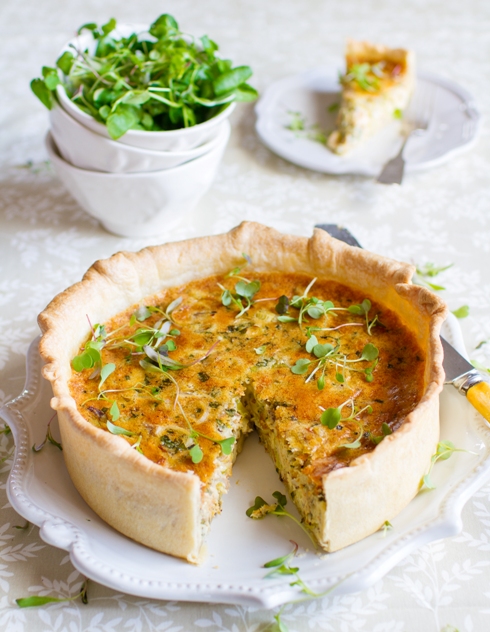 A savoury cheesecake? Yes please!
Spring is the perfect season for light lunches like quiche and salad. This is a chunky savoury tart with all the delicious elements of a proper South African "souttert", mixed with the creaminess of a traditional cheesecake and the convenience of a simple, rustic, eggy quiche. Substitute the snoek with smoked salmon or trout for a delicately coral alternative, or use cooked smoked haddock.
Ingredients:
1 x packet store-bought shortcrust pastry (thawed)
50 g butter
200 g leeks, chopped
1/2 cup of chopped spring onions
4 eggs
250 ml cream
125 ml milk
grated rind and juice of half a lemon
200 g Fairview cream cheese, Black Pepper flavour (or 200-250 g plain cream cheese with 1 t added cracked blackpepper)
2 t Dijon mustard
1 t salt
250 g smoked snoek (flaked and deboned)
handful of flatleaf parsley, chopped
handful of chives, chopped
Method:
Pre-heat the oven to 180 C.
Spray a 23cm springform cake tin with non-stick spray. Roll out the pastry slightly thinner to match the size of the tin, then carefully shape the pastry around the inside of the tin. Prick with a fork all over. Trimming the edges is optional (I like the rustic look of an untrimmed edge!).
Blind-bake the pastry (lined with non-stick baking paper and filled with baking beans or rice) for 10 minutes, then remove paper and beans and bake for a further 5 minutes.
While pastry is baking, heat the butter in a pan and fry the leeks and spring onions over medium heat until soft and translucent.
While the leeks are frying, put the eggs, cream, milk, cream cheese, lemon rind & juice, mustard and salt in a large bowl and beat well with an electric beater. Add the flaked snoek, soft leeks, spring onions, and fresh herbs, and mix well with a spoon to keep the chunky texture. (If you prefer a smoother texture rather than chunky, process in a food processor.)
Remove prebaked pastry from oven, then pour filling into pastry case. Return tin to oven and continue baking for a further 40-45 minutes, or until golden brown on top.
Remove from oven and leave to set at room temperature. Serve warm or at room temperature (not piping hot from the oven) with a crisp, dressed green salad.
Tips: A large rectangular tart can also be made for cutting into smaller teatime portions.
Credits:
This post was especially written for The Pretty Blog by Ilse van der Merwe from The Food Fox.
Food: Ilse van der Merwe.
Photography: Tasha Seccombe.
Styling: Tasha Seccombe & Nicola Pretorius