Lucky Star recently launched their fourth cookbook in a series of cookbooks published by Tamsin Snyman Publishers, Seven Colours with Fish. This book captures a sense of colourful occasion without being too fine or too fussy, and presents a variety of quick and easy dishes that are nutritious for the whole family.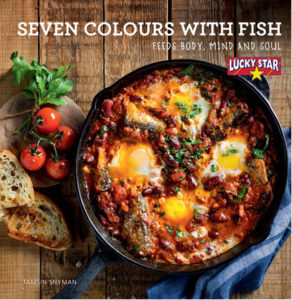 Lucky Star is such an iconic South African brand and their range of canned fish is good enough to eat straight from the tins – from pilchards to middlecut, tuna, mussels and sardines. Canned fish is readily available in most supermarkets throughout the year, making it an accessible source of affordable protein on a daily basis. All Lucky Star pilchards are caught and immediately frozen at sea before being brought back to the factories to be cooked with the seal on – no preservatives or artificial colourants needed. You shouldn't remove the soft bones either, as they're a great source of calcium.
Seven Colours with Fish is available countrywide for only R85.50 countrywide at selected bookstores or directly from www.tamsinsnyman.com.
Here is my take on Tamsin's fabulous cover recipe for pilchard shakshuka, omitting the beans and adding a few more spices. This is such a stunning, flavoursome, bright and bold breakfast (or anytime meal), especially after a late night! And so easy to make.
Ingredients:  serves 3-4 (adapted from Seven Colour with Fish)
1 x 400 g can Lucky Star Pilchards in tomato sauce (or in hot chilli sauce)
15 ml olive oil
1 small onion, peeled & chopped
1 clove garlic, peeled and chopped
5 ml (1 teaspoon) smoked paprika (or regular paprika)
2,5 ml (1/2 teaspoon) ground cumin
2,5 ml (1/2 teaspoon) ground coriander
1 ml (1/4 teaspoon) cinnamon
1 ml (1/4 teaspoon) chilli powder (optional, or more if you like it hot)
1 x 410 g can whole tomatoes, roughly chopped (or use a can chopped tomatoes)
5 ml sugar
salt & pepper to taste
two handfuls baby spinach leaves
3-4 eggs
toasted bread, to serve (optional)
Method:
Separate the pilchard fillets from their tomato sauce and set both aside.
Heat the oil in a standard skillet (23 cm) and fry the onions until golden brown. Add the garlic and fry for another minute, stirring.
Add the spices and stir for a few seconds, then add the canned tomatoes and sugar as well as the reserved tomato sauce, and season generously with salt & pepper. Stir and bring to a simmer.
Add the spinach and stir, then cover with a lid and let it simmer until spinach is wilted (about 2 minutes).
Crack the eggs into the simmering tomato mix (make little wells for them), then cover with a lid and simmer over low heat for about 5-6 minutes until the whites are cooked and the yolks are still runny (or however you prefer your eggs).
Serve hot with some fresh spinach leaves (if you want to) and toasted bread for dipping.
Note: If you are making hot shakshuka, serving it with some fresh coriander leaves work very well.