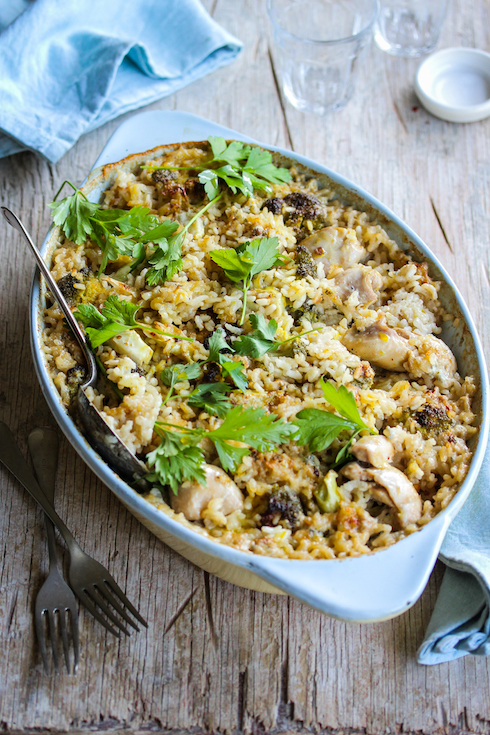 This is the first time I've attempted to make a baked risotto, after being quite skeptical about a non-stir method of making one of my favourite dishes on earth – one that many people feel quite sacred about. And I have to admit: for this little effort, the results are fantastic.

I'd say the texture is more like that of a beautifully "wet" paella, than a classic risotto. It's all in the timing, so remove this dish from the oven when it's still slightly saucy – it will continue to thicken on standing.
For the chicken, I've used a packet of free-range, deboned, skinless chicken drumsticks from Woolworths – a stunning product that is economically priced compared to deboned thighs and so very versatile and convenient.
Also featured in this recipe is the brand new extra virgin cold pressed canola oil from Cape Canola – a stunning new product with the most luminous deep yellow colour that I drizzled over the risotto just before serving. It's also fantastic on salads, dips like hummus or even over pasta. It has a buttery, nutty flavour, and I'm sure it will make killer roast potatoes and dreamy mayonnaise. It is available from Pick 'n Pay in 1 liter glass bottles, as well as 3 liter and 5 liter tins.
Ingredients: (serves 6)
15 ml extra virgin cold pressed canola oil (or extra virgin olive oil)
700-750 g boneless skinless chicken, cut into large chunks
1 small head of broccoli, cut into florets
salt & pepper
2 cups arborio rice (or other risotto rice)
125 g blue cheese, roughly crumbled
125 ml cream
1 liter chicken stock, warm
a handful fresh parsley, roughly chopped, to serve
Method:
Preheat oven to 200 C.
In a large, wide, ovenproof dish (about 3 liter capacity), brush the base with oil, then arrange the chicken & broccoli in a single layer and season generously with salt & pepper.
Pour the uncooked rice all over evenly, then arrange the blue cheese crumbs all over.
Mix the cream and chicken stock, then pour most of it over the arranged ingredients (if your dish won't take all of the liquid, leave some to add later when some of it has been absorbed). Gently press any ingredients down that stick out, to be covered by the liquid.
Bake in the preheated oven for 40 minutes or until the rice is just al dente (still a gentle bite in the centre). If the top becomes too dark, cover it with foil. If it becomes too dry, add more liquid. You should remove it from the oven when it has not absorbed all of the liquid, because it will continue to absorb liquid apon standing.
Let it stand for 5-10 minutes before serving. Serve hot with a drizzle of extra virgin canola oil (or olive oil or melted butter),  scattered with parsley.