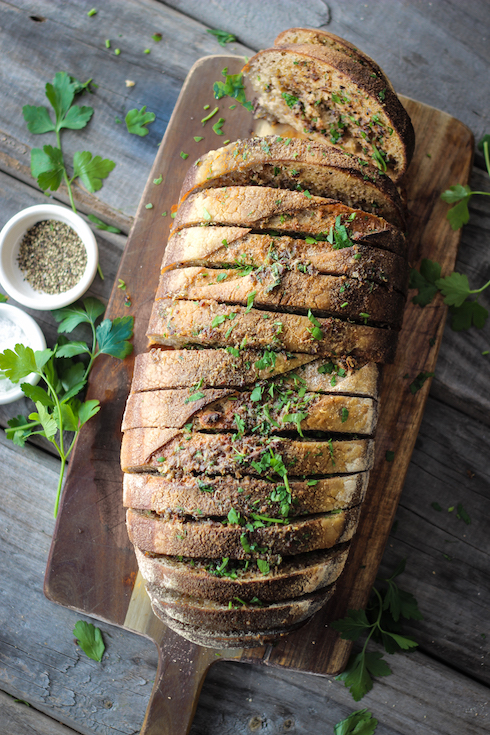 You might not know this, but Montagu Dried Fruit and Nuts recently also added biltong to their repertoire. They asked me to play around with their biltong range and I came up with a few easy recipes that will leave your guests asking for more.
The first one is this moorish buttery garlic bread with fine biltong and fresh herbs. Now look, I'm a huge fan of a garlic bread as part of a braai. This recipe seems very simple, but the results are out of this world! The biltong adds a savoury note that works so beautifully with the garlic butter – it's just pure gold.
Be sure to buy the best loaf of ciabatta or sour dough bread that you can find. A day old loaf works even better. Enjoy!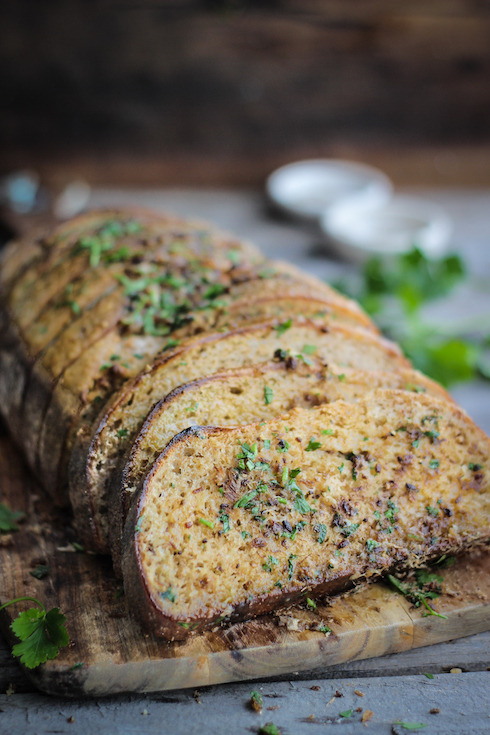 View a short video of how to make this recipe:
Ingredients: (serves 6 as a side dish)
250 g butter, softened
30 ml extra virgin olive oil
salt & pepper
3 garlic cloves, finely grated
a handful Italian (flat leaf) parsley, finely chopped
1/2 cup Montagu powdered beef biltong
1 large good quality ciabatta loaf (or sour dough loaf)
Method:
Place the butter in a medium size mixing bowl. Use a fork to mix it to a soft, spreadable consistency. Add the olive oil and season with salt & pepper. Add the biltong, garlic and parsley, then mix well.
Using a large, sharp serrated knife, slice the bread into slices, but not all the way through (they should still be attached at the bottom). Spread the sliced sides generously with the biltong butter mixture, and the last bit over the top of the loaf.
Bake the bread on a lined baking tray in the oven for 15-20 minutes at 200 C, or cover in foil and braai over medium-hot coals, turning it often, until the butter is melted and the bread is golden brown on the outside.
Serve hot on a wooden board, as a side dish with your braai meat and salad.