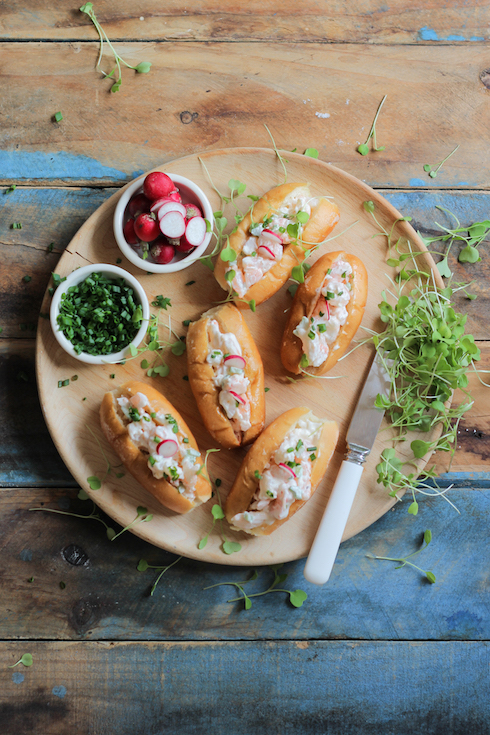 Last week I had the pleasure of making a series of canapés at the launch of Le Creuset's new store in Stellenbosch. The first of these canapés were mini "lobster" rolls and they seemed to be a huge hit. I have to admit, I probably ate about 5 rolls in one sitting after this shoot – they are absolutely delicious with the chunky, sweet, cool prawn mixture and the soft, buttery, warm, toasty rolls that are slightly crunchy on the sides.
While original lobster rolls are obviously made with real lobster from the New England region in the USA, these little ones were made with prawn tails, lightly blanched to keep their beautifully firm, almost-crunchy texture. Note: West Coast rock lobsters are currently on SASSI's red list, and so are Mozambican langoustines, so make sure you choose an option that is sustainable and safe to buy.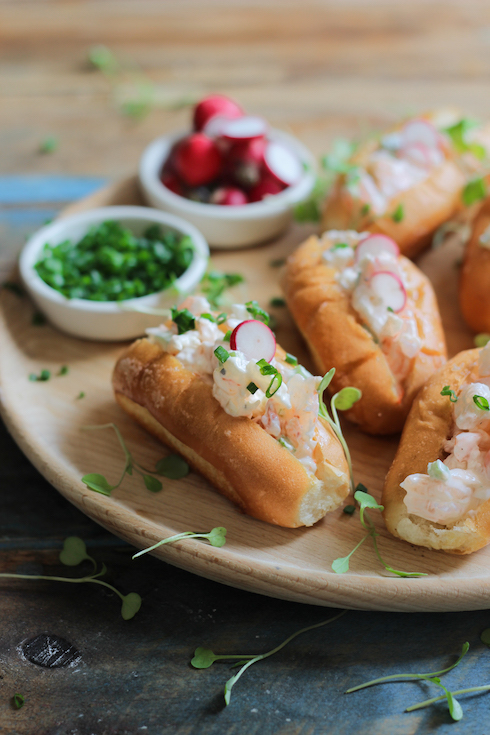 There are a few keys to the perfect "lobster" roll:
1) A regular soft hotdog roll should be slightly trimmed on the sides, then fried (on the cut sides) over low heat in butter for perfectly golden and crunchy sides (this mimics the classic lobster roll bun).
2) The roll should be cut and filled down the middle (not horizontally).
3) The meat should be cut into bold chunks, not shredded.
4) The filling should be just coated in mayonnaise, not swimming in it. A creamy mayonnaise like Hellmann's is preferred.
5) Stick with a classic filling mixture: prawn/lobster meat, mayo, touch of lemon juice, chopped celery, chopped chives, touch of salt & pepper. Extras like sriracha sauce or lettuce are prohibited, according to the puritans.
I've added a few paper thin radish shavings, purely for garnish as I think it picks up the pink in the prawn meat beautifully and it doesn't affect the flavour of the filling. It's totally optional.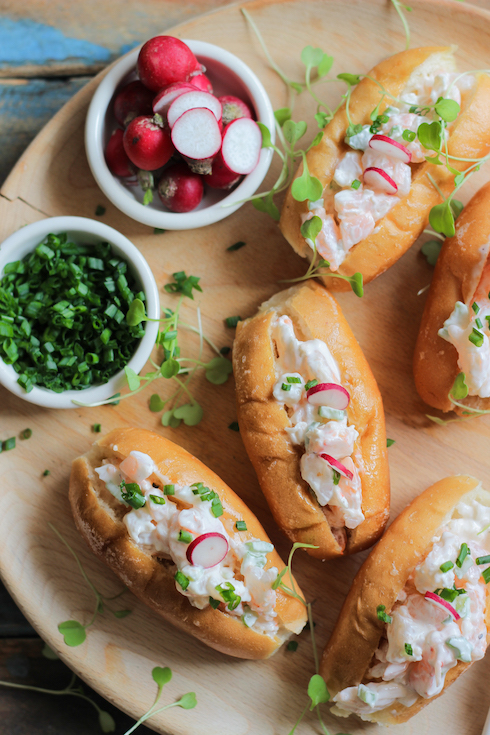 Ingredients: (makes around 36 mini rolls)
800 g good quality frozen prawn tail meat, cleaned and peeled
water for boiling
1/3 of a small jar (about 130 g of a 395 g jar) Hellmann's mayonnaise
10-15 ml fresh lemon juice
1 celery stick, finely chopped
salt & pepper
about 36 cocktail hotdog rolls (about 10 cm long)
a small bunch chives, finely chopped
a few baby radishes, thinly shaved (optional)
Method:
Thaw the prawn meat by running it under cold water to loosen any thicker ice chunks, then leave it to stand at room temperature until ready (about 1-2 hours). Bring a large pot of water (filled with enough water to cover the prawn tails) to the boil, then drop the prawn tails in it and cover with a lid. When it comes to a boil again, cook for approximately 3-5 minutes or until just cooked, then drain immediately. Rinse briefly under cold water to stop it from cooking further, then drain thoroughly and roughly chop into chunks. Place the chopped meat in a large mixing bowl, then add the mayo, lemon juice and season with salt & pepper. Mix well, then taste and adjust seasoning. Cover and refrigerate until ready to use (this can be done a day in advance).
To prep the rolls, trim both sides (not ends) of the buns to a flat surface, then cut along the middle (but not right through). Fry the cut sides over low heat in butter until golden, then fill down the middle with the prawn filling. Sprinkle with chopped chives and garnish with a slice of radish. Serve at once.
Note: The rolls will feel very soft when they come from the pan – they will crisp up on standing, it only takes about a minute or two.
Save
Save