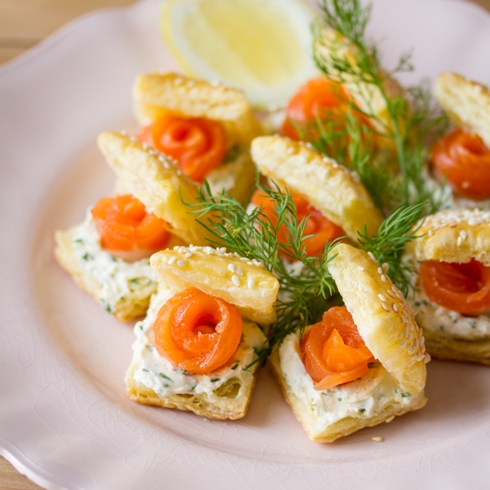 My brother-in-law, Gerhard Compion, is the trout farmer on Lourensford Estate. I recently got involved in the family business by doing some marketing and distribution for his company, Lourensford Trout. If you don't know what rainbow trout is, it is a fresh-water fish with beautifully pink flesh – very much the same taste and look as salmon.
However, rainbow trout that are farmed in raceways (like Gerhard's fish) are SASSI green-listed, which means that they are the sustainable choice. If you have ever eaten rainbow trout, you would know that it is a delicate and truly delicious fish! Gerhard supplies his trout whole or filleted, and also provides a choice of cold smoked or hot smoked options. I am privileged to also be involved on the product development side of things, so I get to try out new innovative ways with the trout all the time – it's a tough job, but someone's gotta do it! 😉
With the warmer summer season on our doorsteps, cocktail parties are certainly just an invite away. These little trout puffs are such a fantastic way to entertain a crowd. They are great served as appetisers before a meal, or as snacks at a cocktail party. They are really easy to make, but they look like professional little canapés made by a pro (or at least I think so!) – they've got some "wow factor", for sure! Bites of delicate cold-smoked trout and herbed cream cheese on pillows of light-as-air puff pastry.
Ingredients: (makes about 36)

1 sheet store-bought puff pastry, thawed
1 egg, slightly beaten
sesame seeds, for sprinkling
230 g plain cream cheese, at room temperature
1 teaspoon (5 ml) dried dill (or 15 ml chopped fresh dill)
3 tablespoon (45 ml) fresh chives, finely chopped
1 teaspoon fine horseradish pulp
15 ml lemon juice
Method:
Pre-heat oven to 220 Celsius. Lightly grease or line 2 baking trays.
Unroll puff pastry, then cut into squares of about 4 cm long. Place them on the baking trays, leaving a little space between each square.
Brush squares lightly with egg, then sprinkle with sesame seeds. Bake for 8 minutes or until lightly golden brown and crisp. Remove from oven and leave to cool, then carefully cut them open horizontally.
In a mixing bowl, mix cream cheese, dill, chives, horseradish and lemon juice. Add more lemon juice if the mixture is too thick. Spread about 1 teaspoon of the mixture on the bases of the squares, then top with a rolled-up sliver of smoked trout.
Replace the pastry "lids" at a slight angle. Serve on a platter.
(Recipe adapted from "Picnic Hamper: The Al Fresco Recipes You Must Have" by Murdoch Books.)