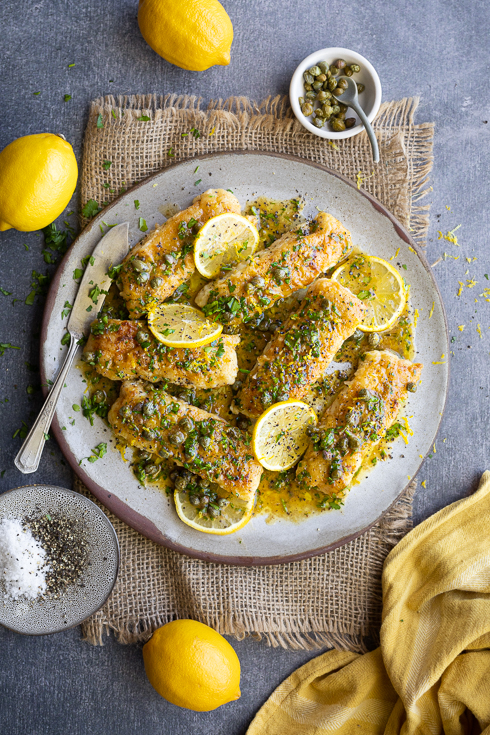 This punchy, easy, big flavour recipe is the third in a four-part series that I've created in collaboration with LemonGold. It's based on the superb Italian classic, fish "piccata" – a one-pan fish dish that is lip-smackingly delicious and so very easy to make for an anyday dinner or weekend lunch.
If you don't have access to fresh hake, a packet of quality medallions or fillets will work perfectly – it's what I've used as well. Thaw before cooking, then pat dry, dust in flour and cook as instructed below. If you need some serving suggestion inspiration, take a look at my lemony labneh and roasted aubergine salad – both would make wonderful companions for this recipe.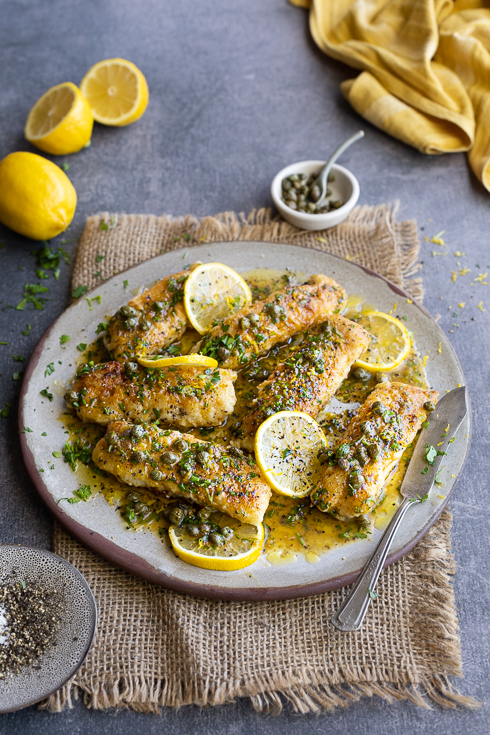 Ingredients: (serves 4)
about 450 g hake medallions/fillets, boneless (fully thawed if frozen)
1/3 cup cake flour
30 ml (2 tablespoons) olive oil
30 ml (2 tablespoons) butter
salt & pepper, to taste
For the sauce:
30 ml (2 tablespoons) baby capers
60 ml/g (1/4 cup) butter
juice and finely grated rind of 2 LemonGolds
a handful Italian parsley, finely chopped
Method:
Use kitchen paper to pat the fish portions dry. In a large non-stick pan over medium heat, heat the oil and butter, then dust each fish portion in flour and place in the pan. Fry on both sides until just cooked and golden (about 2-3 minutes a side), seasoning with salt & pepper as you go. Remove from the pan and set aside.
In the same pan while still warm, add the capers, frying for a few seconds, then add the butter, lemon juice and rind, stirring to mix. When the butter has melted and the sauce is bubbling, remove from the heat, then add the chopped parsley and stir through. Plate the cooked fish, then spoon the warm sauce over each portion and serve immediately.