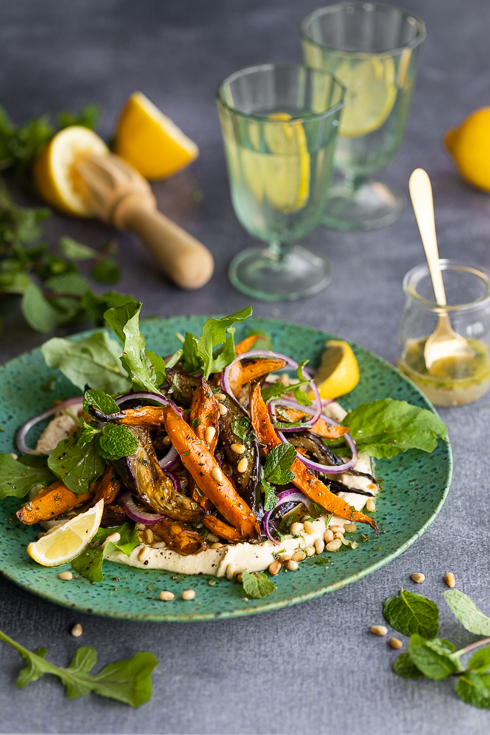 This hearty vegetarian salad is the second recipe in a series of four that I've created with LemonGold, #WhenLifeGivesYouLemons. It is a wonderful combination of umami-rich roasted aubergine and earthy sweet potato with a zesty lemon, mint and garlic dressing, served with fresh rocket leaves on a bed of hummus and/or labneh, topped with slivers of red onion and toasted pine nuts. I can eat this every day of the week for lunch or dinner, but it is also such a stunning salad to serve as part of a bigger festive spread with fish or chicken or a scrumptious lamb roast.
Cooking can bring so much joy into our lives, especially if it is simple and stress-free with big flavour results. This is one of those recipes – so very easy to make, but really packing a punch in terms of flavour and the comfort that it brings. LemonGolds are very juicy seedless lemons, which make them a joy to cook with. You'll only need one LemonGold to make this zippy, minty dressing. Along with the extra virgin olive oil it gets absorbed into the cooked vegetables, contrasting with the creamy hummus, crunchy pine nuts and peppery rocket leaves – an ode to my adoration for Yotam Ottolenghi's style of serving roasted salads on a bed of hummus or yoghurt.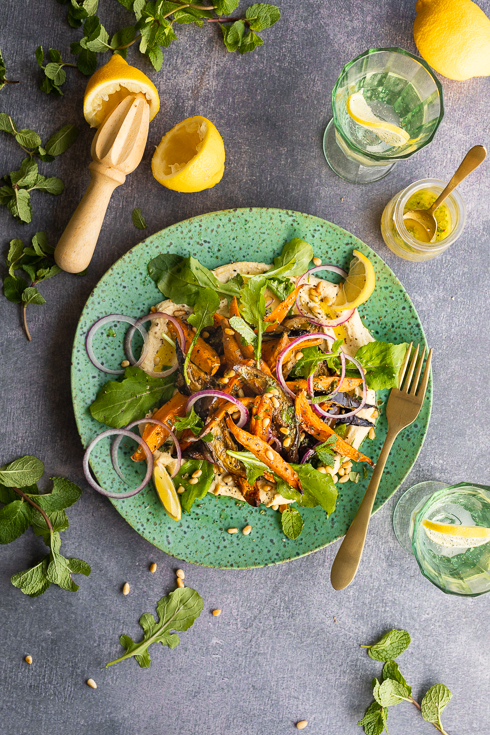 Ingredients: (serves 4 as a side dish or 2 as a main meal)
about 8-10 small sweet potatoes (or 2 large), washed and sliced into wedges
a few tablespoons extra virgin olive oil
salt & pepper, to taste
1 large aubergine, sliced into fingers
for the dressing:

3 tablespoons LemonGold juice
3 tablespoons extra virgin olive oil
1 small garlic clove, finely grated
a handful mint leaves, finely chopped (plus a few extra for serving)
salt & pepper, to taste

3/4 cup store-bought hummus (or labneh, or yoghurt, or a combination)
a small bunch fresh rocket leaves
1/2 small red onion, finely sliced
2 tablespoons pine nuts, toasted
Method:
Preheat your oven to 220 C. Line a large baking tray with non-stick baking paper. Place the sliced sweet potatoes in a bowl, drizzle lightly with olive oil and sprinkle with salt, then toss/stir to coat all over and tip the wedges into the baking tray, evening them out in a single layer. Repeat with the aubergine fingers – olive oil, salt, toss/stir, into the tray. Roast for 30-35 minutes until golden and fully cooked, then remove from the oven and tip back into the mixing bowl.
While the vegetables are roasting, make the dressing: in a medium jar, add the lemon juice, olive oil, garlic and mint, then season generously with salt & pepper and give it a good shake. Pour all over the roasted vegetables (in the bowl) and leave to cool until ready to plate.
To assemble: On a large plate or salad platter, swirl a thin layer of hummus/labneh/yoghurt (or combo) and top with some rocket leaves. Now arrange the dressed roasted vegetables on top, adding more rocket leaves, fresh mint leaves, slivers of red onion and toasted pine nuts. Spoon the remaining dressing over the salad and serve immediately.
Note: This salad is best served slightly warm or at room temperature, assembled right before serving. The vegetables can be roasted and marinated in the dressing ahead of time.
(This post was created in proud collaboration with LemonGold SA.)