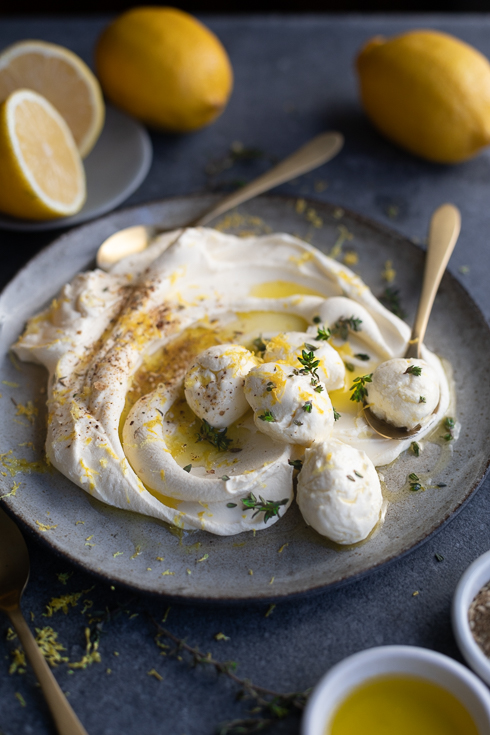 Labneh is a luxuriously soft, creamy, yoghurt cheese that originated in the Middle East. If you haven't tasted it yet, it is absolutely delicious (similar to a soft, tangy, plain cream cheese or a mild soft goats cheese) and very easy to make at home. You can either serve it as a spread in a bowl, or shape small balls that are dropped in extra virgin olive oil – alongside freshly toasted bread it is a simple yet royal feast.
This recipe is the first in a series of four (#WhenLifeGivesYouLemons) that I created for LemonGold, a stunning seedless lemon varietal that is extra juicy and wonderful to cook with. The recipes form a lemon-themed menu that is Mediterranean-inspired, simple to make and absolutely packed with flavour. Do follow the cooking videos along on Instagram and Youtube – I've had so much fun in the kitchen creating these recipes and I hope you will have too!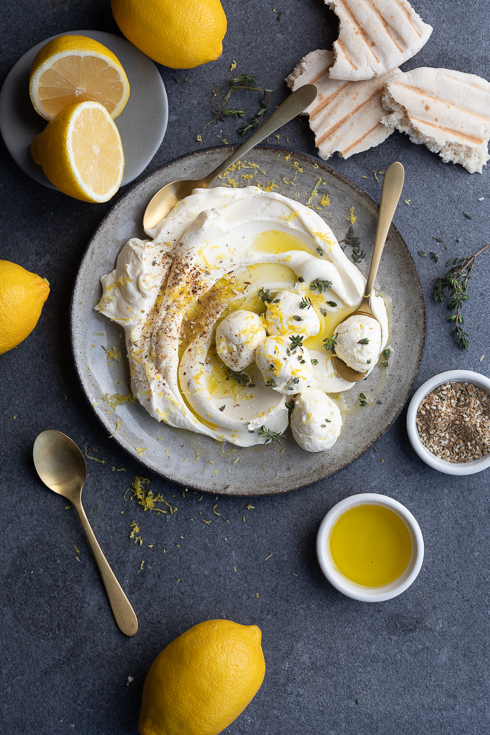 Notes: Adding the lemon juice to the yoghurt after straining, results in a softer spreadable cheese with maximum lemon flavour. If you're looking for a firmer result, add the lemon juice to the yoghurt before straining, and strain the yoghurt for up to 2 days before serving.
Ingredients: (makes about 2 cups, depending on the consistency of the yoghurt that you choose)
1 liter (4 cups) natural/plain full cream yoghurt
2,5-5 ml (1/2-1 teaspoon) salt
juice of half a LemonGold
extra virgin olive oil, for serving
za'atar spice, for serving (optional)
rind of half a LemonGold, finely grated
fresh thyme leaves, for serving
freshly toasted bread (pita/baguette/ciabatta/sourdough), for serving
In a mixing bowl, add the yoghurt and salt and stir well. Line a sieve with a thin cotton cloth (at least 40 x 40 cm big) or cheese cloth and place it over another bowl, then pour the yoghurt mixture into the lined sieve and close it with a rubber band or a piece of string. Refrigerate overnight, or for up to 24-48 hours (depending on how thick you want your labneh – a thicker result will mean a smaller yield). Scrape the labneh into a serving plate, swirl it into a circle using the back of a spoon, then top with a sprinkle of za'atar, a grating of lemon rind, a few thyme leaves and a drizzle of extra virgin olive oil. Store covered in the refrigerater for about a week.