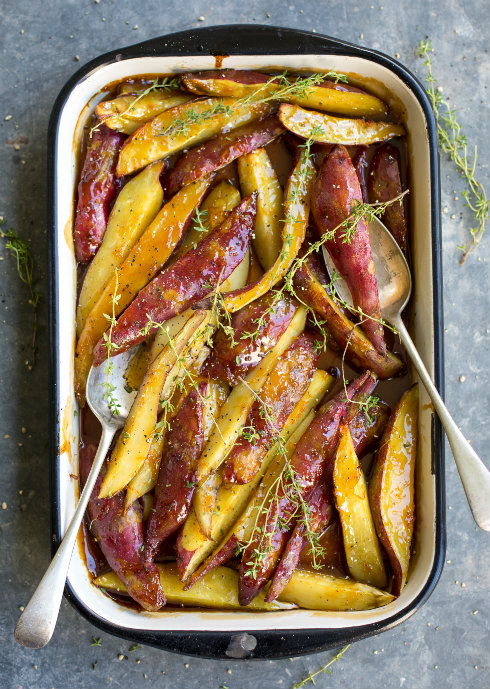 When I was a child, my Mother used to roast whole sweet potatoes in the oven for dinner, skin and all. She didn't do much to them, so they didn't look very inspiring to us. Still, they oozed this sweet natural syrup from the inside when they were cooked – a little sneak-peak into what to expect from the soft and juicy roasted flesh inside.
I thought I'd give my roasted sweet potatoes a little make-over, something to match their dreamy texture and delicately sweet taste. To make things easier, I pre-cook the sliced wedges in water for just a few minutes, then transfer to a roasting tray and cover with a deliciously decadent brown sugar and orange sauce. Then they go back into the oven to become sticky and golden. The result? A beautiful, simple dish that taste as good as it looks!
Serve these as a sweet side dish with your favourite roast meats this Winter.
Ingredients:
1 kg medium size sweet potatoes, washed, cut lengthways into quarters
rind of 1 orange, finely grated
3/4 cup (180 ml) freshly squeezed orange juice (juice from about 2 oranges)
1 cup (250ml) demerara sugar
60g butter
salt & pepper
10ml corn flour / Maizena, dissolved in 30ml cold water
Method:
Pre-heat oven to 200 C.
On the stove-top, bring a large pot of water to the boil. Add the sweet potatoes and cook for 5 minutes, then drain and transfer them to a large deep roasting tray.
In a saucepan, add orange rind, orange juice, demerara sugar and butter. Bring to the boil over medium heat, stirring often. Season well with salt & pepper, then add dissolved corn flour and stir for a few seconds until it thickens. Remove from heat.
Pour the sauce over the sweet potatoes in the roasting tray, making sure that they are covered all over. Bake in the pre-heated oven for 20 minutes or until the sauce starts to turn golden brown at the edges and the sweet potatoes are completely tender. Serve hot.
Credits:
This post was originally written for The Pretty Blog by Ilse van der Merwe from The Food Fox.
Recipe, food preparation and text: Ilse van der Merwe
Photography: Tasha Seccombe
Styling: Nicola Pretorius