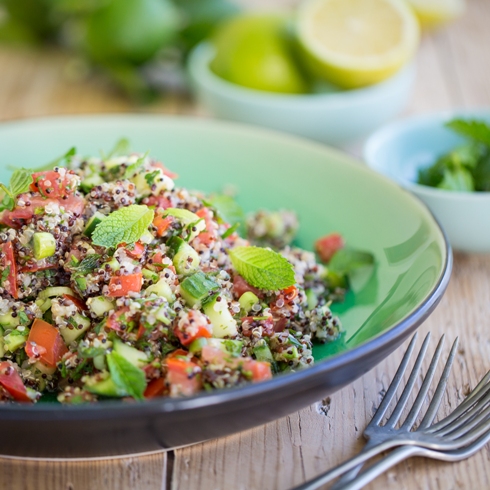 Although quinoa (pronounced "keen-wa") has been around for ages in South America, most people in South Africa are still getting used to this seedy superfood. Being very high in protein and free of gluten, most of us can eat it with a clear conscience. Yes, it looks kind of like a mini bean sprout, but have a mouthful and you'll agree that it tastes like a member of the grain family – filling and really appetising.
I love serving cooked quinoa in a cold salad. It is a fabulous side dish for dinner, and makes the perfect leftover lunch for the next day. Crisp summer flavours of a traditional Middle Eastern tabbouleh (bulgur wheat salad with tomatoes, cucumber, mint, parsley & lemon) are the perfect cornerstones for a great summery salad, so I substituted the bulgur wheat for quinoa and it worked like a charm.
I used tricoloured quinoa, but you can use whatever you can find.
Ingredients: (serves 6 as a side dish)
2 cups (500 ml) water
1/2 teaspoon (2,5 ml) salt
1 cup (250 ml) uncooked quinoa
4 med-large ripe (still firm) tomatoes, seeded & diced
1 small English cucumber (of 1/2 large cucumber), seeded & diced
1/2 cup (125 ml) finely sliced spring onions
1/2 cup (125 ml) finely chopped Italian parsley
1/2 cup (125 ml) finely chopped mint
1 clove garlic, crushed
juice of a small lemon
1/4 cup (60 ml) extra virgin olive oil
salt & pepper
Method:
Place water and salt in a medium size pot on the stove top and bring to the boil. Add quinoa, then turn heat down to a slow simmer, cover, and cook for about 20 minutes until all the water has been absorbed. Remove from heat and leave to cool completely.
In a large mixing bowl, add the chopped tomato, cucumber, spring onions, parsley, mint and garlic.  Add the lemon juice & olive oil, then season with salt and black pepper & mix well.
Now add the cooled quinoa, and mix until well combined. Serve immediately, or chill in the refrigerator until ready to serve.
Credits:
This post was originally written for The Pretty Blog by Ilse van der Merwe from The Food Fox.
Recipe, food preparation and text: Ilse van der Merwe
Photography: Tasha Seccombe
Styling: Nicola Pretorius