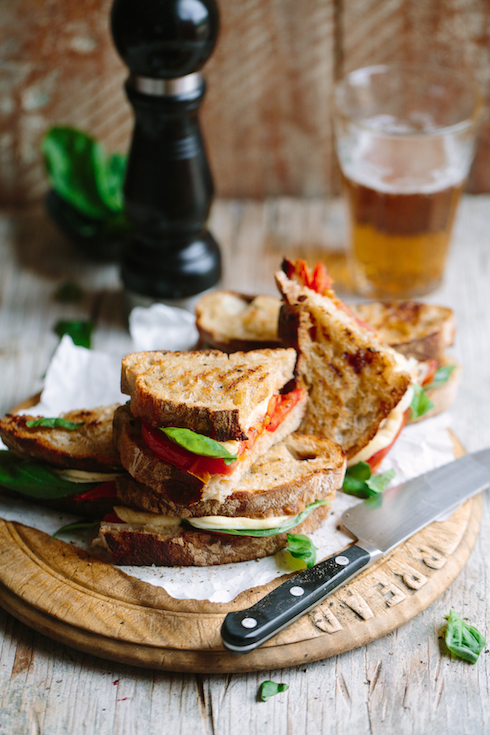 It is officially summer in the southern hemisphere – the season to go alfresco! I have not made braaibroodjies in a while, although I'm such a fan. For those who don't live in SA, a "braaibroodjie" is a tomato and cheese sandwich that is grilled over hot coals as part of a festive barbecue.
So, the classic South African braaibroodjie that I grew up with in Stellenbosch looks like this: two slices of store-bought soft white/brown bread, butter, chutney, cheddar cheese (grated for an even melt), thinly sliced onion, sliced tomato, salt & pepper – some might not do chutney, some might not do onion, some might add mayo, some might butter their broodjies on the outside, there are so many variations. My folks even used to do some sweet braaibroodjies on the side when we were kids, which consisted of buttered bread with cheddar and apricot jam. Those were freaking delicious too.
This time I want to bring some Italian flair into the equation, but keep a few South African essentials. So this is what my Afritalian braaibroodjie looks like: two slices of good quality wood fired ciabatta, butter, chutney, sliced fior di latte, thinly sliced onion, sliced tomato, salt & pepper and fresh basil leaves. It's almost like a pizza Margherita and a braaibroodjie in one – the best of both worlds, in my opinion.
Here's to some fresh fireside ideas for summer! I'd love to hear how you'll be doing your braaibroodjies this festive season. Give me a shout in the comments below.
Note: Some people prefer buttering their bread on the outside, some only on the inside, some on both sides. I only butter on the inside. Do whatever you like.
Ingredients: (makes 1 sandwich, adjust quantities accordingly for more)
two slices good quality ciabatta (Italian-style slipper loaf)
butter, for spreading
about 5-10 ml fruit chutney
two slices of fior di latte (fresh milky mozzarella)
two slices of ripe tomato
a few thin slices of onion
salt & pepper
2-3 fresh basil leaves
Method:
Assemble the braaibroodjies by buttering your sliced bread (see note above), then spread evenly with chutney on the inside of one of the slices. Arrange sliced fior di latte, tomato & onion in layers, then season with salt & pepper and add basil. Top with the other slice, then braai on a grid (preferably closed hinge) over medium-cool coals, turning often, until golden brown on both sides and gooey on the inside. It is important that the tomato must have enough time to warm up and the cheese must be melted completely. Remove from the heat and serve at once.
More notes: Choose a ciabatta that is not too "holey" in texture, otherwise you might lose your filling in the process. The tomato will continue to soften the bread on standing as it releases liquid. This slight sogginess is part of the beauty of the braaibroodjie. Also, if you prefer to enjoy your basil leaves uncooked, add them right at the end just before serving. Enjoy!