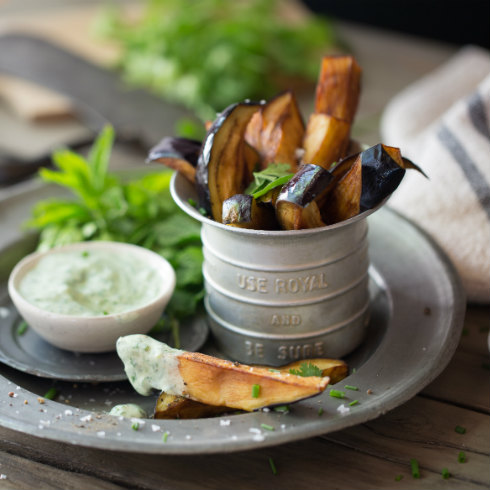 One of the best ways to spend a lazy afternoon/evening in Stellenbosch, is to sit on the stoep at Helena's restaurant at Coopmanhuijs in Church Street. Here you can watch people walk by in the most beautiful part of town, and feel the buzz of Stellenbosch's nightlife coming alive at dusk.
When we dine at Helena's, we always start our meal with their mezze platter. It's a selection of delicious Mediterranean-style snacks and spreads, perfect for two people to share. One of the best snacks on this platter is their deep-fried aubergine. It is served at room temperature, and just melts in your mouth.
This is my humble attempt at recreating the delicious aubergines fingers from Helena's that I love so much. I dusted them in paprika flour, then deep-fried them in canola oil. To lift the flavours, I made a bright and fresh herbed yoghurt for dipping – absolutely delicious.
Ingredients: (serves 4 as a snack)
1/2 cup of flour
2 teaspoons (10 ml) paprika or smoked paprika
1/2 teaspoon salt & pepper
1 large aubergine, cut into 1 cm thick fingers/chips
about 750 ml canola oil for deep-frying
1 cup double cream yoghurt (or Greek yoghurt)
1 cup mixed herbs (coriander, mint & parsley), finely chopped
Method:
In a shallow wide bowl, mix the flour, paprika, salt & pepper. Dust each aubergine finger thoroughly and tap off excess flour mix, then set aside.
Heat the oil in a medium size pot to roughly 180 C (test one of the fingers – it should take about 2-3 minutes to cook and form a light golden crust). Drop batches of aubergine fingers in the hot oil, then cook for 2-3  minutes until soft and lightly golden. Remove with a slotted spoon and drain on kitchen paper. Serve warm or at room temperature with herbed yoghurt.
For the herbed yoghurt: mix the yoghurt with the chopped herbs and season lightly with salt & pepper.
Credits:
Recipe, text & food preparation: Ilse van der Merwe of The Food Fox.
Photography: Tasha Seccombe
Assistant: Elsebé Cronjé
Venue for shoot: the demo KITCHEN