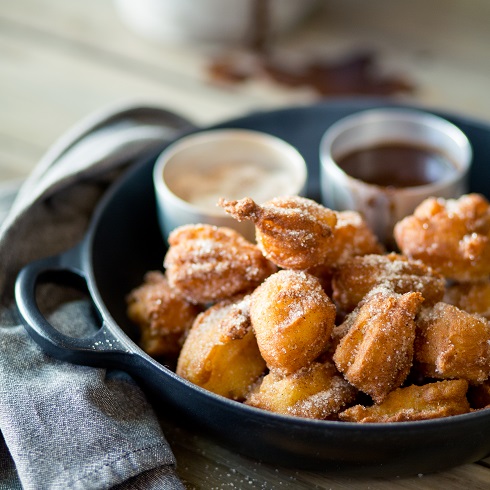 If you love Spanish or Mexican food, then you probably already know churros. These deep-fried crunchy treats dipped in spiced chocolate sauce are the naughtiest but best way to end a Spanish feast.
I've experimented quite a bit with the consistency of the churro dough. With less water, you'll get a result that holds shape better and can be piped in longer beautiful star-shaped fingers (with a star nozzle). They are crunchy with a small chewy center. With a little more water, the result is less beautiful to look at (slightly shapeless balls), but the texture resembles French canelés – very moist and chewy.
For the photoshoot, we made the churros with a little more water to show you the result. All of us preferred the "ugly" churros to the beautiful ones, but the choice is yours. Same fantastic taste, slightly different texture.
Ingredients for churro dough:
2 cups (250 g) cake flour
1 teaspoon (5 ml) baking powder
a pinch of salt
200-350 ml boiling water
50 g melted butter
1 teaspoon (5 ml) vanilla essence / extract
cinnamon sugar for dusting (mix 1/2 cup sugar with 1 teaspoon ground cinnamon)
about 750 ml canola oil for frying
For the chocolate sauce:
250 g dark chocolate
250 ml fresh cream
1/2 teaspoon ground cinnamon
1/4 teaspoon ground nutmeg
1/4 teaspoon ground cloves
Method:
For the sauce: Heat the cream over the stovetop in a small saucepan. Cut the chocolate into smaller chunks, then add it with the spices to the cream as soon as it comes to a boil. Remove from the heat immediately and stir for a while until the chocolate has melted completely and you have a smooth sauce. Set aside.
For the churros: Combine dry ingredients for churro dough in a medium sized bowl. Mix all wet ingredients and add it to the dry, mixing well until all is combined. Add more water if necessary to create the desired consistency – the mixture should be able to just hold shape.
Put the dough in a piping bag fitted with star nozzle, then let it rest for 15 minutes.
Heat the oil in a heavy based pot to about 180 C, then pipe the churro dough into the oil (about 10 cm long). Fry until golden on both sides, turning them with two forks. Remove with a slotted spoon and drain on kitchen paper. Sprinkle with cinnamon sugar, then serve with warm chocolate sauce.
Credits:
Recipe, text & food preparation: Ilse van der Merwe of The Food Fox.
Photography: Tasha Seccombe
Assistant: Elsebé Cronjé
Venue for shoot: the demo KITCHEN
Black buffet casserole: Courtesy of Le Creuset South Africa.