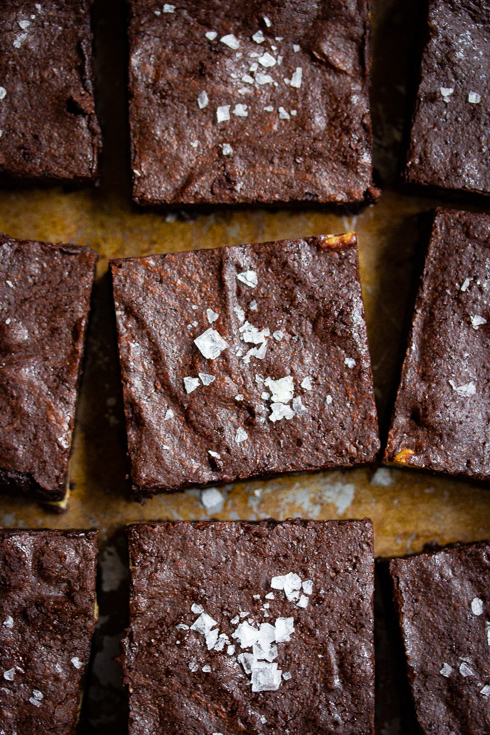 Last year December, I bought Food52's incredible book, Genius Desserts. To say that this book is an inspiration, is an understatement. It is one of the best baking books out there for people with a serious sweet tooth that want to explore decadent, professionally tested, winning recipes. It also specifically resonates with me, because it is written in a language that speaks to my word-obsessed, food-adoring, recipe-focused brain.
As I've declared before: I. LOVE. BROWNIES. I dream about them. I search for them. I inhale them. I have long conversations about them. I sometimes bake them, but I more often test other people's offerings. I've eaten some incredible versions in my life, but I don't have a go-to version recently, to be honest. This post will rectify that, I assure you. So let's start with the facts: brownies should be decadently chocolatey, fudgy and squidgy, not overly dominated by nuts, but with the addition of a soft walnut/pecan crunch here and there for texture. It should be cakey only in the way that it's not completely dense like a no-bake chocolate fudge square. But dense enough to be considered almost underbaked, like a flourless chocolate cake, but less fragile. There's that fine line between a great brownie and a perfect brownie, and I think I've just found the recipe (written by Alice Medrich) that allows you to create simple perfection. As the book states: "Alice knows chocolate. It speaks to her. We're lucky to have her as a translator."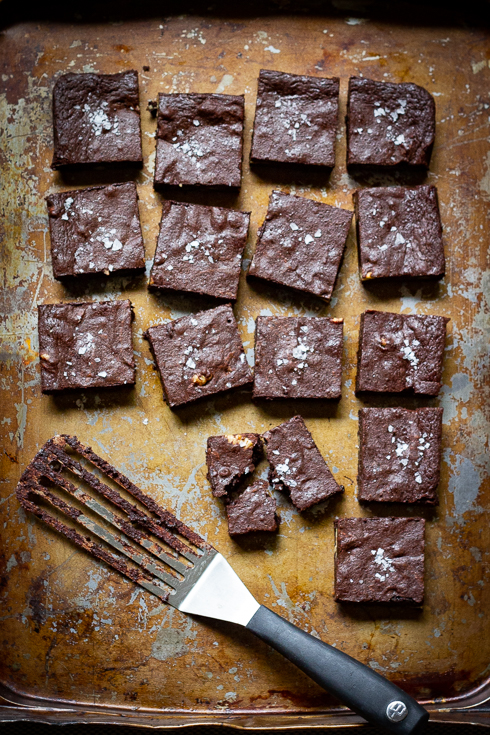 The incredible thing is this: the best brownies are usually made with good quality (expensive) chocolate, but this recipe only uses cocoa powder and a few other simple ingredients – butter, flour, eggs, vanilla, salt, walnuts. The magic is in the way it is mixed and heated, starting over a water bath and later vigorously beaten for an exact "40 strokes", leaving you slightly breathless yet exhilarated with your bowl of rich, thick, oozing, dark treasure. It is baked for a mere 25 minutes at 165 C, resulting in something that you might consider under-baked at first. But when it sets to room temperature, it is just perfect: intensely chocolatey, so moist that it will actually be spreadable if you try, but holds together just barely enough to be cut and held. Lastly, the added salt flakes provide lyrical depth.
Here it is – apart from the slightly finicky water bath, the rest is straight forward wooden spoon stirring. If you're prepared to follow the recipe to a T, you will be richly (ahem) rewarded . For brownie connoisseurs, this recipe is an incredible find, and a must-try.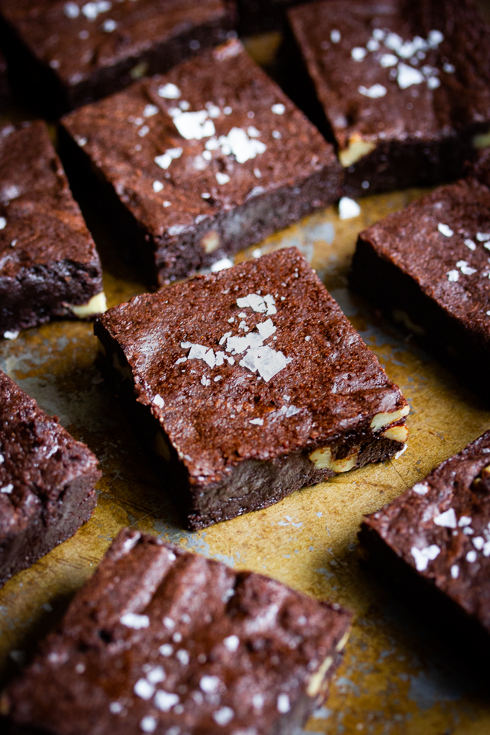 Ingredients: makes 24 square brownies (recipe slightly adapted* from Alice Medrich's Best Cocoa Brownies via Food 52 Genius Desserts by Kristen Miglore)
*Notes: I don't own a square 20 x 20 cm pan, so I made a batch that's 1,5 times the original to fit a more commonly found baking tin size in South Africa, namely 20 x 30 cm. I also used salted butter instead of unsalted, upped the added salt and vanilla ratios slightly and used XL eggs instead of large. I chose to bake with Gideon Milling's stone ground cake wheat flour, which is in my experience the best substitute for American recipes calling for all purpose flour.
230 g salted butter
375 g sugar
125 g cocoa powder
1/2 teaspoon salt
10 ml vanilla extract
3 XL eggs
100 g cake flour (see notes above)
about 100 g walnuts, roughly chopped
salt flakes, for garnish (optional)
Method:
Position a rack in the lower third of the oven and preheat the oven to 165 C. Line the bottom and sides of a 20 x 30 cm rectangular baking pan/tin with non-stick baking paper, leaving an overhang on two opposite sides.
Combine the butter, sugar, cocoa, and salt in a medium heatproof bowl and set the bowl over a pot of barely simmering water (the bowl can touch the water directly, in this case, but should "sit" on the edges of the pot and not on the bottom). Stir with a wooden spoon from time to time until the butter is melted and the mixture is hot enough that you want to remove your finger fairly quickly after dipping it in to test. (It might look gritty here but don't worry, it will smooth out later.) Remove the bowl from the pot and set aside briefly until the mixture is only warm, not hot.
Using a wooden spoon, stir in the vanilla. Add the eggs one at a time, stirring vigorously after each one. When the batter looks thick, shiny, and well blended, add the flour and stir until you cannot see it any longer, then beat vigorously for 40 strokes with the wooden spoon or a rubber spatula. Stir in the nuts. Spread evenly in the lined pan, edging it into the corners.
Bake for 25 minutes or until a toothpick plunged into the center emerges slightly moist with batter. Let cool completely on a rack in the tin.
Lift up the ends of the lined paper, and transfer the brownies to a cutting board. Cut into 24 squares. If your room temperature is very warm, refrigerate the brownies before cutting for a more neat, even edge. Serve at room temperature, optionally sprinkled with salt flakes just before serving (can be stored in a covered container for a few days, without the salt flakes as they will draw water and "melt" into the brownies).