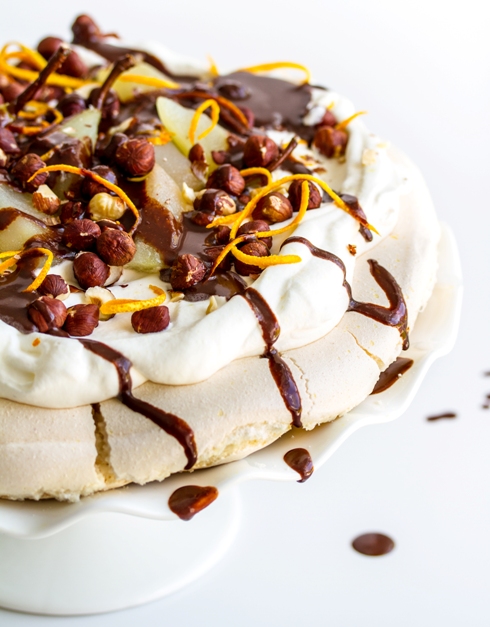 I'm ready to shake off the last of Winter's icy weather with a cross-over dessert: a pavlova with pears, hazelnuts, orange rind and a decadent dark chocolate sauce. This combination hints at some of Winter's favourite food elements, but takes it to a completely new level with a light and fluffy meringue base that is usually associated with summer berries and al fresco dining.
The wonderful thing about this dessert is that you can make it any time of year – all the ingredients are usually handy on your pantry shelf! I've served it at the height of Summer as a Christmas lunch dessert, and also in the middle of Winter as a decadent ending to a hearty lamb potjie dinner. It's a real crowd pleaser and a great alternative to the usual!
Tip: Bake the pavlova base the previous night, just before you go to bed. Then let it cool overnight in the oven without opening the door. Remove the next day and keep in an airtight container until just after your main meal (or cover carefully with a plastic bag). Top with cream and other toppings, then serve  immediately with extra sauce on the side.
Ingredients:
6 x extra large egg whites
500 g castor sugar (extra fine sugar)
3 teaspoons white vinegar or lemon juice
3 teaspoons cornstarch
2 teaspoons vanilla essence (or scraped seeds of a vanilla pod)
250 ml cream, softly whipped
1 can of pears in syrup, sliced into quarters (or poached pears in syrup)
100 g dark chocolate
100 g hazelnuts, toasted in a dry pan and cooled
rind of half an orange, finely grated or scraped in thin strands
Method:

Pre-heat oven to 150 degrees Celsius.
Whisk egg whites in a big, clean bowl (with an electric whisk) until stiff peaks form.
Gradually add castor sugar to egg whites, small amounts at a time, untill fully incorporated and the mixture is stiff and glossy.
Add vinegar, cornstarch and vanilla and whisk until thoroughly mixed.
On a big oven pan lined with baking paper, shape pavlova mixture into a round shape and flatten the top, very much like a cake (draw a circle on your baking paper if necessary). The mixture will rise a bit to the sides, so leave enough space.
Bake in the oven at 150 degrees Celsius for 15 minutes, then turn down heat to 120 degrees Celsius and bake for another hour.
Turn oven off, and leave to cool overnight without opening the oven door.
Remove pavlova from the oven the next morning, and keep in an airtight container until ready to use.
Remove baking paper from bottom of pavlova and carefully put it on a serving dish (it will have a few cracks, but it is supposed to look like that!)
Strain pears from syrup, and reserve 100 ml of syrup. Heat reserved syrup to boiling point, remove from heat, then pour over chocolate (broken into chunks) in another bowl. Leave to melt, then stir until smooth and cooled.
Place pavlova on a serving dish. Cover with freshly whipped cream and arrange pears and hazelnuts on top. Sprinkle with orange rind, then drizzle with some chocolate sauce. Slice and serve immediately, with the rest of the sauce on the side.
Credits:
This post was especially written for The Pretty Blog by Ilse van der Merwe from The Food Fox. Recipe inspired by Jamie Oliver.
Food: Ilse van der Merwe.
Photography: Tasha Seccombe.
Styling: Tasha Seccombe & Nicola Pretorius