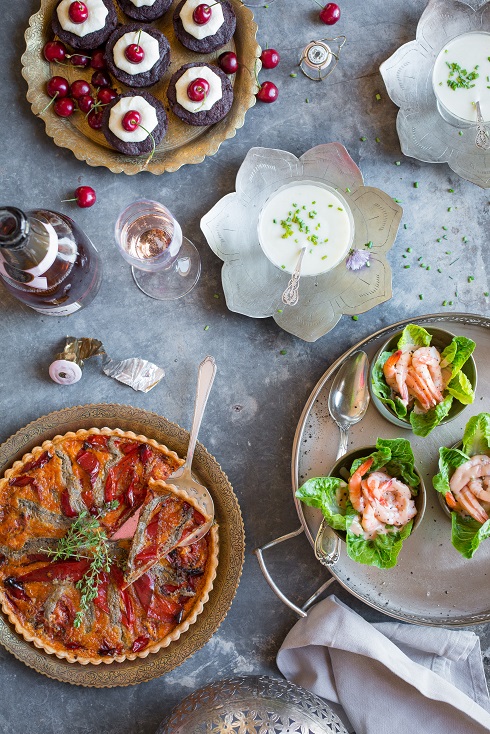 For my last collaboration project with Poetry Stores this festive season, I've chosen some fabulous snacks for a glitzy New Year's eve cocktail party. The recipes all come from The French Affair by Jan Hendrik van der Westhuizen (available from Poetry Stores for R375) – a beautiful hard cover book with amazing photographs and mouth-watering recipes. Jan Hendrik played the part of both recipe writer and photographer, and I have tremendous respect for the amount of work that went into this book! He did an amazing job.
I have chosen a selection of cold cocktail snacks, including vichyssoise (a traditional French cold potato & leek soup), old-fashioned prawn cocktail with Marie Rose sauce, roasted pepper and tomato tart with anchovies, and dark chocolate cupcakes with cream cheese icing. All of these go well with a glass of bubbly, so don't be shy to drink while you snack!
Thank you so much to Rilee Palmer from Poetry Stores for this amazing opportunity to work with your in-store books, homeware and kitchenware. It was an absolute feast of a project, and I look forward to many more of these in 2014.
We have used some of Poetry's beautiful pewter (silver metal) homeware: trays, flower shaped bowls and Moroccan inspired candle holders. They are available in different sizes and are the perfect way to create a festive atmosphere! They also make great gifts.
(Please note: Linen, cutlery and vintage copperware are the photographer's own.)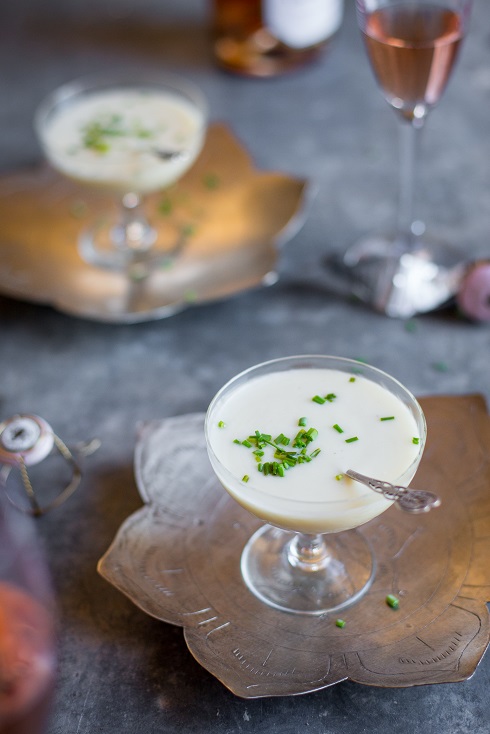 Vichyssoise:
3 cups potatoes, peeled and diced
3 cups chopped leeks (white part only)
4 cups chicken or vegetable stock
salt and freshly ground black pepper
1/2 cup double cream
chopped chives for garnishing
Method:
Simmer the vegetables in the stock for 40-50 minutes, partially covered. Season with salt.
Blend in batches using a blender or food processor until you get a very smooth consistency. Strain through cheesecloth to remove any lumps or pieces (optional).
Add the cream, then season with salt and pepper to taste. Serve hot or cold, garnished with chives.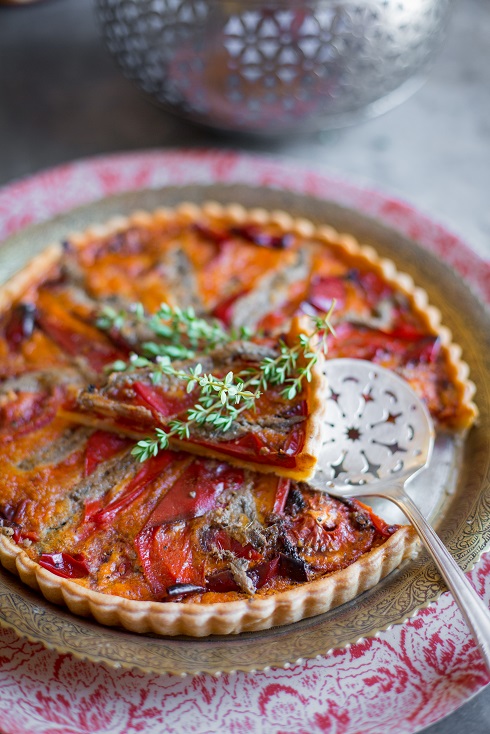 Sweet red pepper, anchovy and tomato tart: (serves 6-8)
For the filling:
350 g ripe red tomatoes
4 medium red peppers
30 ml olive oil
1 clove garlic, minced
salt & pepper
2 large eggs
5 ml smoked paprika (or paprika)
50 g anchovy fillets in oil
For the pastry:
110 g cake flour
a pinch of salt
50 g butter, softened
15 ml finely grated parmesan cheese
5 ml chopped thyme
Method:
 Pre-heat the oven to 180 C. Butter a 23 cm loose bottomed tart tin.
Skin the tomatoes by placing them in a large bowl of simmering water for 2 minutes. Remove from the hot water and cover with cold water. Slip off the skins and cut in halves (or in thick slices if the tomatoes are very big).
Cut the peppers in half and remove the seeds. Slice each pepper into 3 strips and mix with the tomatoes, oil, garlic and some seasoning. Spread out on a baking tray and roast for about 50 minutes. Set aside to cool.
To make the pastry, sift the flour and salt in a large mixing bowl. Start cutting in the butter with a palate knife, then start rubbing it in lightly with your fingers until they mixture resembles breadcrumbs. Add the parmesan and thyme and 1 teaspoon of cold water. Bring the dough together and shape into a ball. Add more water if necessary. Place in the fridge for 30 minutes.
Roll out the pastry on a flat work surface lightly sprinkled with flour. Line the tart pan with the pastry, and prick with a fork to prevent it from rising. Bake at 180 C for 20 minutes or until a light golden colour. Cool slightly.
In a large bowl, whisk the eggs and yolks and paprika along with the oil from the anchovy fillets. Arrange the peppers, tomatoes and anchovy fillets in the tart shell. Increase the oven temperature to 190 C, then pour the egg mixture into the tart shell and bake for 35 minutes, or until firm in the centre. Serve at room temperature.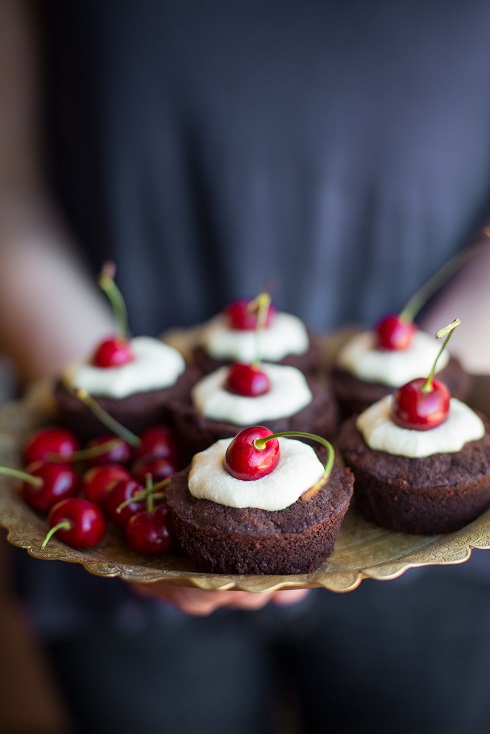 Chocolate and apple sauce cupcakes: (serves 12)
For the cupcake mixture:
3/4 cup (185 ml) cocoa powder
1250 ml cake flour
5 ml baking powder
5 ml salt
250 ml butter
250 ml sugar
2 large eggs
5 ml vanilla extract
1/2 cup apple sauce
250 ml dark chocolate chips
For the frosting:
250 ml cream cheese
60 ml créme fraiche or sour cream
60 ml butter at room temperature
2.5 ml vanilla extract
500 ml icing sugar, sifted
Method:
Pre-heat the oven to 180 C. Line a muffin tin with paper liners.
Combine the cocoa powder, flour, baking powder and salt in a bowl. Set aside.
In a separate bowl, cream the butter and sugar with electric beaters. Add the eggs, one at a time, beating well after each addition.
Add the vanilla, then stir in the  flour mixture and apple sauce alternating between them. Fold in the chocolate chips and mix well. Bake for 12 minutes or until a toothpick inserted comes out relatively clean (the chocolate chips will be melted, so it cannot come out 100% clean). Let it cool completely.
To make the frosting, combine the softened cream cheese, creme fraiche, butter and vanilla and beat until creamy. Slowly add the icing sugar and beat on a medium speed, scraping down the sides of the bowl until smooth and fluffy. Spread or pipe the frosting evenly over the cooled cupcakes and top with berries or chopped nuts.
Credits:All recipes by Jan Hendrik van der Westhuizen, from his book The French Affair (available from Poetry Stores at R375).
Food preparation & text: Ilse van der Merwe of The Food Fox

Photography: Tasha Seccombe

Styling: Ilse van der Merwe & Tasha Seccombe

Homeware: Poetry Stores