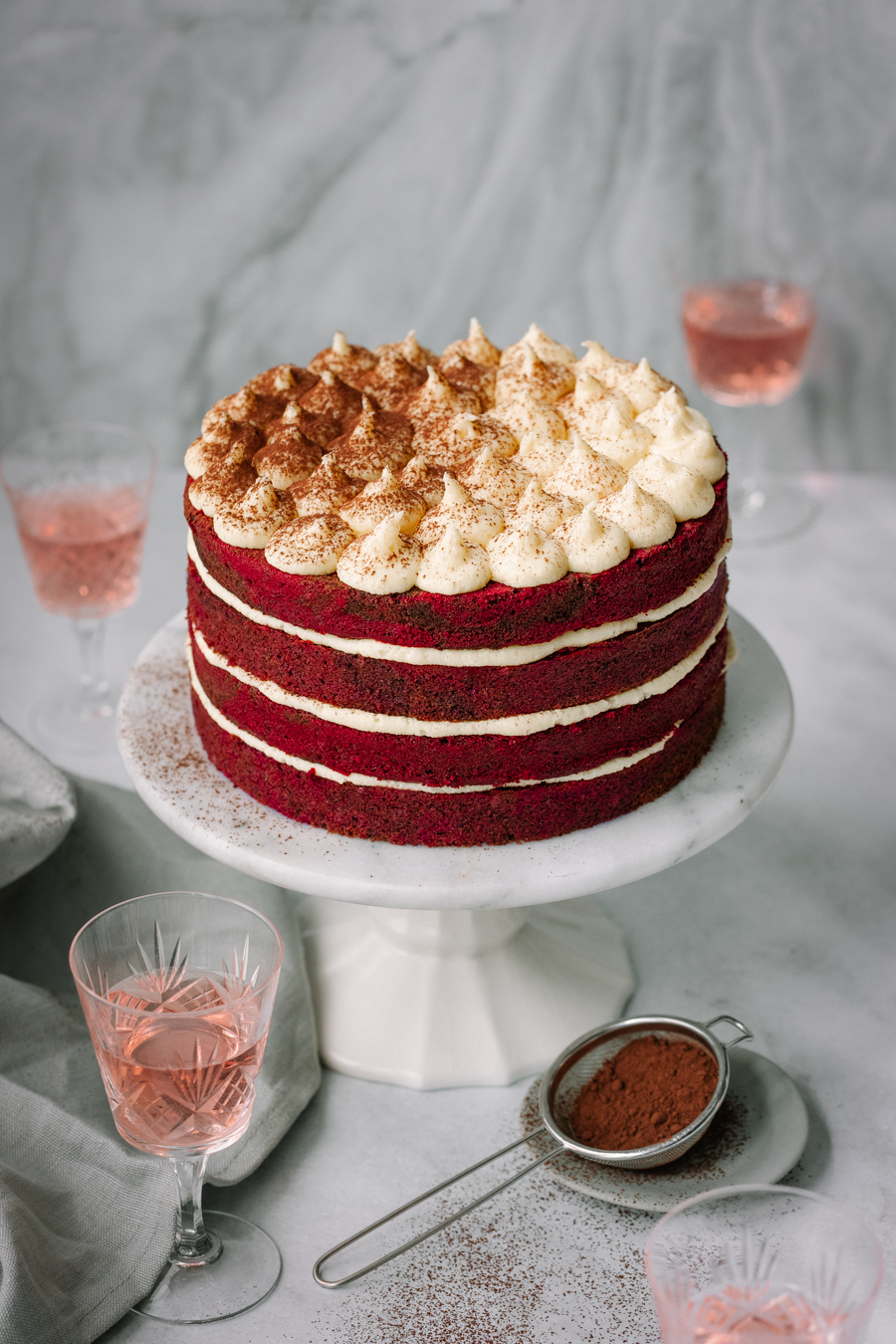 There are few things as lusciously tempting as a beautiful layered red velvet cake with creamy frosting. I was recently asked to revisit this classic cake for Roodeberg's Classic Rosé – tweaking my previously posted 2013 recipe a few times to create my best updated version with a cream cheese/buttercream frosting. This deep crimson cake with its creamy filling seems special enough to serve to royalty, yet it's easy enough to bake for any occasion.
The recipe below makes a medium size cake with two 20 cm layers, but when a special occasion calls, we double it up to make four layers like the photograph. The cake is even better on the second or third day, so feel free to make it ahead. If you intend to keep it longer than 3 days, store it in the fridge instead of on the shelf, but do serve it at room temperature.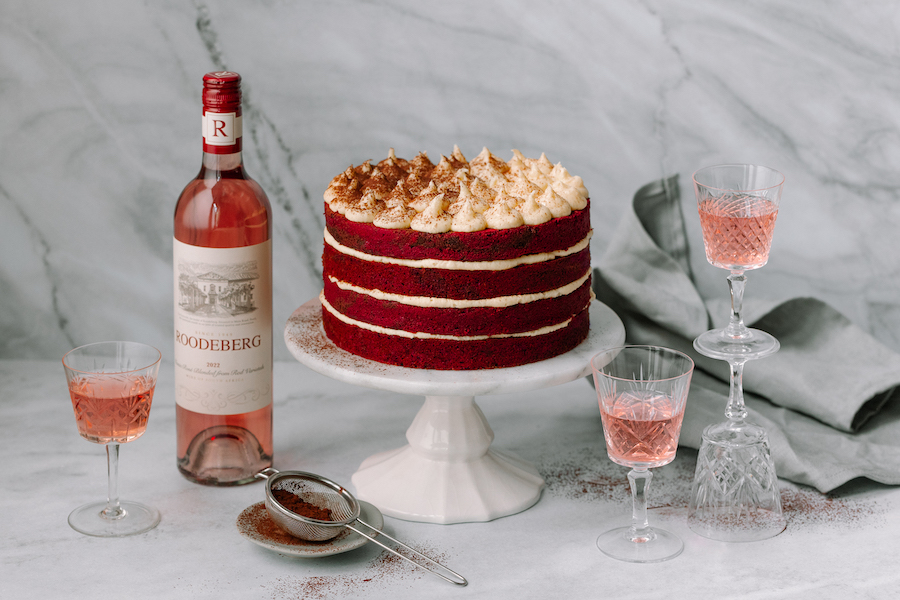 Ingredients: (makes 2 x 20cm layers, recipe can be doubled to make 4 layers)
125 g butter, softened
210 g (250 ml) caster sugar
2 XL eggs
30 ml red food colouring
30 ml cocoa powder, plus a little extra for dusting
250 ml buttermilk
10 ml vanilla extract
2 cups cake flour, sifted
½ t salt
1,5 t baking soda
15 ml red wine vinegar (or brown vinegar)
For the frosting: (enough for two layers)
125 g butter, softened
2 cups (250 g) icing sugar, sifted
5 ml vanilla extract
230-250 g plain cream cheese, at room temperature
Method:
Prepare the cake: Preheat the oven to 180 C. Spray two 20cm cake tins with non-stick spray and line the bottoms with greaseproof baking paper. Add the butter and caster sugar to a large mixing bowl (or stand mixer bowl) and whisk/beat for 2 minutes, scraping the sides. Add the eggs and continue to whisk/beat until light and creamy (about 2 minutes). In a separate cup, stir the food colouring and cocoa powder together to form a smooth paste. In a medium mixing bowl, add the buttermilk and vanilla, then add the cocoa paste and stir until mixed. Add this mixture to the whisked egg mixture, along with the sifted flour and salt, then mix for about 20 seconds or until it is just mixed, scraping the sides. In a separate cup, stir together the baking soda and vinegar (it will froth), then fold it into the cake batter with a spatula until just mixed. Divide the batter into the two prepared tins, smoothing the surfaces, then bake at 180 C for 25 minutes (or until an inserted skewer comes out clean). Remove from the oven, let it cool for 5 minutes, then carefully turn out on wire racks to cool completely, removing the baking paper.
Prepare the frosting: Whisk the butter until light and fluffy, then add the sifted icing sugar. Continue whisking until it comes together (it will seem very dry at first), then add the vanilla and whisk to a smooth creamy frosting. In a separate small mixing bowl, whisk the cream cheese to smooth any lumps and make it very soft, then add the smooth cream cheese to the frosting and mix very briefly – it should just come together (if you mix it too long, it might split).
To frost the cake: Use a long serrated knife to slice off the rounded tops of each layer (you can eat these off-cuts as a baker's treat!) and place the first layer on a cake plate/stand. Spread ⅓-½ of the frosting on the first layer, then place the second layer on top. Transfer the remaining frosting to a piping bag and neatly pipe tufts of frosting all over the top (or just spread it neatly). Dust lightly with cocoa powder. Serve at room temperature.
To store: store in an airtight container on a cool shelf/countertop for up to 3 days, or refrigerate for about 5-6 days.