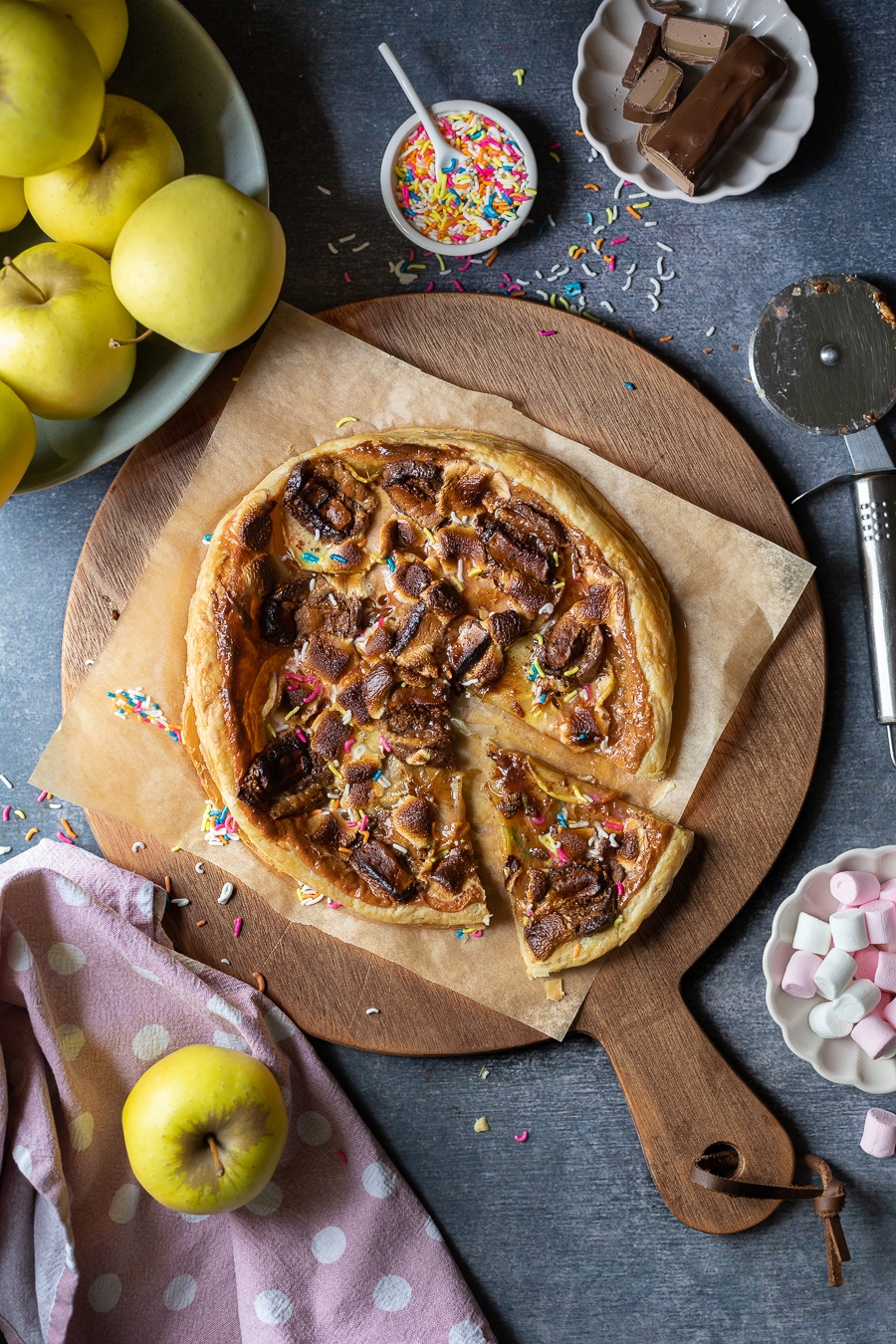 Today is #kidstakeoverthekitchen day! In case you don't know, I have an 11 year old daughter named Valki. She is not really into cooking (yet), but she has a tremendous fondness of all things sweet, and luckily also a really healthy appetite for fresh fruit. Apples have always been among her favourite fruits, so when DutoitAgri asked the two of us to get creative in the kitchen, it was game on. We swopped a few ideas out and then set out to make our first ever dessert pizzas!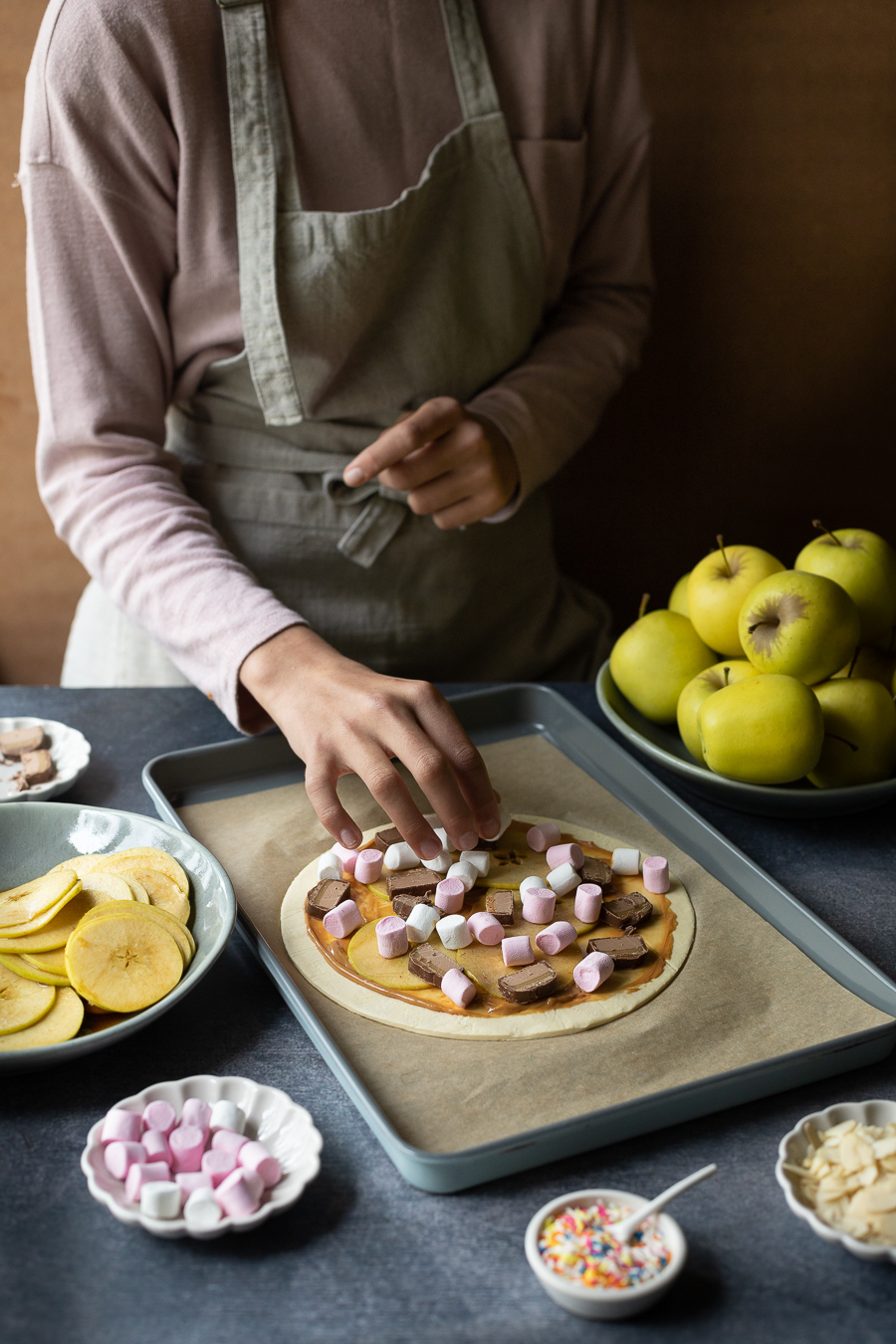 We settled on using puff pastry for the dough, keeping the recipe really low-prep for everyone involved and aiming for a cross-over pizza/tart. A store-bought sheet of puff pastry can easily be cut (with a pizza cutter or knife) into two circles using regular small plates as a guide. Valki was really clear about what she wanted to put on her dessert pizza: caramel dessert topping, thinly sliced apples (we used Dutoit Agri Golden Delicious – they're so versatile and available all year round) that we steeped in brown sugar and some lemon juice, thinly sliced Bar One and mini marshmallows. No one could guess the outcome of this crazy combo! I mean, it totally blew my mind: the chunks of Bar One became crispy (yes, totally crunchy crispy) and the caramel and marshmallow became this wonderful chewy toasty mess. The apples gave the pizza some wonderful almost-meaty moistness too. A surprisingly delicious dessert, well done Valki! I especially loved it when it had time to cool down – even better in texture.
My take on this dessert pizza idea was a little more French inspired, using the same caramel spread (I couldn't find marzipan, but would have preferred it), the steeped sliced apples, and flaked almonds. The result is quite classic and really beautiful considering how little effort it took – I enjoyed it with a scoop of vanilla ice cream after taking the photos. My "pizza" took a few extra minutes to bake (20 compared to 15 for Valki's), because my toppings were a little heavier, but same easy method with low effort and big results.
Note: If your kids are not info puff pastry, use flour tortillas as "pizza bases" – even less effort, less fat and very kid-friendly!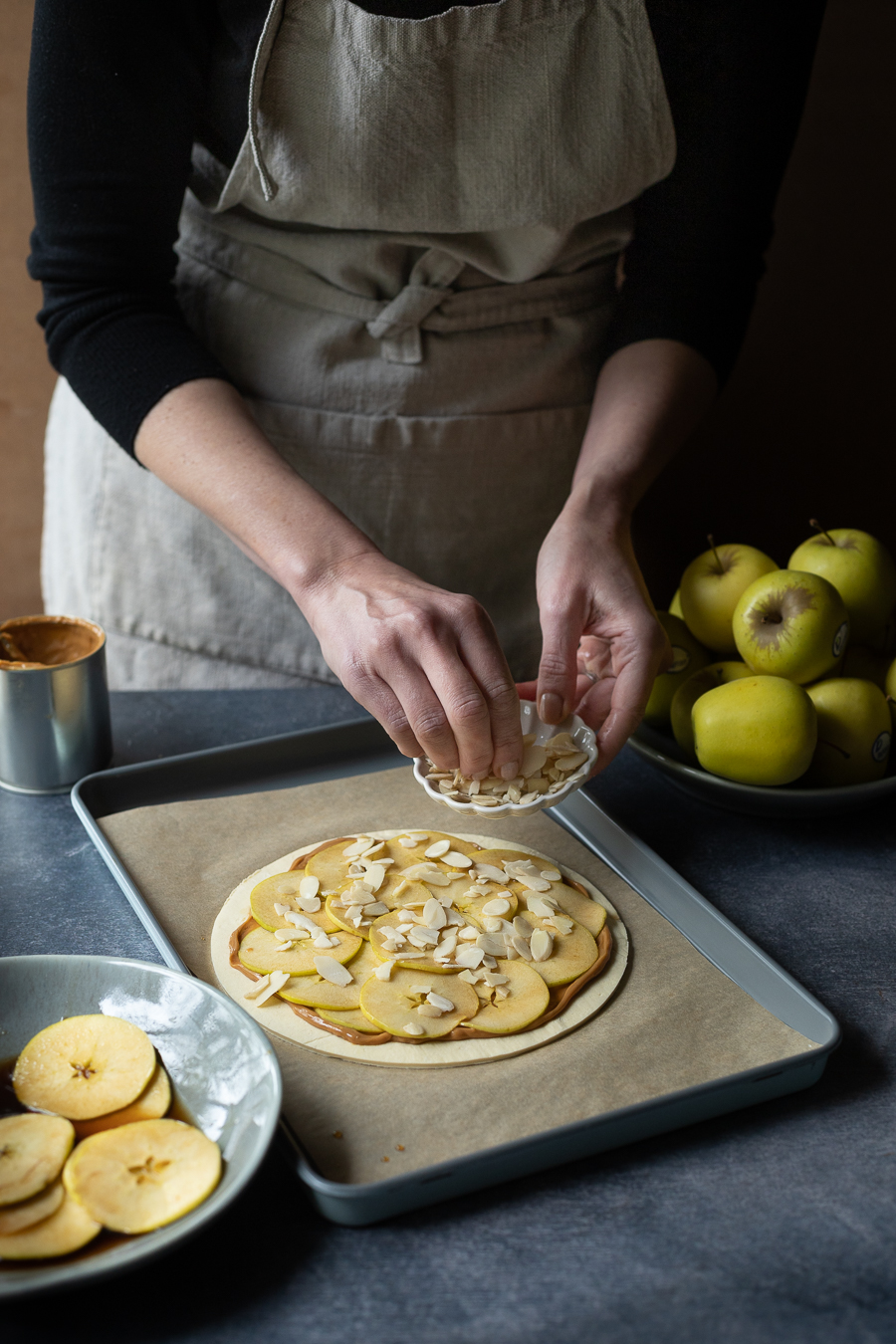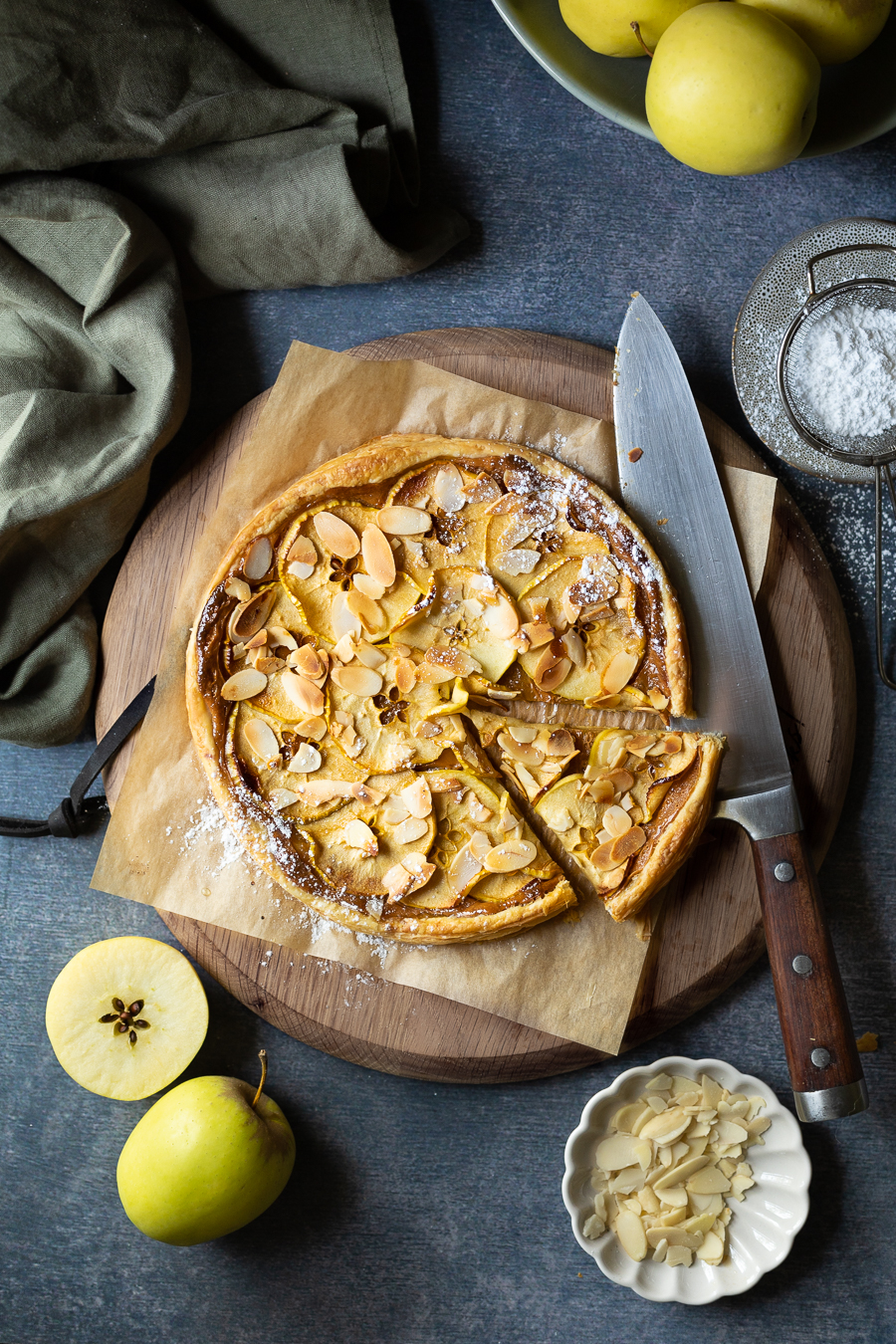 Ingredients for 2: (see these as a guide, and choose your own favourites)
3-4 Golden Delicious apples, finely sliced (remove pips)
1/4 cup dark brown sugar
10 ml lemon juice
a pinch of salt
1 sheet frozen puff pastry, thawed
a few tablespoons caramel dessert topping
1-2 Bar One chocolate bars, sliced into 5mm slices
about 1 cup mini marshmallows
about 1/4 cup flaked almonds
rainbow sprinkles, for serving (optional)
sifted icing sugar, for serving (optional)
ice cream or whipped cream, for serving (optional)
Method:
Preheat the oven to 200 C. Place the sliced apples in a bowl, sprinkle all over with sugar and pour over the lemon juice. Stir gently, then leave to steep and melt while you get the rest of the ingredients ready. Unroll the puff pastry (keep it on the plastic for now), then place a small plate on top and use it as a guide to cut two circles. Remove the circles from the plastic and transfer to baking trays lined with grease-proof baking paper.
Use your imagination to create your dream dessert pizza using the caramel topping as a base (or fruit jam or Nutella) topped with the apples and whatever else you love. Bake for 15 -20 minutes depending on the thickness of your toppings, then remove from the oven and leave to cool for at least 10 minutes before slicing. Serve warm or at room temperature, with or without vanilla ice cream or whipped cream.
This post was created in proud collaboration with Dutoit Agri. Find Dutoit's Granny Smith, Golden Delicious, Top Red, Starking en Royal Gala apples at select Pick 'n Pay's. #DutoitAgri #PickYourDutoitApple #PickDutoit