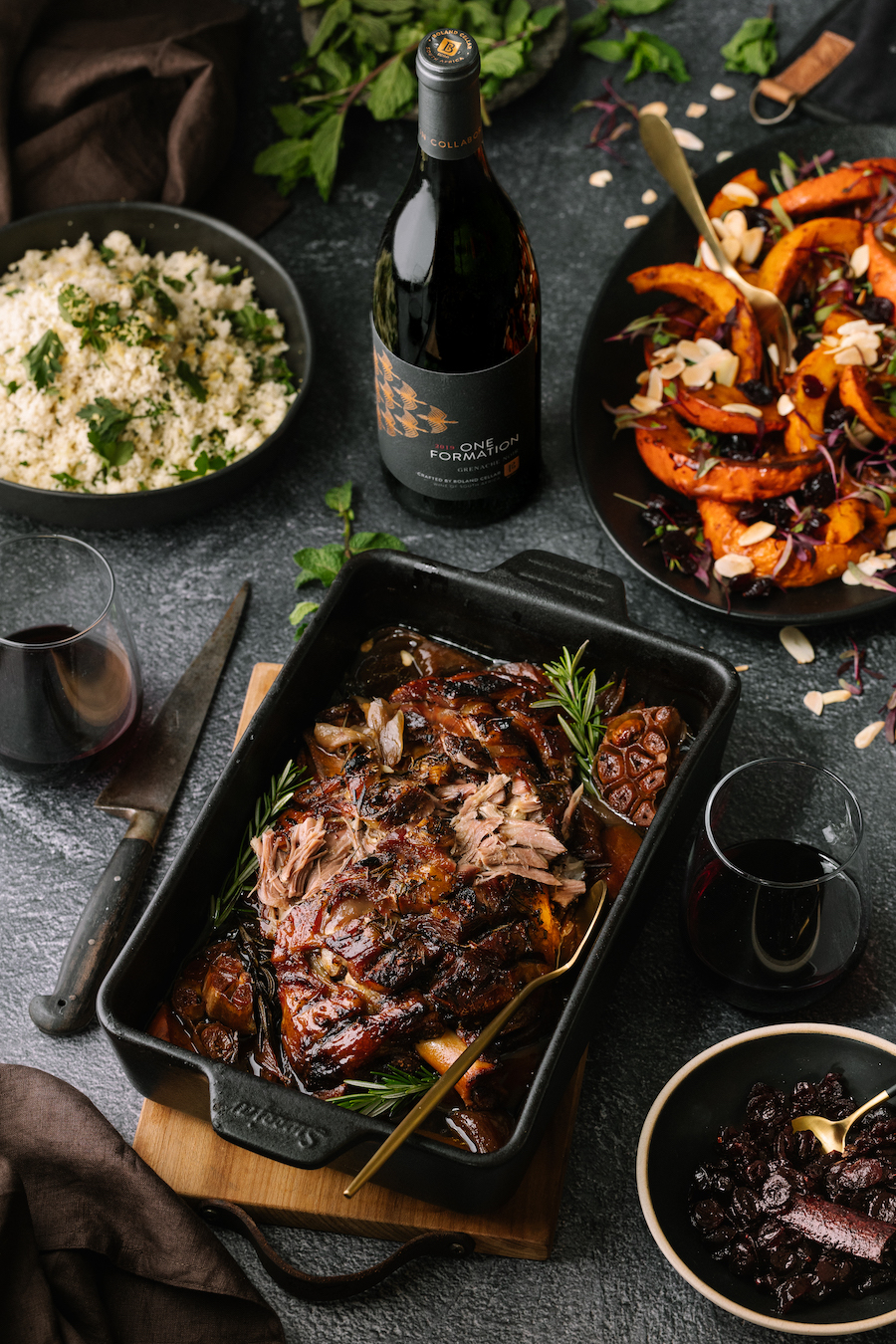 Welcome to the third recipe in our #HeritageMonth #LambandWinePairing series with @cooking_with_lamb. There are few better meat cuts than a lamb or mutton shoulder – when slow roasted with garlic, rosemary and wine, the meat becomes so tender that it falls apart, and the edges become sticky with umami. We've served it here with sweet and spicy roasted pumpkin and lemon & herb couscous. It's a celebratory roast fit for royalty, paired with the stellar Boland Cellar One Formation Grenache Noir.
This recipe is the third in a series of five, created in proud collaboration with South African Lamb & Mutton and Boland Cellar for Heritage Month, September 2022 (photography by Tasha Seccombe).  Also check out our cooking video on Instagram (filmed by Reel Productions at Klipheuvel Farm's Jangroentjie Cottage), where you can stand the chance to WIN a case of Boland Cellar One Formation Grenache Noir (t's and c's apply).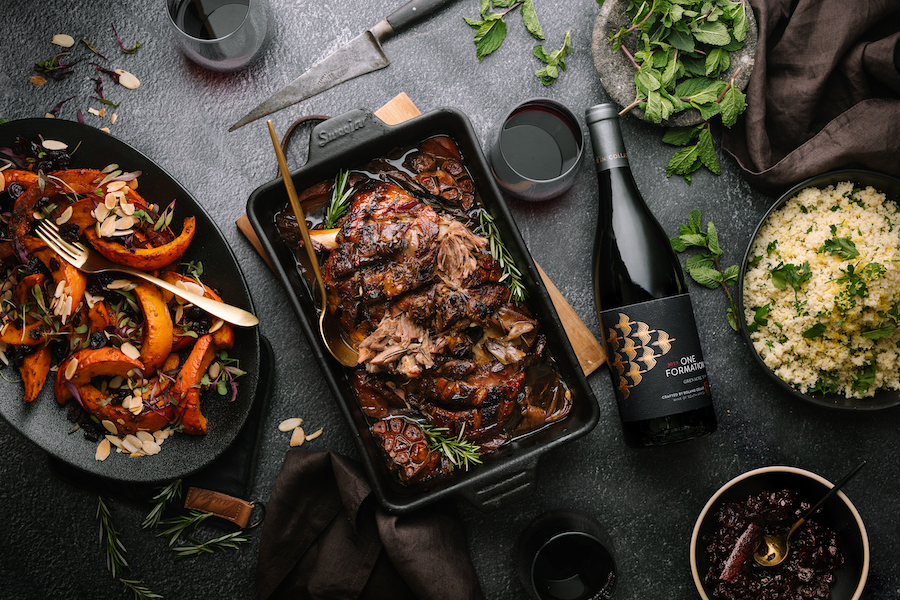 (serves 4)
For the shoulder:
2-3 red/brown onions, peeled and sliced into wedges
1 carrot, sliced into chunks
4-6 cloves garlic, peeled & sliced into long slivers (plus extra cloves, whole)
a few sprigs of rosemary
3-4 tablespoons of olive oil
salt & pepper, to taste
1,5 kg lamb shoulder on the bone (scoring of fat layer on top optional)
250 ml red wine
For the pumpkin:
45-60 ml olive oil
10 ml ground cumin
5 ml smoked paprika
5 ml cinnamon
15 ml honey
salt & pepper
1 small pumpkin, sliced into wedges, seeds & pith scooped out
1 cup dried cranberries (**see note)
⅓ cup almond flakes, toasted (or pine nuts)
For the couscous:
1 cup couscous
about 750 ml boiling water
salt & pepper, to taste
extra virgin olive oil
juice & grated rind of 1 medium lemon
2 rounds feta, crumbled (optional)
a handful mint parsley leaves, roughly chopped
Prepare the shoulder: Preheat the oven to 230 C and arrange a rack in the centre of the oven. In a roasting tray the same size as the shoulder, arrange the onions, carrots & a few cloves of garlic evenly, top with some rosemary, drizzle with olive oil and season with salt & pepper. Place the shoulder on top, fat side up. Make a few small incisions all over with a sharp paring knife, and insert a slivers of garlic into each incision. Drizzle all over with olive oil, season with salt & pepper, and scatter with some chopped rosemary. Pour the wine into the bottom of the pan, then cover with foil and place in the oven. Turn down the heat immediately to 170 C, then roast for about 3,5 hours or until the meat is tender enough to pull apart with a fork. In the meantime, prepare the pumpkin and couscous. Tip: While the pumpkin is roasting (see below) and meat is resting, make an optional gravy by heating the pan sauces in a small saucepan, and thickening it with a slurry of a few tablespoons water mixed with a few teaspoons of corn starch. Add mutton stock to stretch it, if needed.
Prepare the pumpkin: Line a large roasting tray with baking paper. In a large wide mixing bowl, add the olive oil, cumin, paprika, cinnamon, honey and some salt & pepper. Add the sliced pumpkin and toss to coat all over, then tip the pumpkin out on the prepared roasting tray. When the meat (see above) is ready, remove it from the oven and turn the heat up to 220 C. While the meat is resting, roast the pumpkin for about 20 minutes until cooked and golden brown, then remove from the oven and scatter with toasted almonds & cranberries. Serve alongside the couscous & shoulder roast. **Dried cranberries work beautifully, but f you want to go the extra mile, simmer the cranberries in 1/2 cup of red wine, with a cinnamon stick and a whole star anise until they are plumped up. Cool and store in the fridge until ready to use.
Prepare the couscous: Place the couscous and a pinch of salt in a large bowl, then cover with boiling water (it should just cover the couscous). Cover with a lid or a plate, then leave to stand and swell for about 5-10 minutes. Fluff up the couscous with a fork, then add the olive oil, lemon rind & juice, crumbled feta (optional) and chopped herbs. Stir well, then serve warm.