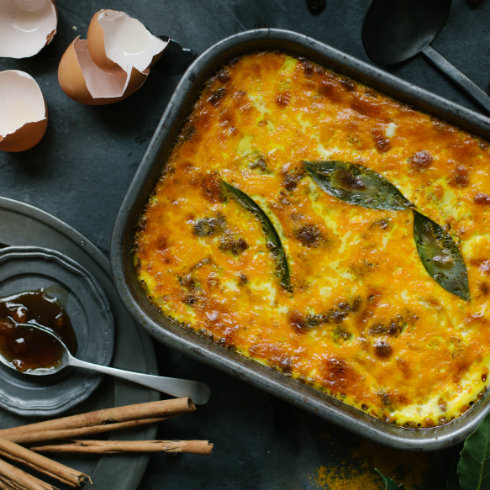 Bobotie is one of those South African dishes that most of us know and love. But I've had some pretty bland boboties in my life, ranging from under seasoned to just plain boring. I love a bobotie with lots of fruity flavours, fragrant spices, zesty with lemon juice, moist with all the right oils and sugars.
I found this recipe many years ago in the Huisgenoot Top 500 Wenresepte, published in 2006. It's a compilation of Huisgenoot magazine's most loved recipes over a couple of years, as compiled by their legendary food editor Carmen Niehaus. Carmen's husband was my grade 5 teacher at Stellenbosch Primary school – blast from the past. She is one of my food icons in South Africa and I recently had the privilege of hosting her for lunch as part of a product showcase at The Demo Kitchen in Stellenbosch.
This recipe for traditional South African bobotie is the best I've come across. The list of ingredients seem endless, but each one on this list is essential and creates the most delicious and flavoursome bobotie, everytime. Don't be alarmed by the large quantity of milk in the custard topping – it really works.
Serve with your choice of sambals (sliced banana, desiccated coconut, chopped tomatoes with red onion), chutney and yellow rice.
Ingredients: (serves 8)
TIP: Before your start, measure out the dry spices together in a small bowl, and the wet ingredients together in another small bowl.
30 ml vegetable oil
3 onions, chopped
2 garlic cloves, crushed
15 ml fresh ginger, finely grated
dry spices:

15 ml mild curry powder
5 ml ground turmeric
5 ml ground coriander
5 ml ground ginger

2,5 ml ground cumin
1 kg beef mince (lean)
salt & pepper
wet ingredients:

30 ml lemon juice
30 ml apricot jam
60 ml fruit chutney
30 ml Worcestershire sauce
30 ml tomato paste
2 slices white bread, soaked in water, pressed to a pulp

30 ml soft brown sugar
250 ml pitless raisins
For the custard:
500 ml milk
4 eggs
Salt & pepper
4 bay leaves
Method:
In a large pot, heat the oil and fry the onions until soft and starting to brown lightly.
Add the garlic, ginger and dry spices and fry for another minute until the bottom of the pot goes dry and sticky.
Add the beef bit by bit, breaking up any lumpy pieces. Fry, stirring, until it just starts to change colour from pink to light brown before adding more meat. The meat shouldn't brown too much. Season generously with salt & pepper.
Add the wet ingredients, sugar and raisins and give it a good stir. Reduce heat to a simmer, cover and cook for 30 minutes, stirring often and taking care not to burn the bottom of the pot. Add a touch of water if the mixture is too dry.
In the meantime, pre-heat oven to 180 C.
Prepare the custard topping: mix the milk & eggs and season with salt & pepper. Set aside.
When the bobotie is ready, transfer it to a large oven-proof baking dish and flatten the surface with a spatula. Press the bay leaves into the bobotie, then pour the custard mixture over the top. Carefully place in the oven and bake for 40 minutes until the custard is set. Remove from oven and let it stand for 10 minutes before serving.
Credits:
Food preparation & text: Ilse van der Merwe
Photography: Tasha Seccombe