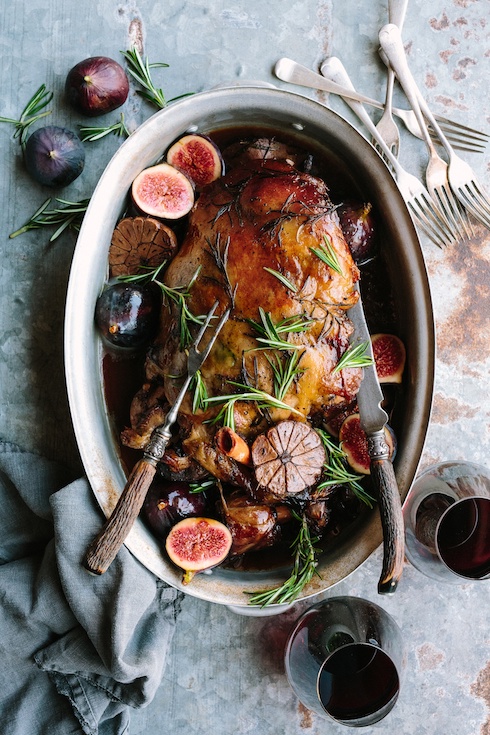 Festive season is upon us and many of us are planning menus for a special celebration with family and friends. Every year, we as an extended family get together on Christmas eve for a showstopping hearty dinner, or on Christmas day for a lighter, mostly room temperature, yet elaborate festive lunch (summer days at the beach are just too hot for anything else). This lamb roast probably qualifies as a heartier dinner, served with all the trimmings and sides of your heart's desire. Although figs are not in season at the moment, you can still find some imported ones in supermarkets here and there (I wrote this recipe right at the end of fig season when they were still on shelves everywhere). Otherwise, substitute them with beautiful firm halved plums – dark red and purple on the outside, yet golden on the inside.
A large leg of lamb or mutton in the oven smells like Christmas to me, and makes the best leftovers the next day. *Note: Ask your butcher to bend the long end of the leg bone by cutting almost through it but not all the way. This way it will fit snugly into a large roasting tray without hanging over the side.

Ingredients: (serves 6)
1 large leg of lamb* (about 3 kg)
45 ml olive oil
salt & pepper
3 sprigs rosemary, woody stems removed, chopped
2 whole heads of garlic, horizontally sliced in half
3/4 cup (180 ml) balsamic vinegar
1 cup (250 ml) port wine
1 cup (250 ml) dry white wine
about 8 large ripe black figs, some halved, some whole
Method:
Preheat the oven to 160 C.
Place the leg of lamb inside a large deep roasting tray, fatty side down. Drizzle it all over with oil and season it generously with salt, pepper, and chopped rosemary on both sides.
Arrange the garlic head halves around it, then pour the vinegar, port and white wine into the bottom. Cover with a lid or foil, then roast for 3 hours. Remove from the oven, then use tongs to turn the leg over with the fatty side to the top. Cover and roast for another 2 hours.
Remove the tray from the oven and turn the heat up to 200 C. Return the leg to the oven for 20 minutes to brown, then add the figs around the meat and roast for another 10 minutes – the figs should be just warm and soft, not falling apart.
Serve warm in the tray as a festive centerpiece, with a side of roast potatoes or vegetables and salad.
Note: This roast makes a hearty yet thin sauce – remove some of the fat from the top by skimming it off with a spoon at the end of the cooking process. If you prefer a thicker gravy, pour the skimmed sauce into a small saucepan, bring to a boil, and thicken slightly by reducing it by 1/4 or by adding 2-3 teaspoons of corn flour (mix it to a slurry consistency with a few teaspoons of water before adding it). Stir well until thickened.
This recipe is another festive collaboration with Lamb & Mutton South Africa.