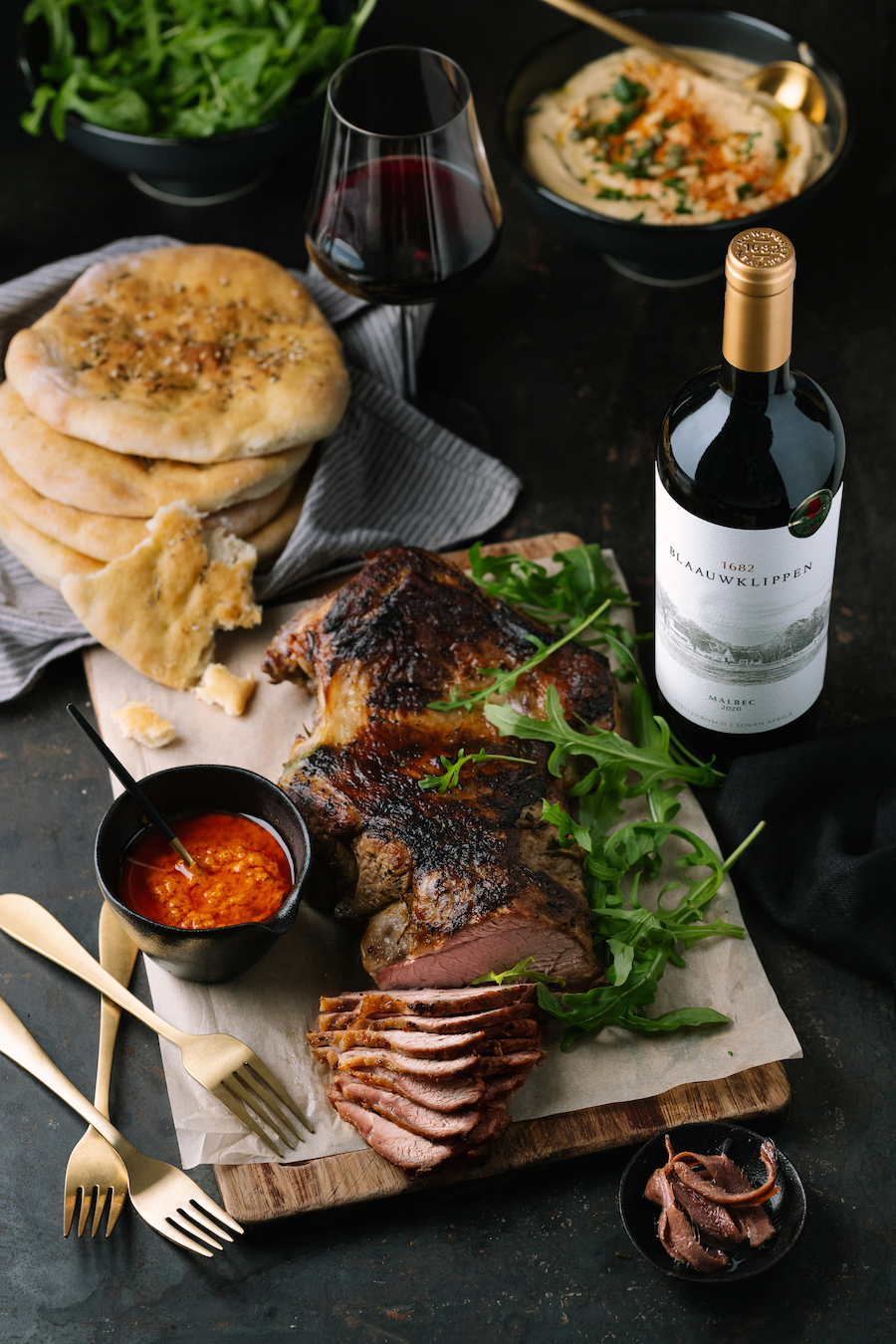 This mouthwatering butterflied leg of lamb is marinated in a punchy mixture of rosemary, lemon, garlic and anchovies, then grilled to perfection in a kettle braai. Sliced thinly, you can make the most glorious lamb pitas with the addition of creamy hummus, fresh rocket, and a red pepper pesto drizzle. The perfect feast with a glass of Blaauwklippen Malbec. 
This recipe is the first in a series of five, created in proud collaboration with South African Lamb & Mutton and Blaauwklippen Wines for Heritage Month, September 2022 (photography by Tasha Seccombe).  Also check out our cooking video on Instagram (filmed by Reel Productions at Klipheuvel Farm's Jangroentjie Cottage), where you can stand the chance to WIN a case of Blaauwklippen Malbec (t's and c's apply).
Note: Best cooked in a Weber (kettle braai), but can also be braaied over medium coals or roasted in the oven.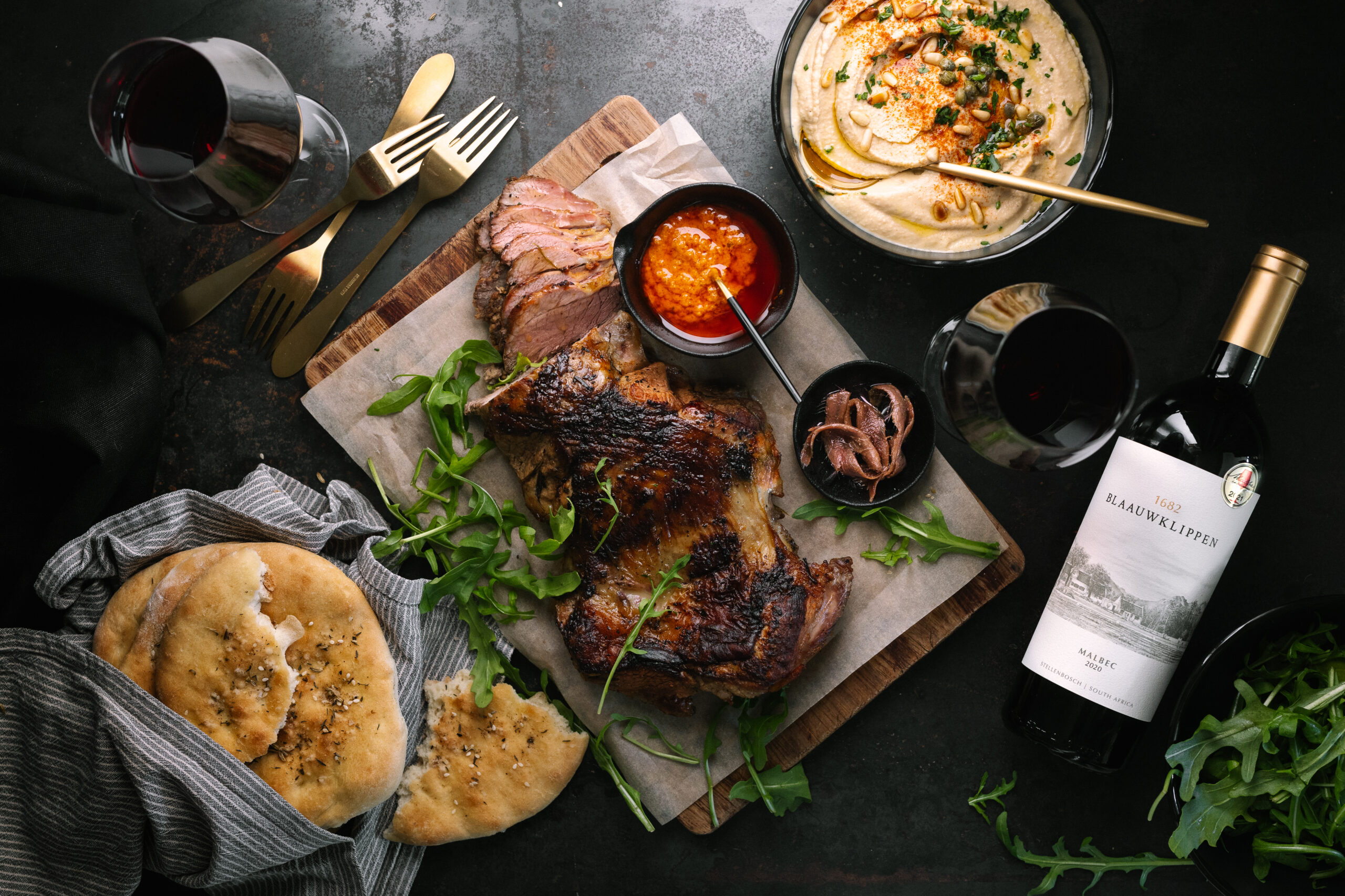 Ingredients: (serves 6)
6 anchovy fillets, chopped (preserved in oil)
4 garlic cloves, finely chopped
zest (finely grated) and juice of 1 lemon
45-60 ml extra virgin olive oil
1-2 sprigs rosemary, stalks discarded, finely chopped
salt & pepper
1,5 kg boneless leg of lamb, butterflied
Method:
Place the meat in a non-reactive dish (stainless steel or ceramic). In the bowl of a mortar with pestle, add the anchovies, garlic, lemon zest & juice, olive oil, rosemary and some salt & pepper. Grind to a runny paste, then rub it all over the butterflied leg. Cover with a lid or with wrap, and leave to marinate for at least an hour in a cool place, or for a few hours (or overnight) in the fridge. Get your Weber ready for grilling (direct heat), then grill the leg on both sides for about 3 minutes a side, until charred and brown. Rearrange the coals for indirect cooking (place the coals on the sides), then arrange the meat in the middle and cover with the lid, keeping the vents open. Cook for about 1h10min until an inserted meat thermometer reaches 165 C. Remove from the heat into a roaster, cover with foil and leave to rest for at least 10-15 minutes before carving.
Serve warm in thin slices, shawarma-style, with freshly warmed Za'atar pitas, hummus, fresh rocket leaves, and a drizzle of red pepper pesto.
Notes, to serve:
For the hummus: make your own, or buy a good quality store bought version.
For the pesto drizzle: buy a store-bought version and make it a little more runny by adding olive oil and lemon juice.
For the Za'atar pitas: brush store-bought pitas with olive oil, then sprinkle with Za'atar spice (also available in some supermarkets) and bake in the oven at 180 C for about 8 minutes. Serve immediately.