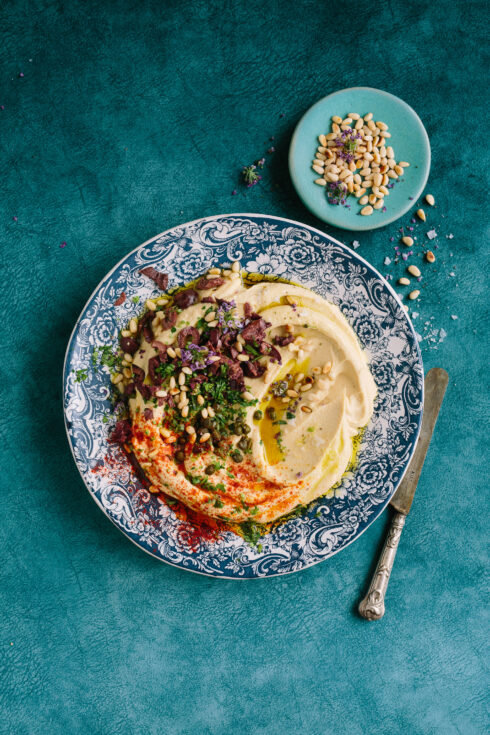 Two weeks ago, I hosted 100 guests for a book conversation at the Woordfees in Stellenbosch, with the charismatic Douw Steyn of The Talking Table leading the talk. My book, Cape Mediterranean, was one of a few cookbooks being featured at the arts festival and I had the pleasure of demonstrating one of my favourite dishes from my book to the guests – loaded hummus. My hummus recipe was inspired by Yotam Ottolenghi's hummus recipe from his book Jerusalem, and I haven't served hummus without chopped olives, pine nuts and parsley since I've tasted his version.
I've experimented with various machines in making hummus over the last few years. From making it with a stick blender,  to a universal chopper, a small food processor and a power blender. I've had some luck here and there achieving very smooth results, but I've always been in search of a machine that could effortlessly make the smoothest hummus. I've since come to a few conclusions for achieving a truly smooth, creamy, silky result: 1) don't use canned chickpeas unless you're in a hurry and looking for an instant fix, 2) soak your chickpeas overnight in a water and baking soda mixture, 3) cook your chickpeas until very soft, 4) use a powerful food processor that has the space and capacity for the load you want to process, and 5) process it long enough until it changes to a light coloured, creamy consistency – at least 2-4 minutes.
For the book conversation and hummus demonstration, I partnered with Kenwood South Africa, where they supplied me with their top-of-the-range Kenwood MultiPro Excel Food Processor FPM910 – the largest in its capacity on the market in SA (4 liter bowl capacity). It has a very powerful motor at 1300 W and works like a dream. With standard attachments of every kind that you can possibly imagine, this is a premium addition to any serious cook's kitchen and certainly a proud addition to mine. I had to make 8 liters of hummus in total for the tasters at my Woordfees talk and the Kenwood MultiPro Excel handled it with the utmost ease – doing double batches of this already large quantity recipe at a time, in 4 batches (plus a nut filling for 120 baklava cigars, during the height of load shedding – it was crazy!).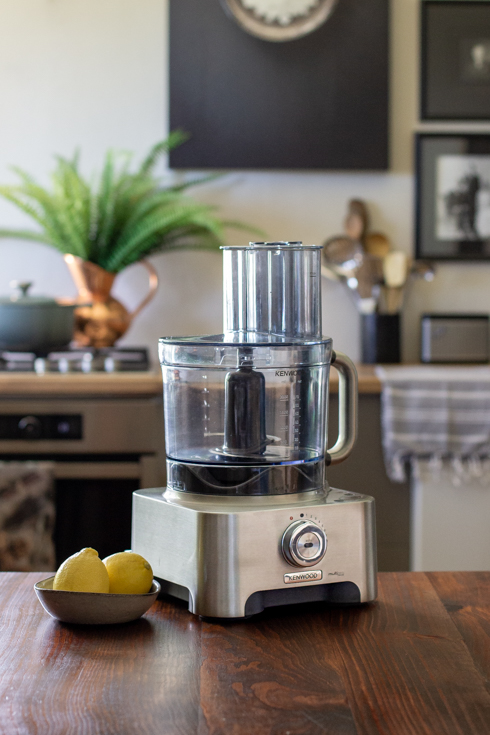 I made this how-to video of my recipe featured in Cape Mediterranean, showing you how to make hummus from scratch at home. Hummus is a high proteien, low carb, versatile dip/spread/topping/base – generally not expensive to make, and it freezes well. If tahini is too expensive for your budget, substitute the tahini with a teaspoon or two of unflavoured peanut butter – believe me, it adds just enough nutty flavour and works like a charm. I love topping my hummus with chopped olives, chopped parsley, paprika, olive oil and pine nuts like Yotam Ottolenghi does, but hey, it's just as good with a simple drizzle of olive oil and a pinch of salt. Cut some carrot sticks, cucumber, or whatever you prefer to dip (yes, potato chips and nachos and sliced bread all love hummus) and call it a party.
You can order my book online for delivery after the "lockdown" period – most of the recipes are very simple and will hopefully bring you much joy. You can also order the Kenwood MultiPro Excel FPM910 from Yuppiechef at R9199 (with so many attachments I cannot even count them – also including a large capacity thermoresist blender jug and a mini grinder), they'll also deliver after lockdown. Stay safe and look after each other±
Ingredients: (makes almost 1 liter hummus, enough to feed a crowd as a dip)
250 g uncooked dry chickpeas
2 teaspoons bicarbonate of soda
about 1 liter water, for soaking, plus more for cooking
1/3-1/2 cup freshly squeezed lemon juice
30 ml extra virgin olive oil
1 clove garlic, finely grated
1/3 cup tahini (or substitute with 1-2 teaspoons unflavoured peanut butter)
1/4-1/2 teaspoon ground cumin (optional)
salt to taste
30-60 ml water
for topping: (optional) smoked paprika, chopped olives, chopped parsley, toasted pine nuts or toasted flaked almonds (or both), baby capers etc.
Method:
Place th chickpeas with 1 teaspoon bicarbonate of soda in a non-reactive bowl. Top with water and leave to soak overnight (at least 8 hours or up to 24 hours). Drain the water, then add the soaked chickpeas to a pot, along with another teaspoon of bicarb and top with water. Bring to a simmer, skimming off any scum/foam that forms on the surface. Cook until very tender, about 30 minutes. Drain and leave to cool slightly.
In a food processor, add the cooked chickpeas, along with the lemon juice, olive oil, garlic, tahini, cumin and salt. Using a powerful food processor like the Kenwood Multipro Excel, process until very smooth and creamy, adding enough water to loosen it up (about 3-4 minutes). Taste and adjust the salt if necessary. Serve swirled on a plate, topped with more extra virgin olive oil and your choice of toppings. Serve with bread or crackers or sliced vegetable sticks.
Thank you Kenwood South Africa for your continued support – I'm inspired to discover this wonderful machine in its full capacity.