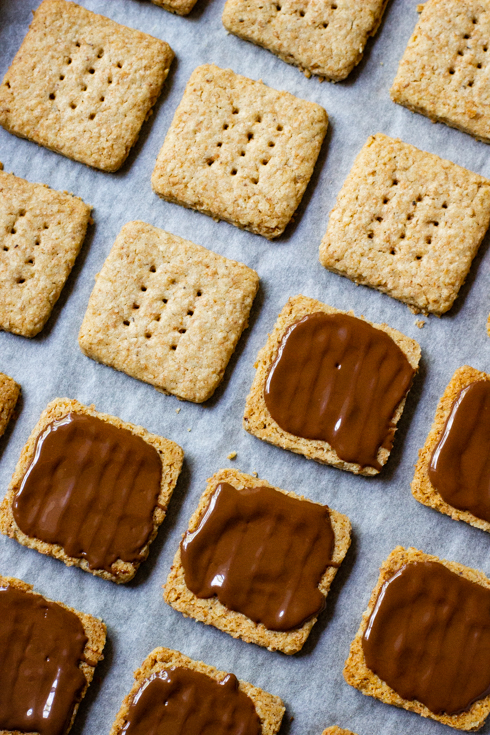 Baking is a form of self-care for me. It's one of my happy-place activities, something I do when I really have time on my side, not feeling rushed or restrained. I'd much rather bake than read (although I love reading), because there's a tangible end result to baking – an edible reward.
With many recipe developers confined to their homes at the moment, all across the world, there's an endless stream of recipe inspiration to be absorbed and enjoyed for everyone who has access to the internet. One of these stream comes from Bon Appetit. I subscribe to their newsletter, and their recent recipe for digestive cookies was delivered straight to my inbox. Theirs looked so perfect, I couldn't look away. I absolutely adore digestive cookies, especially when they're covered on one side in chocolate, and these looked delectable. So when I scanned the ingredients list, I realized that I missed 2 key ingredients: wholewheat flour and wheatgerm. It turns out you can substitute the wheatgerm for toasted oats (according to the recipe writer, because many people didn't have wheatgerm in their pantries), and I made my own plan with the wholewheat flour, using a mixture of unbleached stoneground white bread flour and wheat bran (wheat bran is the same stuff that you'd use to make bran muffins). I needed a little less milk than the original recipe stated, but the rest worked like a charm. Incredibly "short" and crunchy, almost like wholewheat shortbread, just sweet enough, tasting very very similar to original digestives. What a triumph!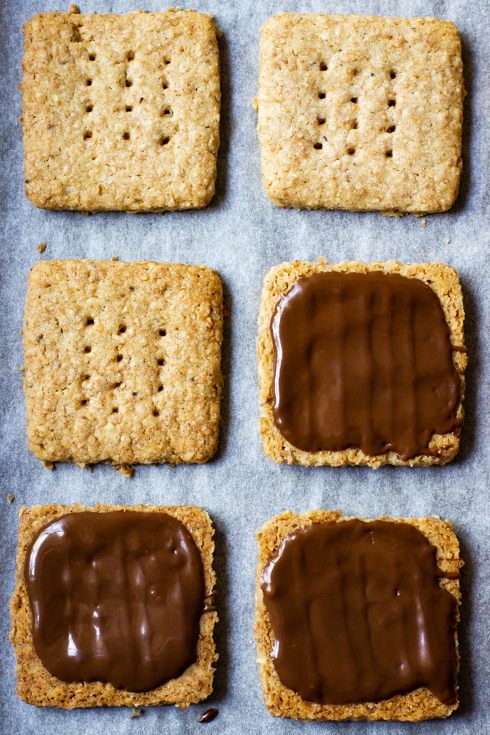 I only had enough chocolate to partly cover about 3/4 of my cookies, but hey, nothing wrong with a few plain digestive cookies either.
You're going to need a food processor for this recipe, as well as a rolling pin and a cookie cutter. The rest is quite literally childsplay.
Ingredients (slightly adapted from Bon Appetit's original recipe, developed by Sohla El-Waylly)
½ cup regular oats, toasted in a dry pan

90 ml or 6 tablespoons (75 g) sugar

1 teaspoon (5 ml) baking powder

1 teaspoon (5 ml) salt

1 cups (125 g) white bread flour*, plus more for rolling

3/4 cup wheat bran* (about 25 g)
½ cup (125 g) cold butter, cut into cubes

2-3 tablespoons (30-45 ml) milk

about 100 g chocolate (milk or dark), chopped (optional)
*If you do have whole wheat flour on hand, use 165 g whole wheat flour instead of the white bread flour and the bran, and adjust milk to about 60 ml, if necessary.
Method:
Place two oven racks in upper and lower thirds of your oven and preheat to 180°C. Using a food processor, add the oats, flour, bran, sugar, baking powder and salt into the bowl. Process until very fine. Add the butter and pulse until it is well incorporated, then add the milk little by little and pulse until a crumbly dough forms (add just enough milk, you don't want a dough that's too sticky).
Turn the dough out onto a lightly floured surface and gently knead into a ball. Now flatten it into a disk. Roll out on a lightly floured surface until 5mm thickness (it doesn't have to be perfect). Lightly flour a cookie cutter (I used a 45 – 45 mm square cutter with round edges, you can use whatever shape you want) and punch out cookies, dusting lightly with more flour as needed to avoid sticking. Dust any excess flour off the cookies with a dry pastry brush.
Using a spatula, transfer cookies to 2 baking trays lined with non-stick baking paper. Gently knead the scraps together, reroll, and punch out more cookies. (Bake any smaller scraps as is and crumble over ice cream!)
Prick each cookie 3 times with a fork and bake, rotating baking sheets top to bottom halfway through, until bottoms and edges are browned, 15–18 minutes. Let cool on baking sheets (cookies will crisp up as they cool).
If using, melt the chocolate in a microwave-safe bowl in the microwave in 20-second increments, stirring after each burst, until almost fully melted, about 1 minute total, then let it stand for a minute to fully melt. Stir, then eave to clool for about 10 minutes before using.
Using a small offset spatula or butter knife and working one at a time, spread about 1 teaspoon of melted chocolate over the flat underside of each cookie. Using the side edge of the spatula, tap a few lines into the chocolate to make a slight pattern. Chill cookies on baking sheets until chocolate is set, about 10 minutes.
Cookies will stay fresh for at least 3 weeks. Store airtight at room temperature.