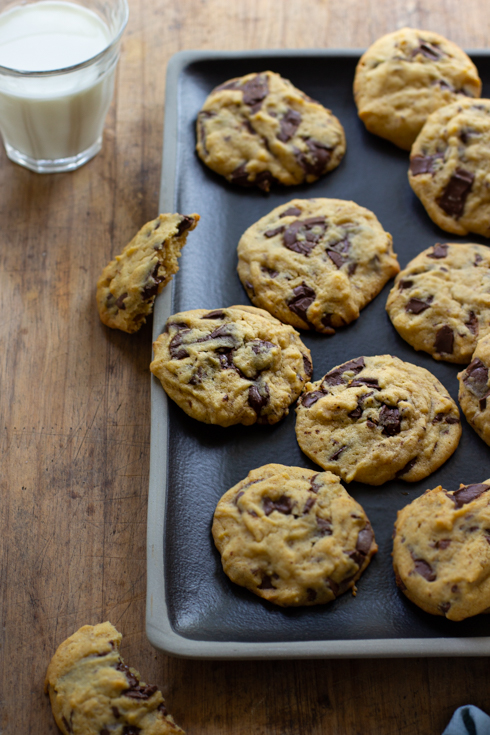 Nine years ago, one of my first blog posts was a recipe for chocolate chip cookies by Sannie Smit. Although the photograph showed that I still had a lot to learn (I'm being kind to myself here), it remains one of my blog recipes that I've returned to most over the years. I even have it bookmarked on my phone. If done right, they have a crispy edge and a chewey centre that reminds of a buttery blondie – the ultimate goal of the perfect chocolate chip cookie. The slightly larger chocolate chunks give another textural layer apart from the actual chocolate flavour, so I prefer to eat them cooled and not warm. My daughter and I just love baking these together and the dough tastes just as good as the baked end result. It is choc chip cookie decadence at its best.
I've always found that the quality of chocolate chips (the small round ones, for baking) that we find in regular South African supermarkets is far inferior to what I actually want to taste, so I've resorted to mostly chopping my chocolate for these cookies from a slab of my choice. This way you also get some really chunky pieces of chocolate here and there, and each cookie is different. I made this batch with Valrhona's Equatoriale Noire 55% chocolate – it comes in a catering size bag in the shape of bean-like discs, easy to chop with a knife. You'll find these Valrhona disks in specialty stores like Wild Peacock in Stellenbosch, but you can certainly also use any good quality eating chocolate from your local supermarket, especially local brands like Afrikoa or De Villiers Chocolate (I prefer dark chocolate with a minimum of 55% cocoa, but some people prefer milk chocolate – the choice is yours).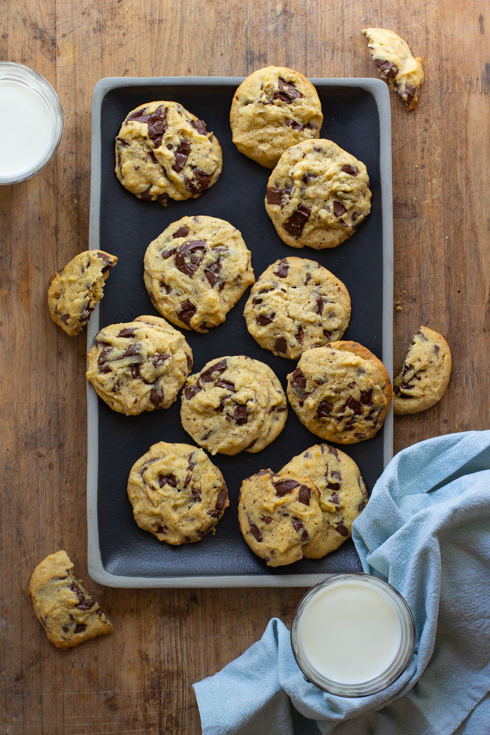 Ingredients: (makes about 26 medium size cookies)
Note: Recipe adapted from The A-Z Guide to Food and Cookery in SA by Sannie Smit and Margaret Fulton.
125 g (1/2 cup) butter, softened
45 ml (3 tablespoons) tightly packed brown sugar
125 ml (1/2 cup) white sugar
1 XL egg
5 ml (1 teaspoon) vanilla extract
300 ml (1 cup plus 3 tablespoons, or 160 g) cake flour
1 ml (1/4 teaspoons) baking soda (bicarbonate of soda)
2.5 ml salt (1/2 teaspoon)
100-200 g good quality chocolate, chopped (don't use less than 100 g, but 200 g is the maximum that I use)
Method:
Pre-heat oven to 180 C. Line a large baking tray with non-stick baking paper.
In a medium size bowl with an electric mixer, cream the butter and both sugars until light and fluffy. Add the egg and vanilla and beat well. Sift the flour, baking soda and salt together in a second bowl. Stir the dry ingredients into wet mixture with a spoon or spatula until just combined. Stir in the chopped chocolate until just combined.
Drop tablespoons full of dough onto a greased baking tray,  leaving enough room for spreading. Bake for about 12-14 minutes or until the edges start to turn golden brown (do not overbake). Remove from oven and leave to cool on baking tray for a few minutes, before removing and cooling further on wire racks (they will still be very soft when straight from the oven, but will firm up on cooling). Store in an airtight container and enjoy within a few days.