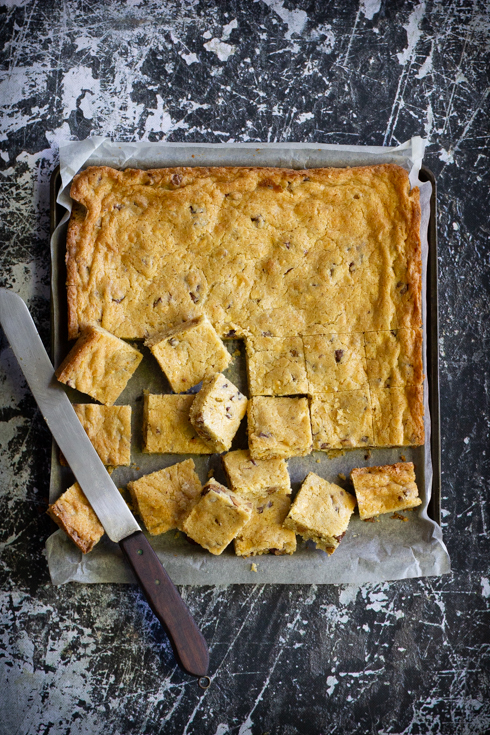 During this time of the year, all I really want to do is bake. I whip out all of my favourite baking books and I page through them for festive inspiration. Yesterday, I was looking through my Food 52 Genius Desserts book when I saw a marker for this blondie recipe – one that I haven't had time to make since putting that marker there exactly one year ago.
I absolutely adore brownies. If you don't know what a blondie is, it's the "blonder" version of a brownie – a sweet and fudgey square made from flour, eggs, brown sugar, vanilla (no cocoa powder) that is very close in taste to a chocolate chip cookie with a butterscotch edge. Chocolate chips and nuts are optional, but you'll find a wide array of variations online from all over the world. This specific recipe was originally developed by America's Test Kitchen for Cook's Illustrated (the Americans are wonderfully obsessed by chocolate brownies and any dense baked sweet square) and they did everything to take the "fluffiness of cake" out of the recipe, resulting in an almost crackly top, a comforting chew and a welcome medium density – all marks of a great blondie. I've gone a little further by swopping the cake flour for white bread flour, using XL eggs instead of large and reducing the brown sugar from 300 g to 250 g (using relatively sweet white chocolate only instead of white and milk, to keep it "blonder"). Although white chocolate isn't technically a chocolate, it provides a great creamy textural element and added richness. The toasted pecans are the bomb, as well as their choice of adding 4 whole teaspoons of vanilla extract (!). Quoting from Food 52 Genius Desserts: "Once you stop putting a single teaspoon into baking recipes because it's what you've always done, you can embrace vanilla as a flavor all on its own – complex, haunting, memorable." I couldn't have said it better!
Here's their recipe, lightly adjusted. You'll find the original on Food 52's website.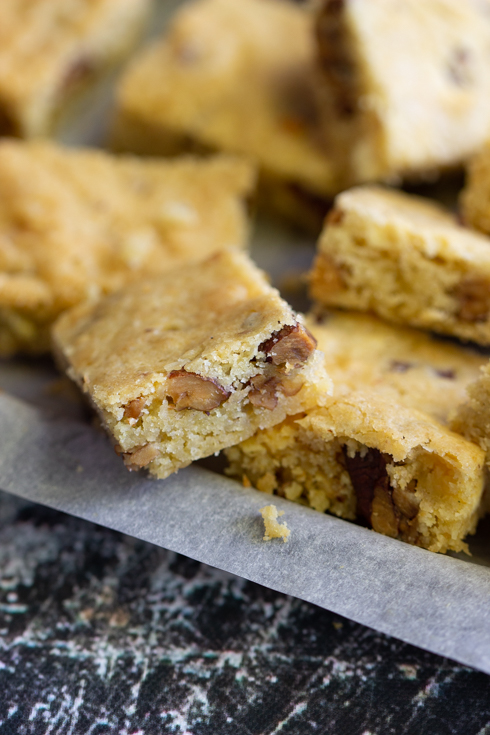 Ingredients:
1 cup (100 g) pecan or walnut halves
1,5 cups (190 g) all-purpose flour (I used stone ground white bread flour)
1 teaspoon (5 ml) baking powder
1/2 teaspoon (2,5 ml) salt
3/4 cup butter, melted and slightly cooled (I used salted)
1,5 cups (300 g) light brown sugar
2 XL eggs, lightly beaten
4 teaspoon vanilla extract
150 g white chocolate chips, or a mixture of white and milk chocolate chips (or just chop a slab of chocolate by hand)
Method:
Heat the oven to 175 C with rack in the centre. Spread the nuts on a large rimmed baking sheet and toast in the oven until deep golden, about 12 minutes. Let them cool, then transfer to a cutting board and coarsley chop them.
While the nuts toast, line a 23-33 cm (or 27 x 27 cm) metal baking tin with non-stick baking paper.
In a mixing bowl, whisk together the flour, baking powder and salt. In another bowl, whisk the butter and brown sugar, then add the eggs and vanilla and mix well. Using a rubber spatula, fold in the dry ingredients into the wet ingredients until just combined. Fold in the chocolate chips and nuts and scrape the batter into the prepared tin, smoothing out the surface and edging it into the corners.
Bake until the top is shiny, cracked and lightly golden at the edges, about 22 minutes – err on the side of underbaking so they won't dry out. Let cool in the pan on a rack.
Lift out the lined slab of blondies tugging on the paper onto a cutting board, then cut into squares or bars. Store airtight at room temp or keep them a bit longer in the fridge or freezer (they taste great when cold!).