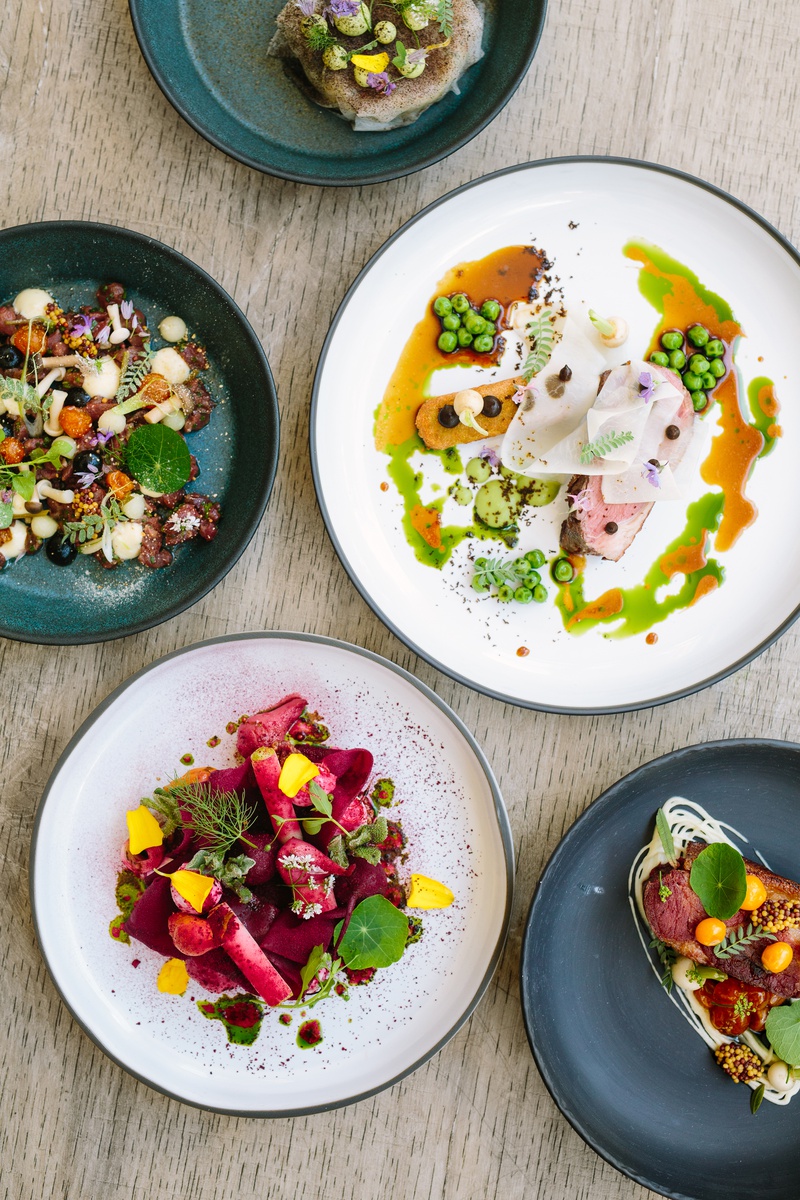 At the beginning of December 2019, I was invited to visit Franschhoek Country House & Villas for a first hand experience of their recently reimagined Monneaux Restaurant. We stayed for a night in one of the hotel suites suitable for a small family – a spacious king size bedroom with separate sitting room (including sleeper couch) and large bathroom with window views of the lawn and swimming pools.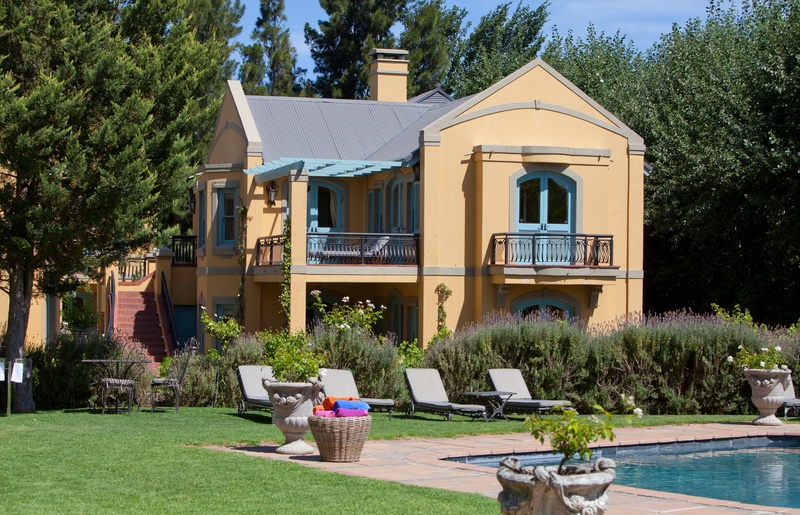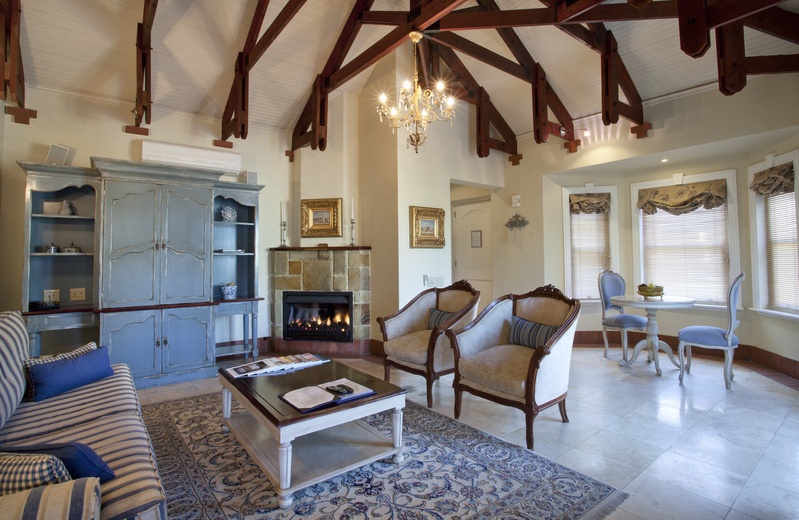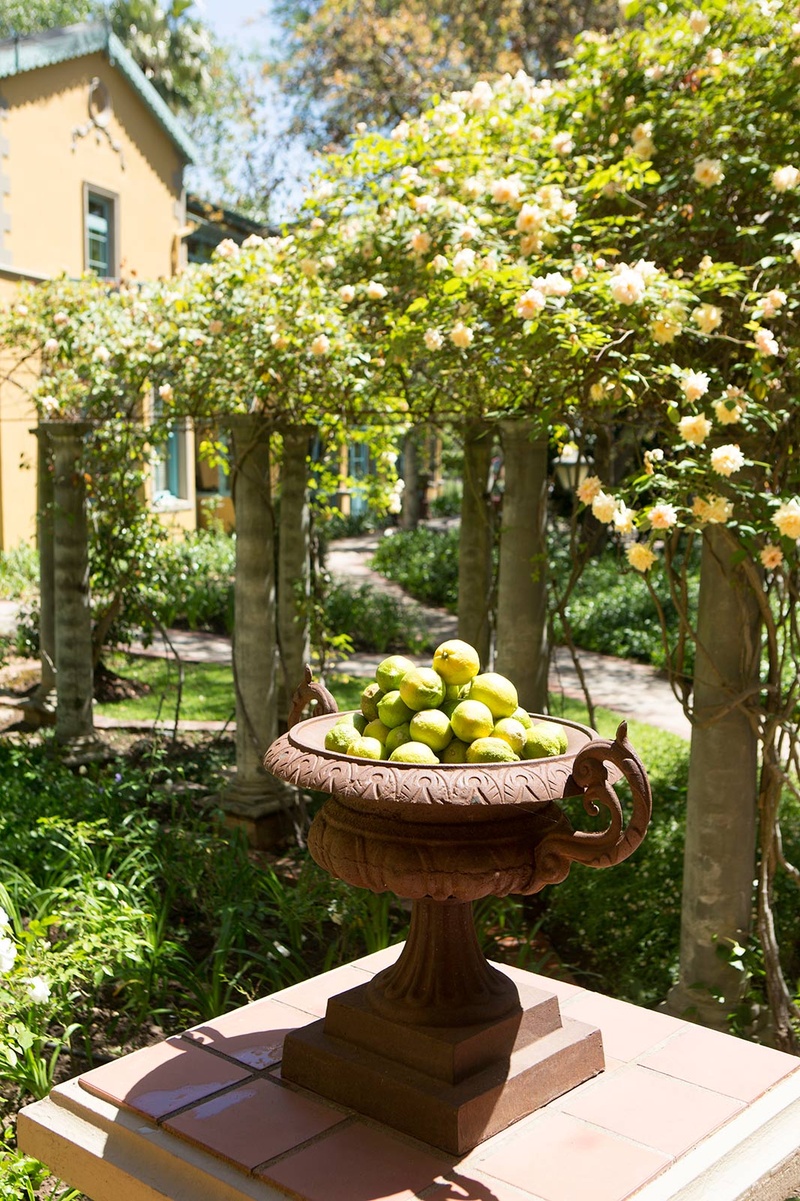 At first sight, the property is inspired by the charming French countryside – cobbled walkways, quaint window shutters, various water features, lemon installations, lush lawns and manicured gardens, incredible mountain & vineyard views. Monneaux Restaurant is set adjacent to the luxurious five-star Franschhoek Country House & Villas boutique hotel. The restaurant has recently reconceptualised its dining offering "from pass to plate", as well as introducing self-sustainable initiatives and a hyper-local focus at every stage of the culinary chain. The driving force behind these inspired changes is chef Calvin Metior, who was appointed as Executive Chef in September 2019.  After working with renowned chef Eric Bulpitt at La Motte, his most recent position, Calvin says his mind and perspective were opened to a new world of cooking.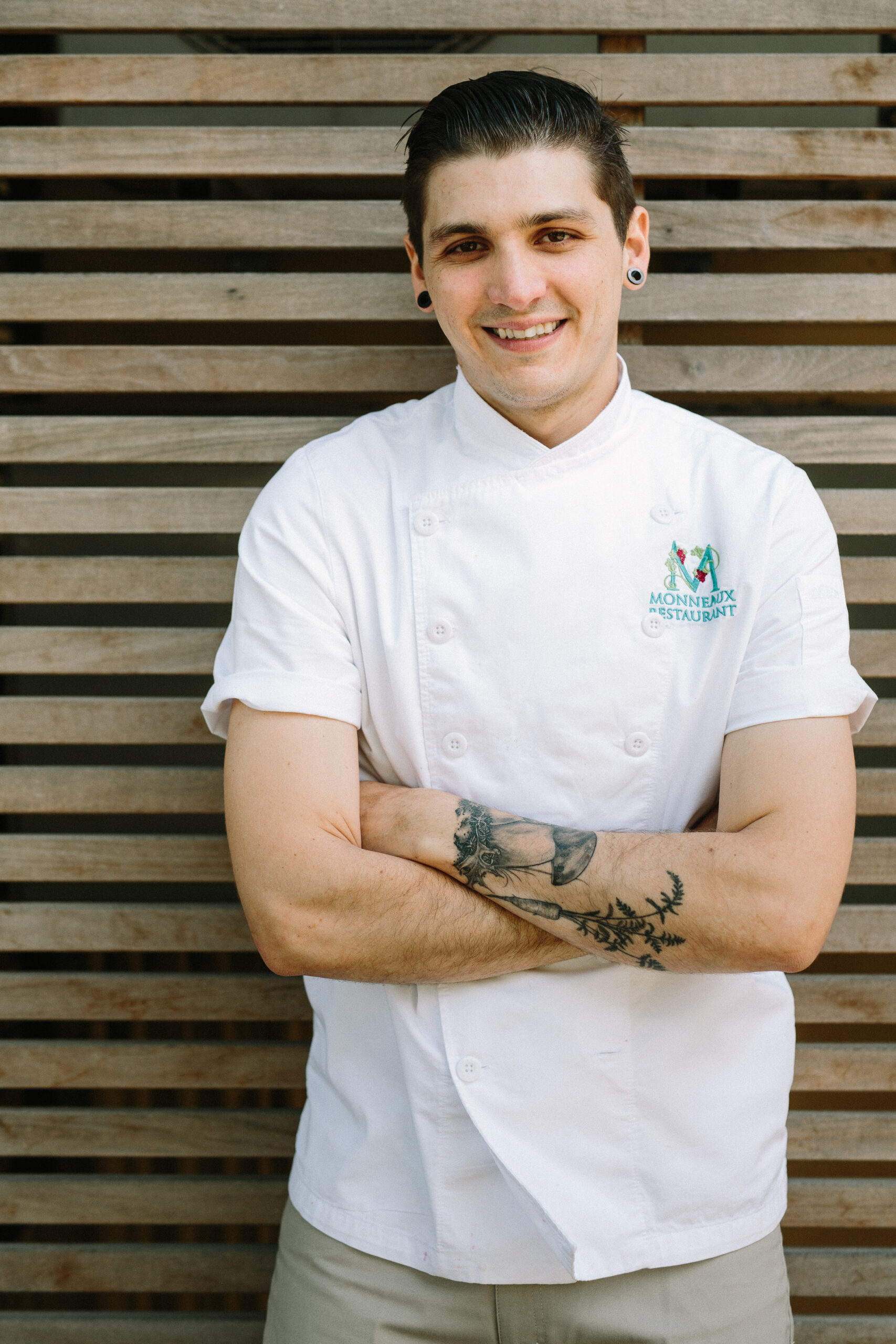 "Having the freedom to dream, to make my concepts a reality and to produce my own food is incredible. To be able to do so in this beautiful country-style setting and surrounded by so much natural inspiration and superb produce in the Cape Winelands, is a dream come true," says chef Calvin.
He's also fiercely passionate about supporting local producers, thus keeping the restaurant's carbon footprint to a minimum and improving self-sustainability. Micro gardens have been established throughout the property, which will produce a rotating supply of fresh herbs and vegetables. In the kitchen, Calvin and his team has started making their own miso, fermented mustard, hot sauces and fish sauce, smoking and curing their own meat and fish, making charcuterie from scratch, and dry and wet ageing of fish and meat.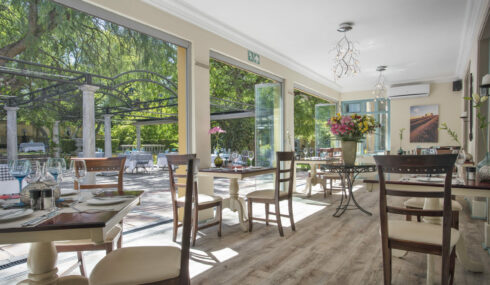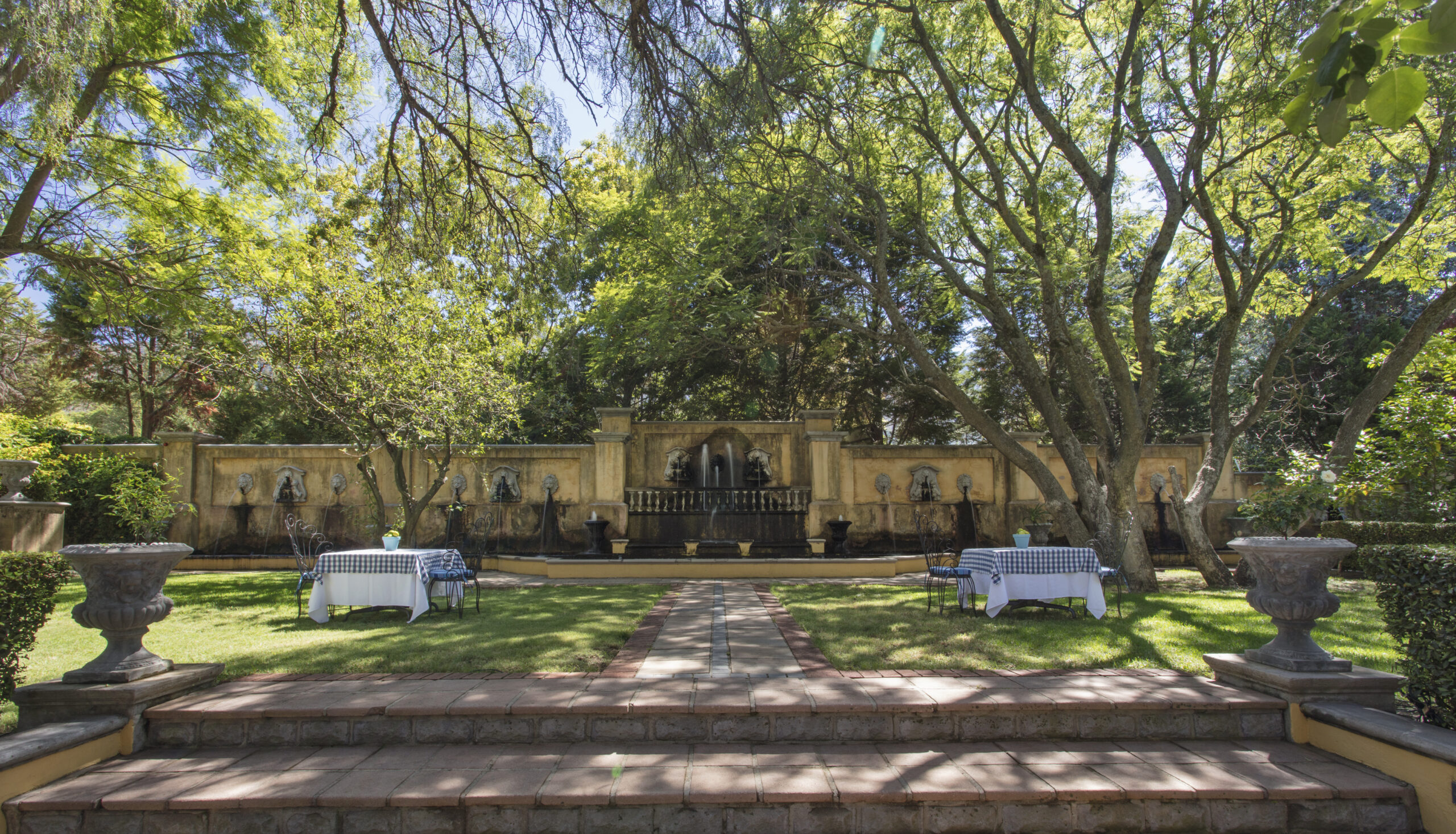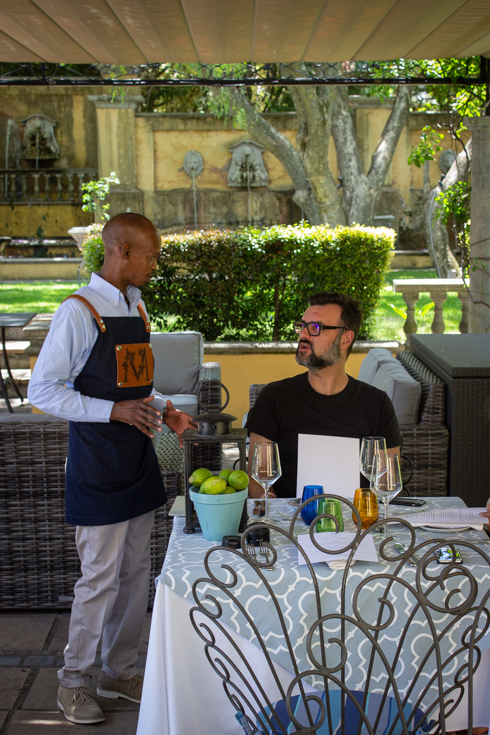 Monneaux Restaurant's variety of beautiful seating areas provides choices to suit all preferences. The outdoor fountain terrace, beneath the dappled shade of a spreading pepper tree, is ideal for lazy summer lunches and sundowners, and al fresco dinners beneath twinkling fairy lights on balmy evenings. The restaurant's interior is discretely divided into three individual dining rooms, creating an intimate atmosphere.
"Calvin brings along impressive skill, passion and limitless creativity, and shares our vision of elevating Monneaux to an exciting new level," says Franschhoek Country House & Villas owner Jean-Pierre Snyman. "In the culinary hub of Franschhoek, it's important to differentiate and develop, whilst continuing to offer quality and authenticity. We believe that our new offering truly sets the Monneaux Restaurant apart as a must-visit dining destination and we look forward to welcoming guests to enjoy the transformation with us."
Take a look at our lunch experience in images below. Chef Calvin's starters were the absolute highlight of our day: aged beef tartare and local caught skipjack – both dishes leaving you bowled over with punchy flavour; delightfully inspired food that will set him apart in his new role at Monneaux. His plating is playful yet considered. Service is seamless with a deep sense of authentic Franschhoek county-style hospitality. Pricing is reasonable considering the setting, and portions are generous. A varied local & international wine list with many options by the glass is available, with pricing options to suit most diner's pockets.
Monneaux Restaurant – with chef Calvin Metior at the helm – promises to be a dining destination to discover and revisit in 2020.
For reservations and enquiries, contact: (+27)21-876 3386 or email [email protected].
Trading hours: Open 7 days a week for lunch (12h00-14h30) and dinner (18h30-21h30).
(Please take note that menus change regularly as Monneaux Restaurant only use the freshest seasonal produce. The most recent menu can be e-mailed by their management on request.)
Note: Photographs credited as supplied, where applicable. All others were taken by me during our visit, on location.