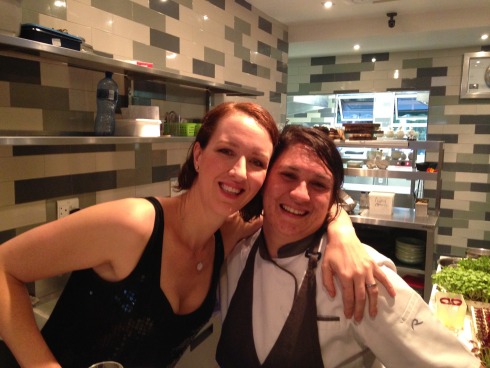 A few weeks ago I received an invitation to experience the newly renovated "Kitchen Table" at Makaron Restaurant, Majeka House, Stellenbosch. I was over the moon, because for years I have been supplying these guys with trout via my brother-in-law's trout farm on Lourensford. I've seen their hotel and restaurant, and I was delighted to have the opportunity to experience their newly renovated kitchen and exclusive Kitchen Table. The invitation also included accommodation at Majeka House and breakfast the next morning, so I grabbed my husband and fellow food enthusiast Schalk to join me on this journey on the 2nd of November. It was his birthday two days after, so we had a big reason to celebrate.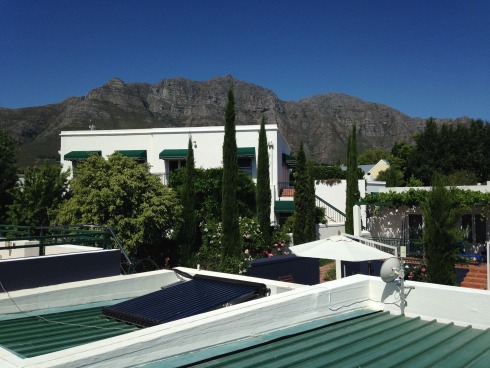 Majeka House is situated on the edge of Stellenbosch's residential Paradyskloof suburb, almost hidden beneath the lush trees with a strong feeling of privacy. We were ushered to our "mountain view room" which was situated on the first floor and had a magnificent view of the majestic Stellenbosch mountain. The room was spacious and luxurious with the most beautiful wall paper, free wi-fi, private balcony and a freestanding victorian bath. We opted for a swim in one of the private pools with sundowner drinks to soak up the tranquility and the beautiful weather. After a quick freshening up we were ready to clock in at the Kitchen Table at the restaurant.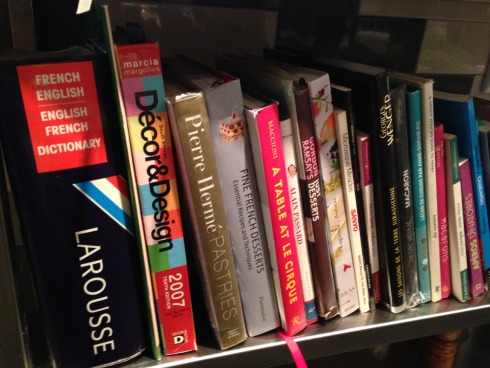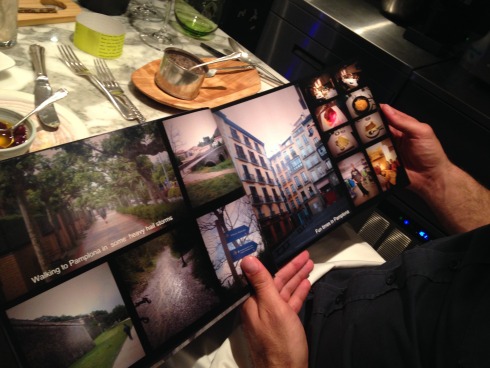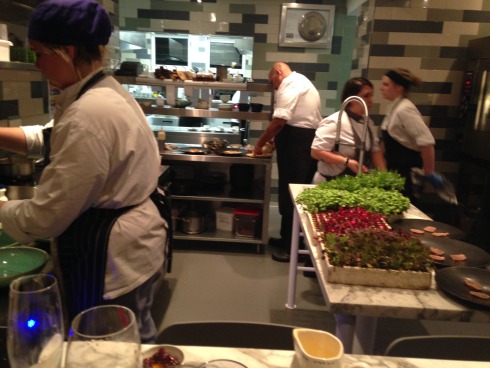 There is only one two-seater table inside the kitchen, which makes this experience quite unique and exclusive. We were greeted by head chef Tanja Kruger and sommelier Esmé Groenewald, who proceeded to tell us more about what we could expect on the evening. We were in for a 5-course tasting menu that came with many surprises – a night of excitement, laughter and loads of food fun.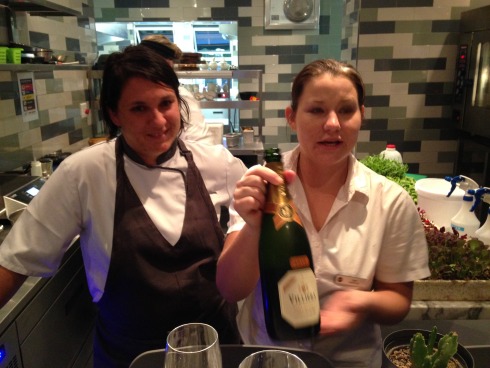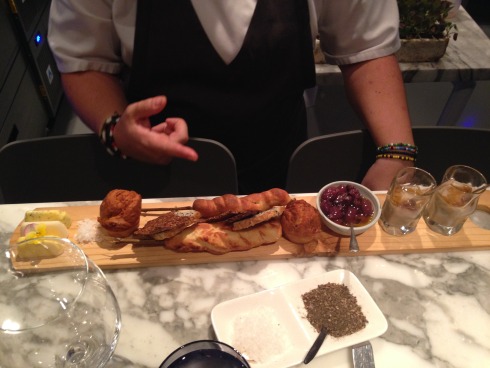 Tanja and Esmé make a great team in letting the food and wine shine along one another, and Tanja's inventive mind along with her well-traveled soul makes for some very creative and forward-thinking dishes. We were taken on a journey that included "ancient grains", pink vienna sausages, chicken and corn, sea bass  and even dried milk skins. There was no red meat to be seen – such a fresh take on the usual fine dining menu. Here's a look at our 5-course menu with wine pairings that evening:
2010 Villiera "Natural"
Ancient grains, cauliflower velouté, courgette, romanesco (2012 Nivo van der Merwe White)
Mauritian Seabass, Laksa Foam, Carrots, Cashew, Coconut (2014 Paul Cluver "Close Encounter" Riesling)
Pork Belly and fillet, jewel sweet potato, apple, mebos (2014 Neetholingshof Gewurztraminer)
Free range chicken, dumplings, corn, buttermilk, chive (2011 Vriesenhof Grenache)
Milk mousse, salted caramel popcorn (2010 Lammershoek "Cellarfoot")
(PS: After our first course, we were served a surprise extra course that was not on our menu. It was a small tin filled with something pink, and next to it a bite of real pink vienna on a fork. Around the tin, there was a printed label that read: "Everyone has a guilty pleasure. Mine is viennas, the nasty pink ones just to clarify if there were any confusion. My grandfather used to call them "gwapse" because of the sounds they make when you bite into them. I think I like them so much because of the memories of going to the butcher as a big shopping day once a month. We would buy loads of these viennas and sit around the table and eat them as a simple supper the same evening – just like that, no mustard of bread or tomato sauce. So I hope tonight you feel like you are sitting around my table and enjoying a meal with my Makaron family." What a joy!)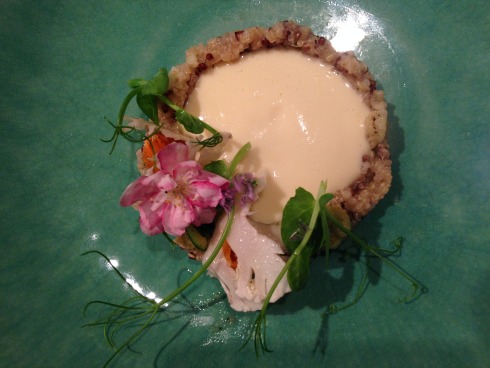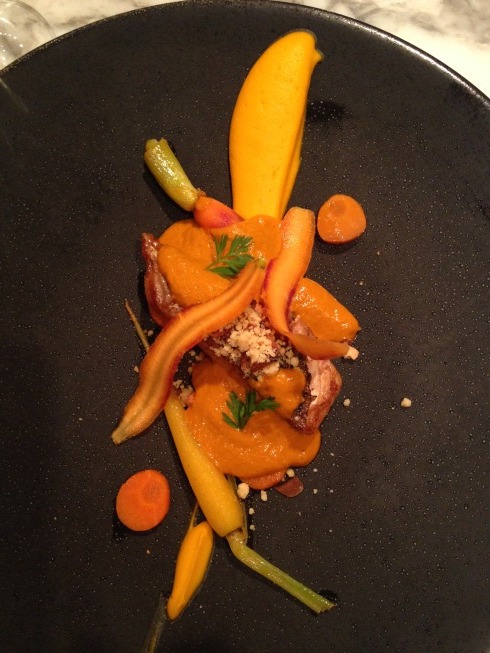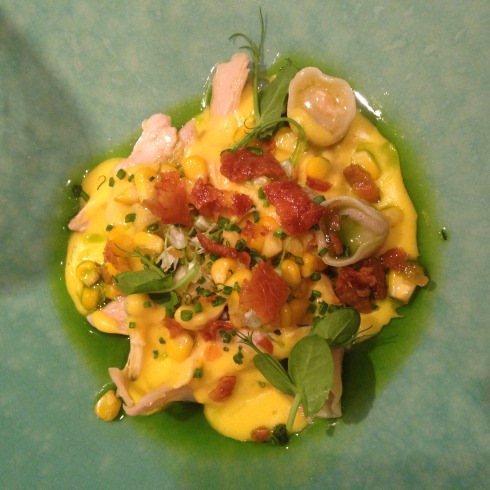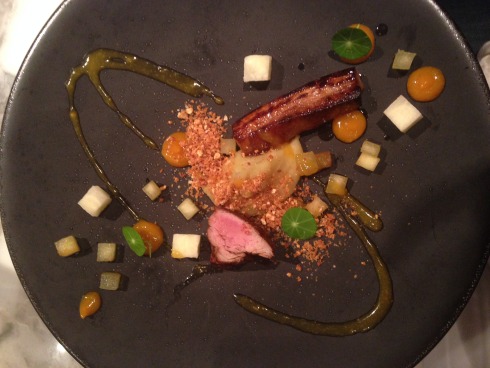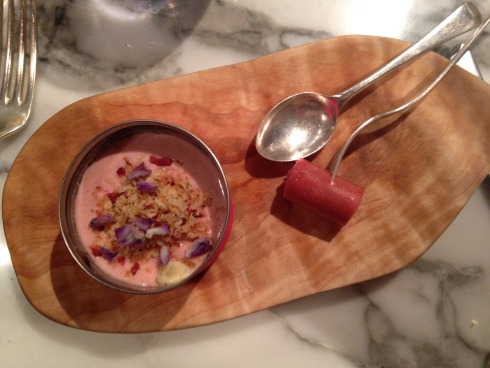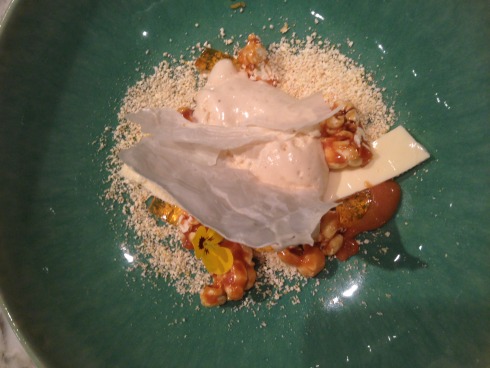 The experience as a whole was one of my favourites of 2014 so far – a total must if you consider yourself a fine dining lover and an adventurous eater. The service was impeccable, yet friendly and relaxed.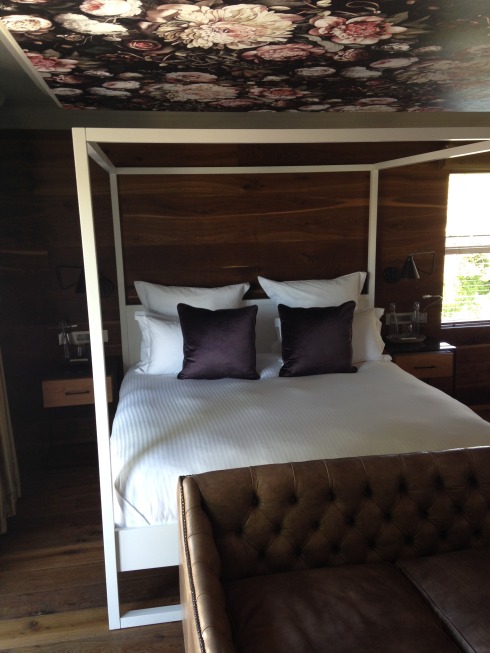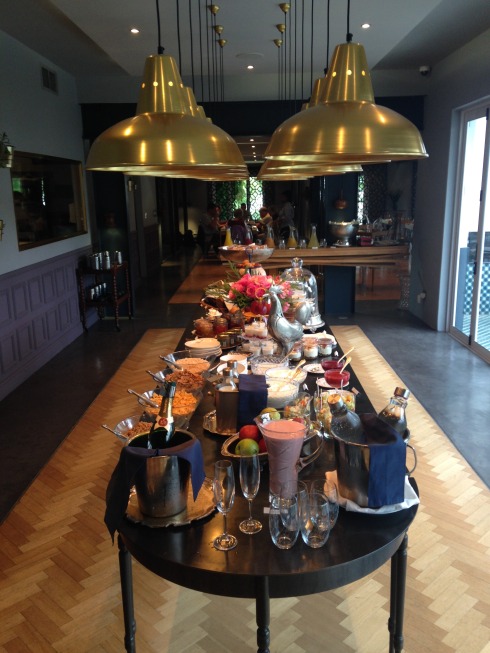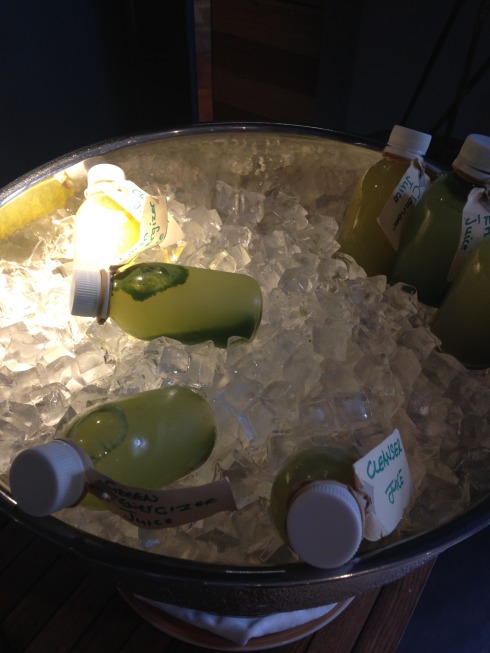 Our stay at Majeka House was top quality and I can certainly recommend the hotel to anyone who loves a luxury boutique accommodation experience. Their attention to detail is commendable. The next morning, we were treated to probably the best breakfast spread in town –  French pastries (I think I had about 8), homemade yoghurt, beautiufl charcuterie and smoked fish, fresh fruit, veggie juice to nurse the indulgence of the night before, great coffee and a great selection of hot breakfast options.
Majeka House is a great example of how a hotel should be run in a highly competitive environment like Stellenbosch. The owners are hands-on, their staff have a strong sense of "family", and they do everything properly. The restaurant can hold its own against any of the best restaurants in South Africa, and there is a reason why they currently feature on the top 20 nominated restaurants for the Eat Out Awards 2014.
Thank you Majeka House and Manley Communications for the opportunity to experience this.
Contact Majeka House:
Tel: 021-8801549
Email: [email protected]
26-32 Houtkapper Street, Paradyskloof, Stellenbosch