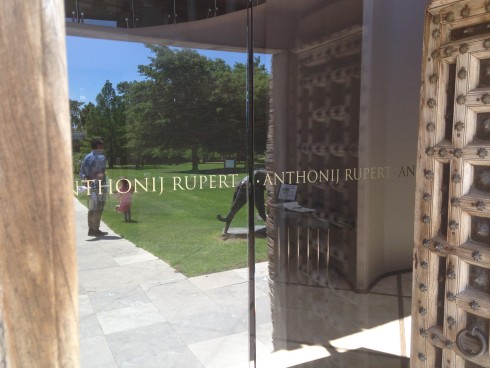 A few weeks ago, I was invited to experience a day at Anthonij Rupert Wines in Franschhoek. We put aside a Saturday as we heard that it was worth spending more time than just the usual for a tasting, and took the drive over the magnificent Helshoogte Pass towards Franschhoek.
Anthonij Rupert Wines is home to two exquisite tasting rooms. The first is their Terra del Capo Tasting Room, situated at the entrance to the property, which was designed to showcase the company's Italian-inspired Terra del Capo range. At the restored original Manor House on the farm, wine aficionados can also enjoy tailored wine tastings  of the Cape of Good Hope and Anthonij Rupert Wine ranges.
Both tasting rooms are unique in their own rights and offer visitors an exquisite day out to the Winelands. Earlier in 2014 the farm introduced two beautiful vintage trams offering visitors a complimentary transport system between the two tasting rooms as well as the adjacent Franschhoek Motor Museum on the picturesque L Órmarins Wine Estate.
Below is our day at Anthonij Rupert Wines in pictures. It is surely one of the best day-trips to make in the Winelands, and offers exceptional value in terms of scenery, wine tastings, tapas and adventure. The tapas restaurant at Terra del Capo is still one of the best kept secrets in Franschhoek (not too commercial, not overcrowded) and it is very affordable. I'll return there often – one of my favourite new places to eat. You can sit inside with a view of the cellar, or outside underneath the beautiful olive trees on comfortable couches.
This experience is highly recommendable for food and wine lovers looking for a quality day out in the Winelands, but is also a picture perfect romantic Valentine's excursion with your beloved – especially with the newly released L'Ormarins Brut Classique and Rosé. The motor museum at the adjacent L'Ormarins is breathtaking (even for those who aren't necessarily gearheads) and the sheer beauty of the pristine grounds and gardens will leave you in awe.
Anthonij Rupert Wines & Terra del Capo is open: Tuesday – Sunday, 10h00-16h30.
Cost for tastings: R10-R60
Prices for tapas vary from R20-R150
Contact: Elana Bernhardt – 021 874 9041 / [email protected].
The Franschhoek Motor Museum is open:
Mon – Fri: 10h00 – 17h00  (last admittance 16h00)
Sat & Sun: 10h00 – 16h00 (last admittance 15h00)
Open most public holidays (phone for confirmation +27 (0)21 874 9000 / [email protected])
No motor bikes
Admission prices are R60 adults, R50 pensioners, R50 motor club members, R30 children (3-12yrs).