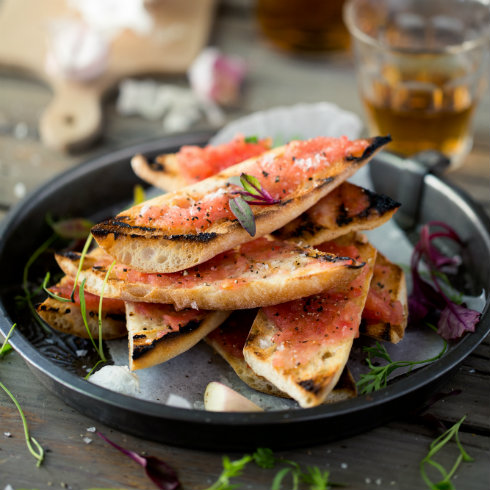 Here at the demo KITCHEN we've done quite a few Spanish-themed dinners over the last few weeks. The three course dinners consisted of some of my favourite traditional Spanish dishes: pan con tomate (toasted bread with fresh garlic & fresh tomato), paella with chicken & black mussels, and spiced chocolate churros.
I want to share two of these recipes with you, starting with pan con tomate (next time we'll get to the churros). This is one of those dishes that is deeply satisfying because of its simplicity, but only if you choose the ingredients well. Buy great quality bread (or bake your own), choose only the ripest reddest firm tomatoes, use a robust extra virgin olive oil, and eat it as fresh as possible.
Although the original way to eat pan con tomate says that you need to rub a tomato half straight onto the toasted bread, I find that it can be a messy affair and not everybody likes to get their hands dirty. Use a course grater to grate the tomato from the cut side, so that you are left with the skins.
This is a fantastic start to a lazy summer lunch or dinner. Add beautiful shavings of ham, stuffed olives and cheese, and you have a perfect simple tapas spread.
Ingredients: (serves 4)
4 x panini sticks, sliced horizontally in half (small baguettes, or just use normal baguettes)
cold pressed extra virgin olive oil for drizzling
2 garlic cloves, skins removed
1 -2 large ripe tomatoes, halved and coarsely grated from the inside out (discard the skins)
salt flakes & cracked black pepper
Method:
Toast the bread cut-side down in a hot griddle pan or over an open fire. Remove from heat and quickly drizzle with olive oil.
Now use a clove of garlic to rub onto the bread, all over the surface.
Top with freshly grated tomato, then season well with salt & pepper. Enjoy immediately.
Credits:
This post was originally written for The Pretty Blog by Ilse van der Merwe from The Food Fox.
Recipe, food preparation and text: Ilse van der Merwe
Assistant: Elsebé Cronjé
Photography: Tasha Seccombe
Styling: Tasha Seccombe
Venue for shoot: the demo KITCHEN