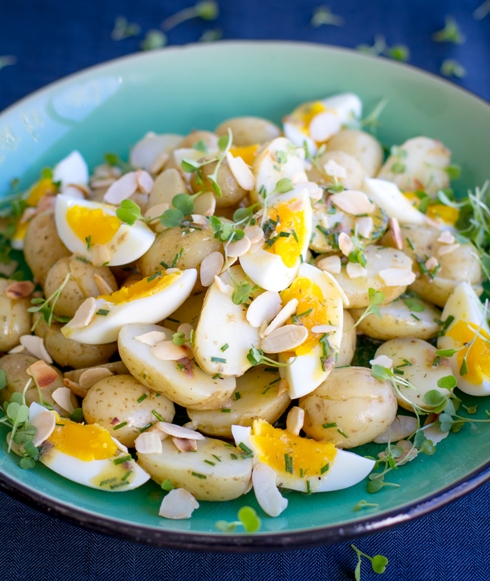 Although I'm always a sucker for an old-fashioned cold potato salad with store-bought mayonnaise, I sometimes like to change things up a bit and serve my potato salad warm with a flavoured oil or a butter sauce and lots of fresh herbs.
In this case, I yearned for the savoury taste of anchovies and the richness of soft boiled eggs, so I combined the 2 to make a fantastic warm potato salad. If you prefer to serve this at room temperature, rather use good quality extra virgin olive oil instead of butter, as the butter solidifies when cooled down. But served hot, there is just no substitute for melted butter.
Ingredients for the salad:
1 kg small/baby potatoes, halved
3 softly boiled eggs, quartered
a handful of toasted almonds
a handful of chopped chives
some micro herbs for garnish (optional)
Ingredients for the dressing:
60 ml butter, melted (or more, if you really like butter!)
3 anchovy fillets, finely chopped
1/2 T chopped dill
1 T chopped chives
salt flakes and freshly ground black pepper to taste
Method:
Prepare all the ingredients for the salad. Arrange the potatoes and eggs on a large salad platter/plate.
Mix all the ingredients for the dressing, then pour it all over the potatoes and eggs.
Top with toasted almonds, chopped chives and some micro herbs. Season with extra salt and pepper.
Credits:
This post was written especially for The Pretty Blog.
Recipe, text and food preparation: Ilse van der Merwe from thefoodfox.com
Photographer: Tasha Seccombe
Styling: Tasha Seccombe and Nicola Pretorius