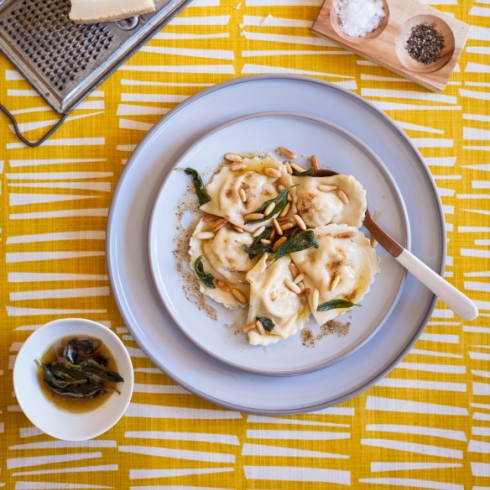 As the days are drawing darker and colder, all I want for dinner is comfort food. Not necessarily buckets full of mac 'n cheese, but definitely something buttery and indulgent.
Although pasta is considered a relatively simple staple, it can certainly be turned into something spectacular if you take the time. I confess: making homemade ravioli is not really the fastest way to a great dinner, but it is so very much worth all the effort. Prepare all the different components ahead of time, and you can assemble it quick-quick with minimum fuss.
The rich filling is made with roasted butternut, fresh herbs, ricotta, blue cheese and Parmesan. It matches perfectly against the toasted pine kernels and nutty sage butter, somehow creating a synergy that feels lighter than the individual parts.
We are looking at various components here: 1) roasting the butternut, 2) making the filling, 3) making and rolling out the pasta dough, 4) assembling the ravioli, 5) making the sage butter, 6) cooking the ravioli, and finally 7) plating the ravioli with the butter sauce and some toasted pine nuts. Don't be rushed – the whole process might take you 2-3 hours, so pour a glass of wine and get someone to keep you company!
This recipe serves up to 6 people.
1) For the roasted butternut: 
500 g butternut cubes (skinless and seedless)
30 ml olive oil
salt and pepper
15 ml chopped sage
5 ml chopped thyme
Pre-heat the oven to 200 C. On a baking sheet, add the butternut cubes, then drizzle with olive oil and season with salt and pepper. Roast for 15 minutes, then toss slightly and add the herbs. Roast for a further 10 minutes until the butternut starts to turn brown and is soft when tested with a sharp knife. Remove from the oven and set aside.
2) For the butternut & 3 cheese filling:
1 x batch roasted butternut (see above)
1 cup ricotta cheese (about 350 g)
125 g blue cheese
1/2 cup grated Parmesan cheese (about 40 g)
salt and pepper
Place all the ingredients in a food processor, then process until you get a course pulp. Taste and adjust seasoning if necessary, then process again to mix thoroughly. Scrape the filling into a mixing bowl, then wash and dry the food processor for the next stage.
3) For the pasta:
500 g plain flour (or cake flour)
5 XL eggs
Place the flour and eggs in a food processor, then process until it resembles large cous-cous grains (it takes about a minute). Turn the "grains" out onto a wooden board, then press it together to form a ball of dough. Lightly knead the dough to a smooth consistency, then cut it into 5 equal pieces. Using a pasta rolling machine, roll out each piece of dough to a very thin sheet (thinnest setting) of about 12 cm in width. Lay out the sheets on a large floured surface, ready for the next stage.
4) Assembling the ravioli:
1/4 cup of water
pasta sheets (see above)
ravioli filling (see above)
Using a pastry brush, brush half of each pasta sheet lenghthways with water (the reason we do this is to make sure the pasta sticks when we fold it over lenthways after filling it). Using a teaspoon to create "drops" of filling, place a row of filling drops lengthways down the middle of each pasta sheet, about 5 cm apart. Now fold the pasta sheet over lengthways, making sure the gently press out any air bubbles that are forming (press from the fold to the edges). When each ravioli sheet is tightly sealed, used a pastry cutter to create generous rounds of individual ravioli. Place them on a floured tray until ready to boil.
5) Making the sage butter and toasted pine nuts:
250 g butter
about 20 – 25 fresh sage leaves
20-30 g pine kernels
In a medium size saucepan over medium heat, melt the butter and let it simmer until it starts to turn light brown and starts to smell nutty. Watch it carefully, or otherwise it will quickly burn and you'd have to start from scratch. Swirl it lightly every now and then. When you see that it starts to brown, drop all of the sage leaves into the butter, and fry it for about 10-20 seconds, swirling the butter around to cover all the leaves. The leaves will quickly fry and become crips. Remove from the heat at once and set aside.
In a small pan over medium heat, carefully toast the pine nuts without adding any oil until they turn a golden brown colour. Remove from the heat and set aside.
6) Cooking the ravioli:
Bring a large pot of salted water to the boil. When the water is boiling rapidly, drop about 1/2 of the prepared ravioli into it, then cook for 4-5 minutes. They are ready when they are floating on the surface and the edges are just tender. Remove with a slotted spoon into individual serving bowls.
7) Plating the ravioli:
Working quickly, drizzle each portion of cooked ravioli with sage butter, and top with a few toasted pine nuts. Serve at once – freshly cooked pasta is always best served immediately!
Credits:
This post was written especially for The Pretty Blog.
Recipe, text and food preparation: Ilse van der Merwe from thefoodfox.com
Photographer: Tasha Seccombe
Styling: Tasha Seccombe and Nicola Pretorius