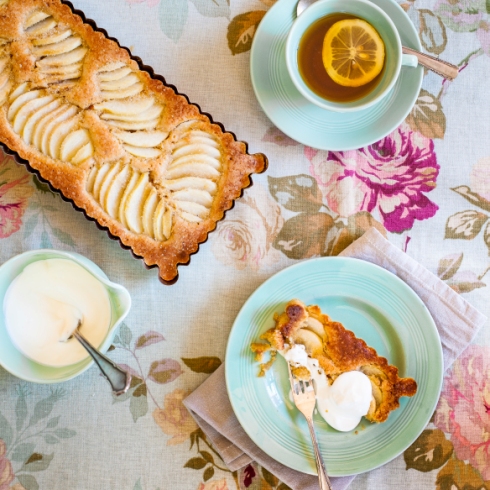 Back in the heydays of Nook Eatery, my favourite daytime hangout in Stellenbosch a few years ago, their pear and almond tart was one of my ultimate pastries to enjoy with a strong cup of fresh coffee. Unfortunately, Nook doesn't exist anymore. Jessica and Luke moved to Greyton, and they started a new venture called A Good Place To Gather.
Jessica is a very talented pastry chef, and all of her pastries at Nook were just impeccable. You could see that she naturally understood the magical science of flour, butter and eggs. Jessica admits that her pear and almond tarts are "not quick to make", but that the result is well worth the effort.
Although nothing in the world would make me happier than to spend a whole day blissfully baking the perfect pear tart, not everyone is a naturally talented pastry chef, and not everyone has a full day to spend on poaching pears, making and resting pastry, and creating a perfectly smooth pastry creme. So I searched for a recipe that has less effort, but still delivered a really great result. I found one in my brand new Donna Hay book, Seasons. It is a rustic pear and almond tart, without a separate pastry base, made with fresh pears. Donna has a reputation for writing really simple recipes that work, without compromising on flavour.
This fragrant tart is best served warm (not piping hot), with thick cream. It only takes about 20 minutes to prepare, and 40 minutes to bake in a cool oven. It is the perfect teatime treat for a cool Fall day, and still makes me long for the heydays of my favourite eatery in Stellenbosch…
Ingredients: (recipe adapted from Donna Hay)
90 g butter, softened
90 g brown sugar
2 eggs
100 g ground almonds
35 g (1/4 cup) cake flour
1/4 teaspoon baking powder
2 teaspoons finely grated lemon rind
4 small pear, halved, cored and finely sliced
brown sugar for sprinkling
thick cream, to serve
Method:
Preheat oven to 160 C and grease a rectangular fluted tart tin (about 9 x 33 cm)
Place the butter and the sugar in a food processor, and process until combined.
Add the eggs, almonds, flour, baking powder and lemon rind. Process until just combined.
Spoon the mixture into the greased tart tin, and spread it out evenly into all the corners.
Place the sliced pears on top of the mixture, then press it in slightly to fan it out.
Sprinkle liberally with brown sugar, then bake for 40 minutes at 160 C.
Remove from the oven, then cool for 10 minutes before serving with thick cream.
Credits:
This post was written especially for The Pretty Blog.
Recipe testing, text and food preparation: Ilse van der Merwe from thefoodfox.com
Photographer: Tasha Seccombe
Styling: Tasha Seccombe and Nicola Pretorius