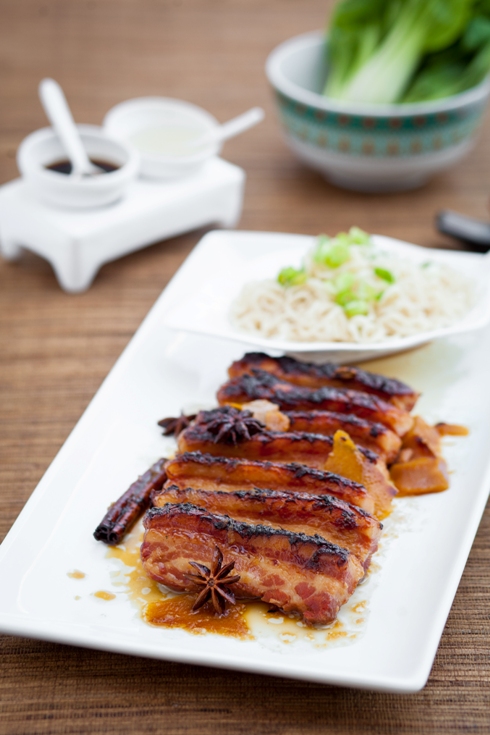 When I'm out for dinner and there's pork belly on the menu, I'll probably end up ordering it. Although it's traditionally a very fatty cut of meat, it can be one of the most rewarding cuts to eat: tender like a cloud, filled with flavours from heaven.
My husband gave me one of Reuben Riffel's cookbooks (Reuben Cooks) as a present for my birthday a few years ago.  His recipe for "braised pork belly with ginger-caramel sauce" is just dreamy, and I have used it as inspiration to cook many a pork belly in my kitchen over the past few years. Reuben uses a combination of stock, orange, soy, ginger, start anise, cinnamon, peanut oil and brown sugar to braise his pork belly, which he tops off with a caramel sauce infused with chillies, lime, fish sauce and ginger. My recipe is a lot simpler, but still delivers big time on intensely aromatic Asian flavours.
It is imperative to cook the pork belly long enough to ensure a really tender result (Reuben cooks his for 4 hours at 160C), but one of my recent new "tricks" is to cut the pork belly into thick slices before cooking it, thus ensuring a much shorter cooking time (about 2 and a half hours at 160C). I also choose a smoked boneless pork belly with as little fat as possible, ending up with a tender, meaty roast. Perfect as canapés, starters or a main course.
Ingredients:
1 kg smoked boneless pork belly
1/2 cup soy sauce
juice of 2 oranges
rind (peeled) of 1 orange
1 star anise
2 T (30 ml) grated fresh ginger
2 cardamom pods
1 clove
1 cinnamon stick
1/4 cup brown sugar
Method:
Pre-heat oven to 160C.
Using a sharp knife, score the fat side of the pork belly diagonally into diamonds of about 1 x 1 cm (just a few mm's deep).
Now cut the pork belly into strips of about 2 cm thick, keeping the slices together.
Place the sliced pork belly (fat side up) into a rectangular roasting dish that fits the pork belly snugly, but make sure that the slices aren't packed too tightly against each other.
In a mixing bowl, combine the soy sauce, orange juice, rind, start anise, ginger, cardamom, clove, cinnamon and sugar. Pour over the belly – it should just come up to the sides but not cover the fat side completely.
Roast for 2 and a half hours, then remove from the oven. The fat side should be dark and golden, but not too crispy – if you like yours very crisp then turn up the heat and grill the top for a few minutes (this is optional, I rarely do it).
Serve with mashed potatoes and steamed veggies like broccoli or spinach. The braising sauce can also be served, but it is optional.
Credits:
This post was written especially for The Pretty Blog.
Recipe testing, text and food preparation: Ilse van der Merwe from thefoodfox.com
Photographer: Tasha Seccombe
Styling: Tasha Seccombe and Nicola Pretorius