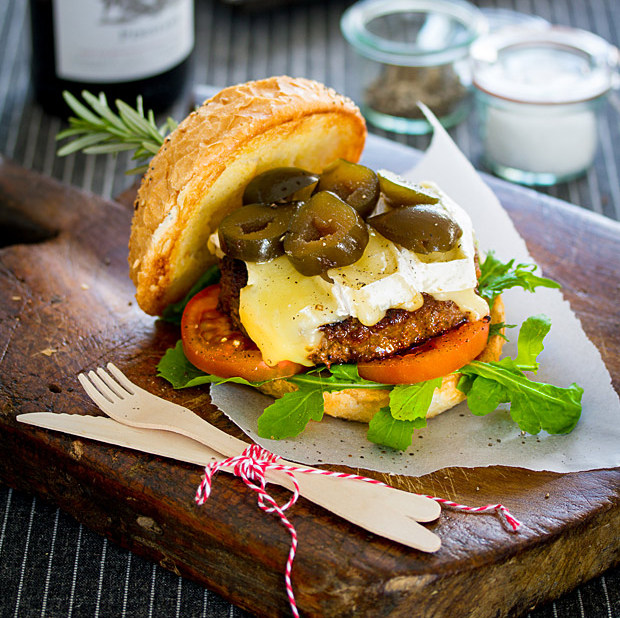 Burgers, anyone? I can catch my husband in a trap with a homemade burger. He would probably eat it everyday if I served it. Me too, if all the factors were just right.
So, what makes a great burger? Here's my list:
Ideally, you should use the best quality meat for your pattie, like coarsely ground steak (sirloin, rump or fillet). Flavour wise, you're already halfway there.
The pattie should be a generous size, but not too thick. A thick burger is difficult to eat.
The pattie should be well seasoned.
The pattie should not be overcooked – the meat should be juicy. I also baste it with barbecue sauce while it's grilling, to make it really juicy.
The bun should be really fresh and soft, but toasted on the inside. That extra buttery crunch of a toasted bun makes a huge difference.
Other toppings, like cheese, tomato and lettuce is completely optional, but melted cheese adds great flavour to a burger.
I can eat a toasted bun with a great beef/lamb burger pattie any day – just like that. But add the right mix of toppings, and it turns into something spectacular. Like a combo of oozing brie and sliced sweet green figs – just heavenly!
For this burger, I used regular ground lean beef mince – it is cheaper and it is available in almost every supermarket. Because this meat is not steak quality, I mixed it with some breadcrumbs and an egg for extra tenderness. If you can get hold of ground rump steak, you don't have to used any breadcrumbs or egg at all, just salt and pepper!
Ingredients: (makes 3 extra-large patties or 4 large patties)
500 g lean beef mince
1 large egg
1 small slice of bread, finely crumbed
generous amount of salt and pepper (at least 1 t salt and 1/2 t pepper)
oil for frying (I used Canola oil)
½ cup of store-bought spare rib sauce or barbecue sauce
3 or 4 hamburger buns
one block of brie cheese (we used Fairview)
sliced preserved green figs (in syrup)
lettuce leaves, tomato slices
Method:
In a large mixing bowl, combine mince, egg, breadcrumbs, salt and pepper. Mix well with a clean hand.
Lay out a sheet of plastic wrap on a flat surface. Put meat mixture on top, and press down to flatten slightly. Cover with another sheet of plastic wrap, then roll out evenly with a rolling pin to a thickness of about 15 mm.
Remove top layer of plastic wrap, then use a large round cookie cutter or dessert bowl to cut out rounds of about 12-15 cm in diameter. They will look completely oversized, but they shrink quite a lot while cooking! Remove the meat mixture in-between the patties, then cut out the plastic around each pattie – it is easier to handle individually this way.
Heat some oil in a large pan over moderately high heat. Frying one or 2 patties at a time, transfer them to the pan (I put them in the pan facing downwards, then peel off the plastic from the tops immediately). Fry on each side until charred but still juicy inside, basting with spare rib sauce.
In the meantime, butter the buns, then toast them in a dry pan over moderate heat until golden brown.
Assemble the burger, starting with bun, leaves, tomato, then the well-basted pattie and cheese. Pop under a grill for 30 seconds to melt the cheese, then top with figs and the top half of the bun. Serve immediately with fries or a baked potato!
Tip: Onion marmalade work very well as a sauce on this burger. Otherwise, add your choice of mayo, tomato sauce, or barbecue sauce.
Credits:
This post was especially written for The Pretty Blog by Ilse van der Merwe from The Food Fox.
Food: Ilse van der Merwe.
Photography: Tasha Seccombe.
Styling: Tasha Seccombe & Nicola Pretorius