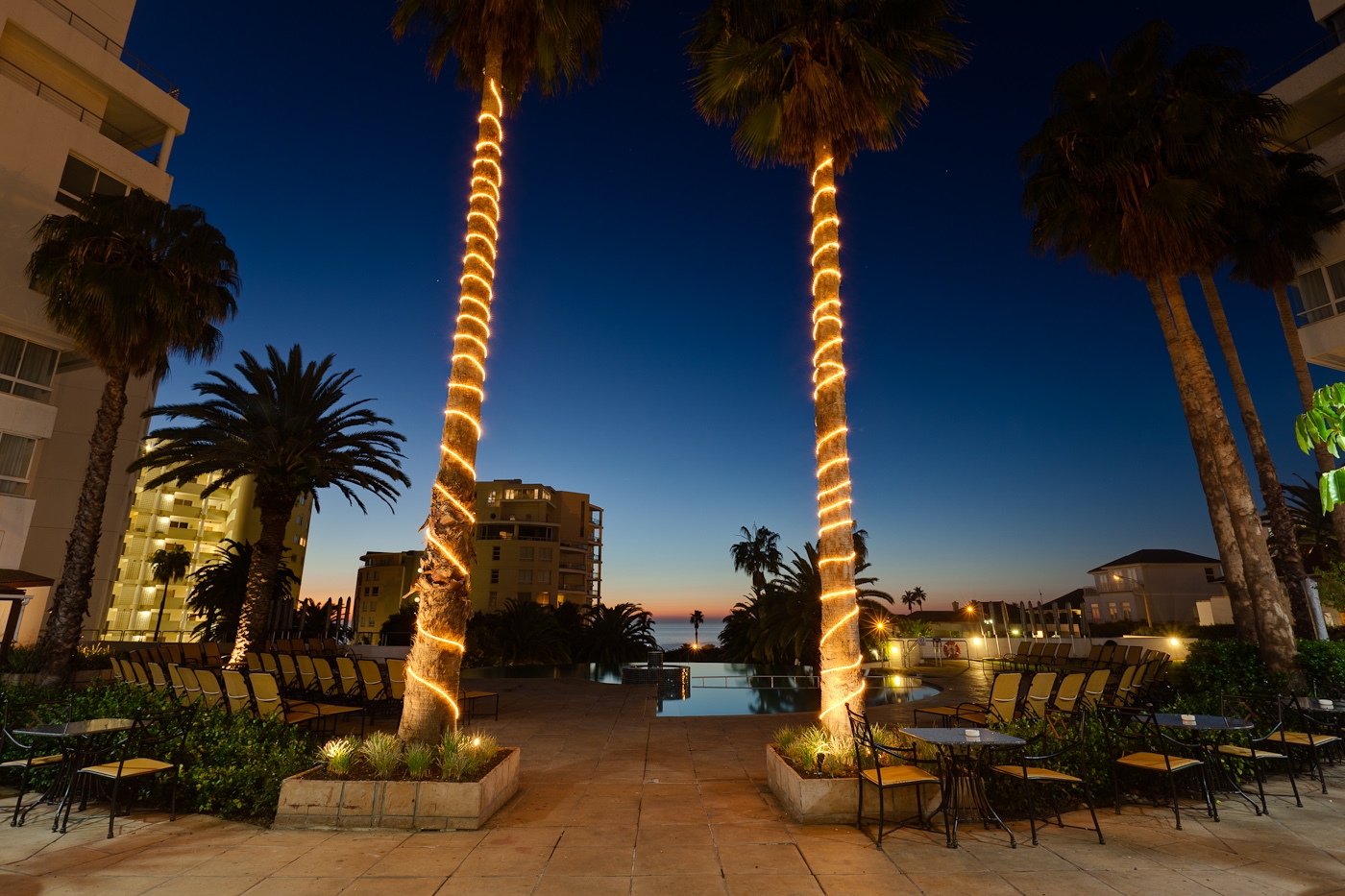 A few weeks ago, I was invited to attend the "Chef's Table" at the Protea Hotel President in Bantry Bay. The hotel has recently relaunched its a la carte and specialist menus, and is in the process of refurbishing all 349 of their hotel rooms. The management team was ready to celebrate with an elaborate 3 course dinner (and an overnight stay) for the group of  invited food writers / bloggers and their partners.
The hotel's location is just amazing – literally within a stone's throw from the beach. We were welcomed by the hotel's General Manager, Pieter Buitendag, with a glass of MCC as we waited for all the guests to arrive. Executive Chef Norman Heath greeted us for a quick chat, before he slipped away to do what he does best in the kitchen. Norman describes his style as "globally influenced, but definitely leaning towards Asian food and spices from the Indian sub-continent". His offerings for the new menu focus on quality local produce and bold flavours, showcasing the best of South African ingredients in dishes such as rooibos-smoked salmon with honey mustard hollandaise, agave marinated pork fillet or red wine poached baby pears filled with white chocolate and blue cheese mousse topped with walnut crumble.
The atmosphere at the dinner table was very relaxed, with fantastic service from the friendly waiters. The 3 course dinner comprised of 4 starter tasting portions, 4 main course tasting portions and 4 dessert tasting portions – all reflecting the current dinner offerings at the hotel. I was pleasantly surprised at the versatility and innovation that Chef Norman and his team showed us; it was an immensely satisfying dinner. Some of my favourites included:
Chickpea puree, smoked paprika, blackened eggplant, deep fried parsnip, slow roasted cherry tomato and herb salad
Dukkah and prickly pear marinated ostrich carpaccio, goats cheese sugar ball, fig puree and micro salad
Beef fillet, baby carrots coated in butterscotch sauce, pea and potato mash and thyme jus
Red wine poached baby pears filled with white chocolate and blue cheese mousse, walnut crumble
For all my friends that live outside of Cape Town and want to experience the Mother City in a very convenient location, this is a great central hotel to stay at. And with a restaurant this versatile, you can also experience top class fine dining at your fingertips, without even leaving the building!
Thank you to the management team from the Protea Hotel President Bantry Bay for a memorable dinner and a comfortable stay.
All pictures courtesy of the Protea Hotel President.