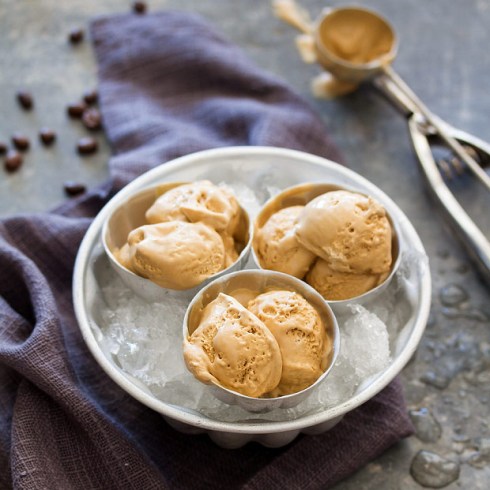 Two weeks ago I attended a brandy tasting and blending experience that has changed my view of brandy forever.  I had the privilege of learning more about SA's top brandies with master distiller Brink Liebenberg at Van Ryn's in Stellenbosch, as well as blending my own personal brandy with a mixture of 3, 5, 12 and 15 year old brandies.
It was an eye opening experience, to say the least! What most of us know about brandy in South Africa, is that it is a popular spirit that many people enjoy with Coke. Lots of it. But after tasting a range of 8 brandy components that they use to blend the top brandies in the country, my palate was treated to intense flavours of vanilla, pineapple, orange, bitter chocolate and even turkish delight.
Cooking with brandies like these might be considered sacrilege. But with my newfound respect for this amber liquid, I decided to create something that would give the brandy-rookie an accessible introduction to the complex yet rounded flavours of really great brandy. I decided on a coffee and brandy ice cream, based on Nigella's amazing no-churn recipe from her series "Nigellissima". Considering that this is a no-churn ice cream, the amazing velvety texture and intense flavour is no give-away to the simplicity of the recipe. This is one of those minimum effort, miximum result desserts – perfect for wowing guests at the end of a dinner party. One of my favourite new recipes of 2013.
Ingredients: (makes about 1 litre)
(based on Nigella's recipe for no-churn coffee ice cream)
375

ml

(1 and a half cup) double cream

1 can of

condensed milk

3-4

tablespoons

good quality instant espresso powder (not coffee powder)

3-4

tablespoons

good quality brandy (I used Van Ryn's 12 year old brandy)
Method:
Add all the ingredients to a large mixing bowl. Whisk (I used an electric whisk) until the mixture is thick and airy, but not too stiff.
Pour into a plastic container and refrigerate immediately for at least 6 hours, but preferably overnight. The mixture will not become too hard because of the alcohol content – irresistably smooth, velvelty and easy to scoop.
Serve straight from the freezer.
Here are some pictures of my brandy blending experience at Van Ryn's in Stellenbosch. Thank you Nico Gründlingh of Image Solutions Photography for the photos. As part of the experience, we were treated to some amazing treats (fresh oysters, exotic mushrooms salad, etc.) and a fantastic 4 course tartare lunch prepared by Laurent and Cyrillia from Bistrot Bizerca. Feast your eyes!
Thank you very much to the team at Van Ryn's Visitors Centre for this unforgettable experience.