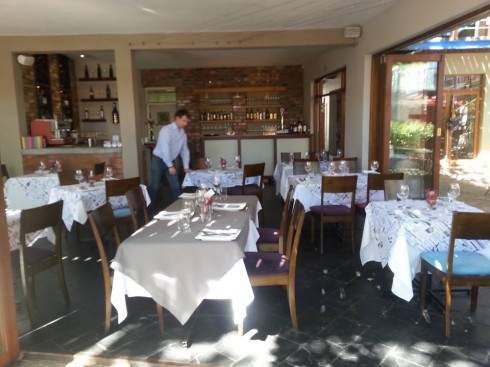 A few months ago, one of my favourite restaurants in The Black Horse Centre, Stellenbosch, closed down. In its place opened another restaurant called Inniebosch – not a fine dining establishment like its predecessor, but still elegant in its approach to food and wine. I was pleased to receive an invitation for lunch, because I was very curious to experience the new kid on the block.
The Black Horse Centre is slowly turning into a popular food hub with the addition of Dorp Street Deli in 2012, and Mila The Cake Shop and The Lunch Department in 2013. With a beautiful shady courtyard and tranquil atmosphere, it has always been one of my favourite spots to have a relaxing lunch or dinner in Stellenbosch.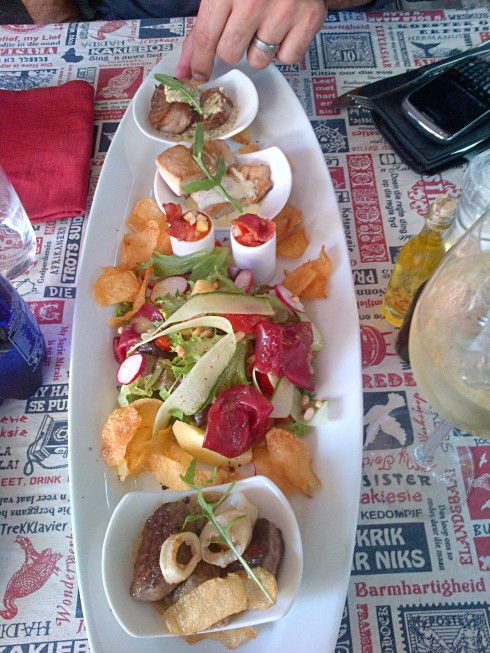 Inniebosch's lunch menu is varied with choices of ostrich, chicken, beef, line fish, lamb and pork (as well as a few options for pasta and salad). They also pride themselves on their "Taste of Inniebosch" – a platter with tasting portions of five of their most popular menu items. Schalk and I ordered this platter to share as a starter. At R150 it is really good value for money, and was more than enough for two to share as a light lunch. The pork fillet and the beef sirloin were both favourites on the platter, and it was lovely to get a feel of the bigger menu in bite sizes – perfect for those who want a little bit of everything.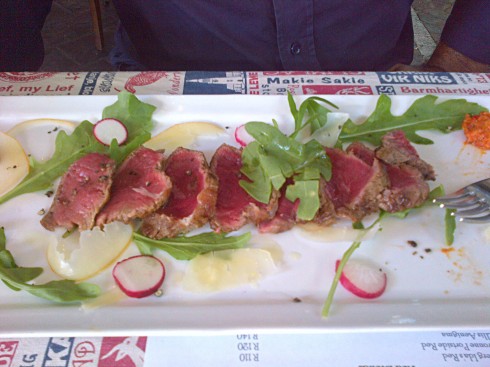 After this, Schalk ordered the seared chalmar fillet (R65) – sliced on a bed of rocket with parmesan shavings, sundried tomato, peppadew paste and red onion. It was quite a fresh approach in terms of plating, almost like a fillet salad. I went straight to dessert and ordered the berry mille feuille – light and crisp layers of pastry with creamy custard and tangy berries.
Inniebosch Restaurant is a great value-for-money addition to Stellenbosch's very competitive dining scene. It's perfect for lunch any day of the week, but also for special occasions or as an outing for the whole family. They have a well chosen wine list, but charge corkage of only R35. Expect unpretentious, good food in a very tranquil setting.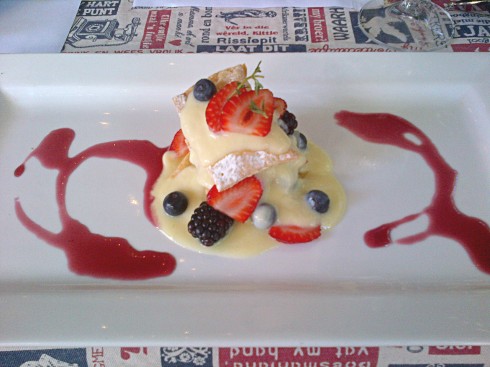 Inniebosch's menu changes often, and prices range roughly from R50-R75 for starters, R75-R150 for mains and R35-R45 for desserts. Bookings can be made at 021-886 7077. Inniebosch is situated in the Black Horse Centre off Lower Dorp Street, Stellenbosch.