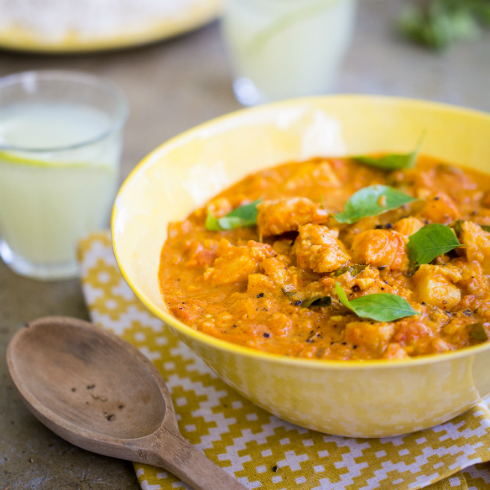 Three weeks ago, Schalk and I decided to spend a day of leisure and adventure in Cape Town as part of our 10th wedding anniversary. After a seriously scrumptious breakfast at Jason Bakery in Bree Street, we headed to Atlas Trading in the Bo-Kaap – one of the best and most popular spice shops in South Africa.
The exotic aromas inside Atlas Trading were almost hypnotising. I ended up buying an array of fabulous spices and spice mixes that I usually struggle to find in my local supermarkets (like sumac, Chinese five spice, black sesame seeds, real Cajun spice mix and saffron), as well as a brown bag filled with fresh curry leaves. If you haven't heard of fresh curry leaves, they are not related to the spice mixture we call "curry powder" but are the leaves of the Indonesian curry tree. They are best used fresh (not dried), and they have to be used pretty much straight away as they don't keep well.
The next day, we visited my sister and her family at their farm house on Lourensford Estate in Somerset West. Her husband is a trout farmer and a very capable fisherman. He had some yellow tail in his fridge from a recent fishing trip, so we decided to make an experimental fish curry using Gerhard's fish and the curry leaves we bought from Atlas Trading.
After about 40 minutes, our curry was ready and the house was filled with a beautifully aromatic, almost nutty, exotic smell. The curry leaves added a flavour that was totally unlike anything I've ever cooked with before – slightly sweet and extremely fragrant. It's my new secret weapon for adding an extra dimension to otherwise familiar spices, and I will certainly cook with curry leaves more often.
What a privilege it is to be living in the Cape – filled with so many treasures like Atlas Trading around every corner. It makes me feel like I want to travel more around my own country before exploring other possibilities overseas!
Ingredients:
45 ml vegetable oil (I use canola)
2 onions, finely chopped
30-45 ml finely grated fresh ginger
3 garlic cloves, finely chopped or grated
15 ml mild curry powder (or roasted garam masala)
6-8 cardamom pods, ground with a pestle & mortar and husks removed
10 ml cumin seeds
10 ml ground coriander
5 ml ground turmeric
5 ml crushed chilli flakes (optional)
about 10-15 fresh curry leaves
30 ml tomato paste
1 can whole tomatoes, roughly chopped
1 can coconut cream
salt and freshly ground black pepper
about 1 kg boneless skinless firm white fish (like yellow tail), cut into bite size cubes
fresh coriander leaves, to serve
cooked basmati rice, to serve
Method:
In a large heavy-based pot over medium heat, add the oil and onion and fry until translucent (not brown). Now add the ginger and garlic and fry for another minute.
Add the curry powder, cardamom, cumin, coriander, turmeric and curry leaves, and fry for a minute. The bottom of the pot will become quite dry.
Add the tomato paste and canned tomatoes with their juice, and stir well. Bring to a boil, then add the coconut cream and bring to a boil.
Simmer for about 5 minutes, stirring, then season well with salt and pepper. Taste and adjust seasoning.
Now add the fish cubes, stirring gently to cover them in sauce. Cover with a lid and simmer for 5-10 minutes over low heat.
Remove from the heat and serve on basmati rice with fresh coriander leaves.
Credits:
This post was originally written for The Pretty Blog by Ilse van der Merwe from The Food Fox.
Food preparation and text: Ilse van der Merwe
Photography: Tasha Seccombe
Styling: Nicola Pretorius