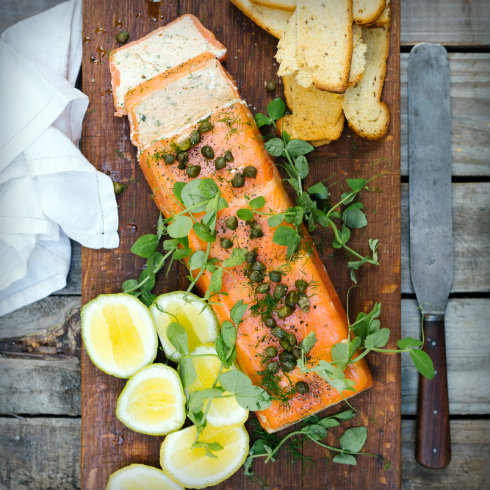 There's just something about a beautiful terrine that looks like it's time to celebrate. This festive loaf is lined with smoked trout ribbons and filled with a creamy mixture of flaked cooked trout, fresh cream and lots of herbs.
It is not cheap to make, but it will feed a crowd and I promise that they'll ask you to make it again. I love serving this as an elegant yet laid-back starter with crips melba toasts or crackers and some lemon wedges.
Although this terrine is such a summer stunner, you can make it all year round – all the ingredients should be available in a good supermarket. If you prefer a smoky flavour, use hot smoked trout for the filling (if you're a progressive cook, you might even have the tools to smoke the fish at home!), but for a milder flavour you can opt for poached/steamed/grilled trout.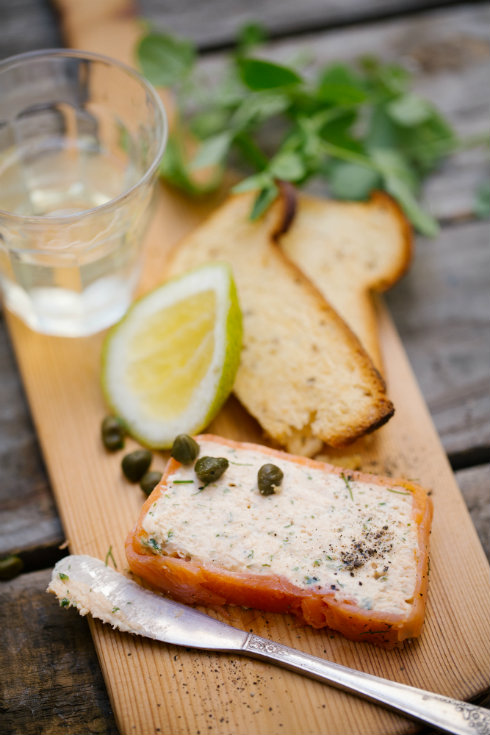 Ingredients: (serves 10-12)
15 ml oil (for brushing inside of terrine tin)
200 g cold smoked trout ribbons
3/4 cup chicken stock
20 ml gelatine powder
3 cups deboned flaked trout (cooked or hot smoked, skin and bones removed)
juice of 1 medium lemon
250 g plain cream cheese
a large handful of chopped herbs (chives, dill, parsley)
salt & pepper to taste
125 ml cream, whipped
lemon wedges, for serving
capers, for topping (optional)
pea shoots, for topping (optional)
Method:
Use a pastry brush to oil the inside of a classic terrine dish or a 30 x 11 x 7 cm loaf tin. Line the inside of the tin with plastic wrap – leave the excess to hang over the sides for later.
Use ribbons of cold smoked trout to carefully line the inside of the tin, slightly overlapping to create a continuous effect (leave 2 or 3 for covering the top at the end).
Pour the cold chicken stock in a small sauce pan, then add the gelatine powder and stir to combine. Leave to sponge for 10 minutes, then heat gently on the stove top and stir until the gelatine has dissolved completely – do not boil. Set aside to cool slightly.
In a food processor, add the trout flakes, lemon juice, cream cheese and herbs. Now add the still slightly warm gelatine mixture and process to combine. Season generously with salt & pepper, then mix well. Taste and adjust seasoning if necessary.
Transfer the mixture to a large mixing bowl, then add the whipped cream and gently fold it in until thoroughly mixed. Pour into the trout-lined tin and use a spatula to smooth the top.
Cover the mixture with the remaining trout ribbons, then carefully fold the overhanging plastic wrap over the terrine. Use another sheet of plastic wrap to cover the top of the terrine, then place in the refrigerator to set for at least 4 hours or preferably overnight.
To serve, remove the top layer of plastic wrap and fold the sides of the wrap open. Turn out onto a serving board, then carefully remove the tin and rest of the plastic wrap. Sprinkle with more chopped herbs or pea shoots and a handful of capers, and serve with a few slices of lemon wedges and your choice of toast or crackers.
Credits:
Recipe, food preparation, food styling & text: Ilse van der Merwe
Photography & styling: Tasha Seccombe
This recipe has been featured on The Pretty Blog.