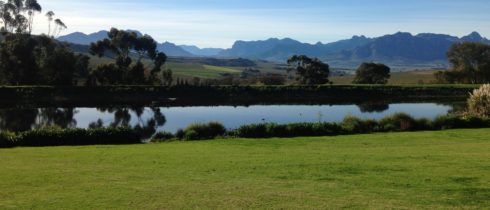 It is mid-Winter in the Winelands and it's one of the coldest ones in a long time. But the locals aren't moaning, they're smiling. Why? Because we've been looking forward to this: the magical comfort of a dreary, rainy, icy Winelands winter. "Kaggel-en-rooiwyn" weather, we call it.
I've put together my list of the top 10 places in the Winelands to visit this winter, specifically because they make us love winter even more. Places where you'll find roaring fire places, more than enough of the very best red wine and the most delicious winter fare in the district. So get your car insurance quotes online, make sure your vehicle is covered and get out there!
Boschendal – Pniel Road, Groot Drakenstein

The Werf Restaurant is super cozy with a fire place that roars like a dragon. From wine tastings to visiting the deli or even staying over in one of the cottages (also with fire places and heaters), this is a winter haven.

The fireplace at the Werf Restaurant, Boschendal (image from www.boschendal.co.za)

The Bakery @ Jordan – Stellenbosch Kloof Road

There's just no substitute for a late morning breakfast in a place that smells like freshly baked bread all the time. And just in time for a wine tasting afterwards, because hey, wine in the morning is fair game in the Winelands. And did I mention they now also have luxury accommodation facilities?

Cuveé Restaurant @ Simonsig – Kromme Rhee Road, Koelenhof

Ever had oysters and Kaapse Vonkel in the middle of winter next to a crackling fire? These guys will show you how.

Glen Carlou – Simondium

The red wines at Glen Carlou keep me coming back for regular tastings during the cold months in the Winelands. Their huge glass doors leading to the stoep keeps the cold at bay (with breathtaking views right through the year) and a fireplace oozes warmth right through the tasting area and restaurant.

Terroir @ Kleine Zalze – Strand Road, Stellenbosch

Heaters are placed around every corner of this understated gem of a restaurant. Winter specials include 2 or 3 courses with a glass of wine and is excellent value for money. A must-visit.

Tokara – Helshoogte

With a massive fireplace in their tasting area and views to die for, this is also one of my favourite wine tasting venues during winter. Stay on for lunch at Tokara Restaurant or move a little further along to Tokara Deli for more roaring fires and kid-friendly zones.

Terra del Capo @ Anthonij Rupert – R45, Franschhoek

Ask for the private tasting area on the first floor that has a fire place – just magnificent. Don't miss out on the tapas downstairs, as well as a beautiful drive to the motor museum and a second tasting at the Anthonij Rupert tasting area. A full day of wonderful wine-induced activities.

Makaron @ Majeka House – Paradyskloof, Stellenbosch

With a fire places in the lounge and heaters in the restaurant, you won't even feel the chills of winter. Remember to try their Sunday roasts for lunch, or opt for one of the best breakfast experiences in the Winelands over the weekend. They always have Winter stay-over specials at their hotel, so check out their website for more info.

M Lounge at Majeka House (picture from www.majekahouse.co.za)

Waterkloof – Somerset West

With a crackling log fire all winter long, you'll feel right at home at Waterkloof. They offer delicious platters at their wine tasting lounge, or opt for a cheese and wine tasting. The restaurant is spectacular and a must-visit destination.

The tasting lounge at Waterkloof (image from www.waterkloofwines.co.za)

Clos Malverne – Devon Valley

One of the best value for money three course meals with wine pairings in the Winelands, but don't forget the magnificent views through the glass panes as well as the fireplaces and the authentic Devon Valley hospitality. Bring the whole family – you'll feel truly welcome.
This post was written in collaboration with Dialdirect.