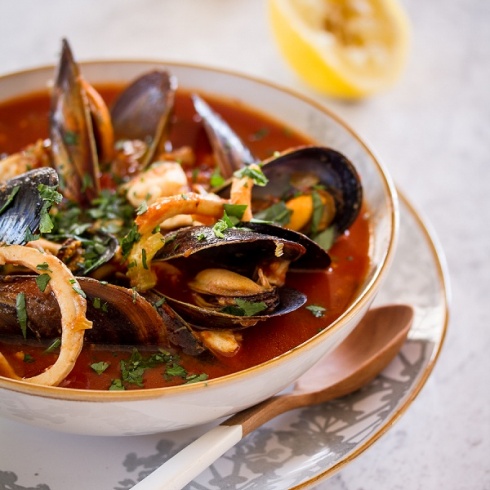 Every December, we go to Keurboomstrand on the Garden Route to spend our holiday – one of the most beautiful places in the world. We have a long family history at Keurbooms: my Mother started going there when she was only 2 years old. When I was only a month old (in 1977), I was Christened under the ancient milk-wood trees in the camping site – one of the most magical spaces that I have ever seen.
A few years ago, an Italian man named Enrico opened an authentic Italian restaurant at Keurboomstrand. Ristorante Enrico's has now become one of the most popular (and most scenic) spots to eat on the whole of the Garden Route, and it certainly is one of my favourite restaurants in the whole of SA. They serve simple food, cooked with passion and great ingredients. One of the dishes that I order regularly is a seafood pasta, made with fresh linguine and served with a glorious tomato-based seafood sauce brimming with mussels, cubes of locally caught fish and calamari.
While we were on holiday at Keurbooms in January 2012, I wanted to make a festive seafood soup/chowder for the family, so I based my recipe on the taste of the seafood sauce that I love so much from Enrico's. It is a chunky, hearty, Mediterranean-style tomato-based seafood soup that works best with the freshest seasonal seafood. My soup is also made with lots of passion, so at least I got the secret ingredient right!
Tip: Add any seafood that is sustainable, fresh, and to your liking. Prawns also work really well. Try not to use frozen products – it really makes a big difference in the taste!
Ingredients:
30 ml olive oil
2 sticks celery, finely chopped
1 onion, finely chopped
2 x medium carrots, finely chopped
3 cloves garlic, finely chopped
1/2 bottle dry white wine (sauvignon blanc or chenin blanc)
a pinch of saffron threads (or half a teaspoon of turmeric)
500 g fresh mussels in shells (rinsed and beards removed)
4 cans of whole tomatoes in tomato juice
60 ml tomato puree
1 litre fish stock
5 ml paprika (I use smoked paprika)
2.5 ml cayenne pepper
250 g fresh calamari/squid
800 g hake fillets
500 g of prawns (optional)
salt & black pepper
handful of freshly chopped Italian parsley (as garnish)
Method:
In a large stock pot over medium heat, add olive oil and gently fry celery, onion and carrots. Fry until translucent (not brown), then add garlic and fry for another minute.
Add wine & saffron, then turn up heat and bring to the boil.
Add fresh mussels, then cook for 5 minutes. Remove mussels with a slotted spoon, and discard any unopened ones. Set mussels aside.
Add tomatoes, tomato puree, fish stock, then bring to the boil. Add paprika & cayenne pepper and stir well.
Add all seafood (including mussels), then cook over medium heat for about 5-10 minutes until just cooked (do not overcook!).
Season with salt & pepper, then remove from heat and add chopped parsley just before serving.
Serve with crusty bread and side plates for the shells – it can be a messy affair, but that's part of the charm!
Credits:
This post was especially written for The Pretty Blog by Ilse van der Merwe from The Food Fox.
Food & recipe: Ilse van der Merwe.
Photography: Tasha Seccombe.
Styling:  Nicola Pretorius & Tasha Seccombe