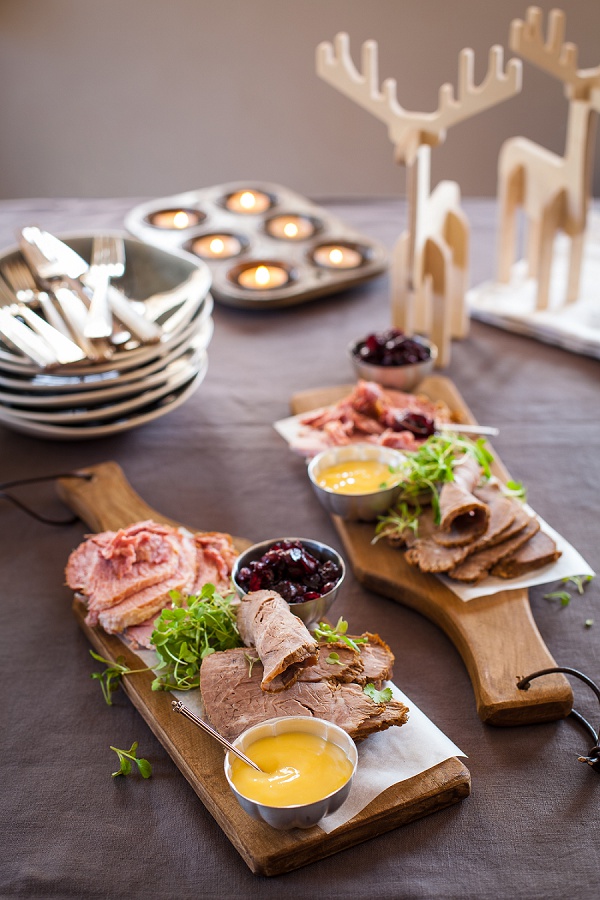 Christmas is around the corner and the festive spirit is almost tangible! This year, we're planning an afternoon affair, lazily celebrating into the cooler summer evening.
With the serious heat of the Winelands upon us, there's no need for heavy, piping hot dishes. Instead, we'll be feasting on lighter tomato-based seafood soups, cold meat platters and a large array of salads and marinated grilled vegetables. For dessert we'll be having fresh fruit salad, but just for indulgence's sake I'll also be making a family favourite: malva pudding (with extra brandy, pecan nuts and dates) with vanilla ice cream and caramel sauce.  And maybe a cheese platter for those who want to continue into the night!
My absolute favourite festive meat is a boneless smoked gammon, cooked in a fragrant stock made with onions, celery sticks, cloves, bay leaves and peppercorns (or cooked in apple cider), then left to cool overnight wrapped in a blanket – pot and all. The next morning, the meat is so tender that it almost falls apart! I serve it with a sweet mustard sauce and some cranberry preserve. It is best eaten at room temperature, so it will be perfect for our feast.
I know there are a lot of red meat fans in our family, so I also serve some beef on this platter. The beef is not as tender as the pork (unless you use fillet), but still tastes great with the mustard sauce.
Thanks to everyone who have been following my blog over the past 2 years! I have made so many new friends, and look forward to many more years of cooking, dreaming up recipes, and enjoying the amazing produce that is available here in SA. I have been so privileged to be working with the absolute dream team at The Pretty Blog (Tasha and Nicola) in 2012. Here's to many more fabulous food posts in 2013!
I wish you all a very blessed festive season with your family and loved ones. Check in every Wednesday on The Pretty Blog for your weekly food fix.
Ingredients: Gammon
1 x smoked, boneless gammon (tied up with string)
water
1 onion, diced into quarters
3 celery sticks, cut into chunks
3 whole cloves
2 bay leaves
5 peppercorns
Method:
Put gammon in a large pot, then pour in water to cover slightly. Add all remaining ingredients and bring to the boil.
Turn down heat and simmer (covered) for 30 minutes per 500g plus an extra 30 minutes. For a 2 kg gammon, it would work out to 2h30min.
Remove pot from heat, then leave to cool slightly to 30 minutes, covered. Now wrap in newspaper, then in blankets, and leave to cool for 8 hours or overnight.
Remove blankets and newspaper, open up pot and discard liquid. Remove extra fat from meat, and set aside (leave in the fridge until 30 minutes before serving, to return to room temperature).
When ready to serve, carefully slice, arrange on serving platters and serve with sauces.
Ingredients: Beef
 1 large cut of beef (I used aitchbone, as it is an economic cut, but please use fillet if you can afford it!)
15-30 ml canola oil
salt & pepper
400 ml beef stock
Method:
If you are using an economical cut of meat, follow the instructions below. However, if you are using a great quality beef fillet, just grill it in a hot pan or over a hot fire, then let it rest and slice before serving.
With a sharp knife, remove all tendons and tie the meat neatly together with a piece of string, if necessary.
In a hot pan, add oil and sear beef on all sides and season with salt & pepper.
Add stock, then turn heat down and simmer on very low heat for 90 minute to 2 hours, according to the size of the meat. The meat should still be pink on the inside.
Remove from heat, discard liquid, and cool. Slice into very thin slivers just before serving. Serve with sauces.
Sweet mustard sauce:
 125 ml white grape vinegar
125 ml lemon juice
150 ml white sugar
3 eggs, whisked
2 heaped teaspoons dijon mustard
a pinch of salt
In a medium size pot over low heat, heat vinegar, lemon juice and sugar until sugar has dissolved. Remove from heat and cool slightly for 10 minutes.
Add eggs, mustard and salt, then return to medium heat and stir until sauce has thickened. Remove from heat and cool. Store in a closed container in the fridge. This sauce will last at least 2 weeks in the fridge.
Cranberry preserve:
1 cup (about 115 g) dried cranberries
250 ml red wine
30 ml sugar
1 x cinnamon stick
a pinch of ground cloves
1 strip orange peel
Put all ingredients in a small pot, then simmer over medium heat for 5-10 minutes. Wine should reduce to a thick syrup, but not reduce completely.
Remove from heat,  discard cinnamon stick and orange peel, cool and store in a closed container in the fridge. Will last at least 2 weeks in the fridge.
Credits:
This post was especially written for The Pretty Blog by Ilse van der Merwe from The Food Fox.
Food & recipes: Ilse van der Merwe.
Photography: Tasha Seccombe.
Styling:  Nicola Pretorius, Tasha Seccombe & Ilse van der Merwe