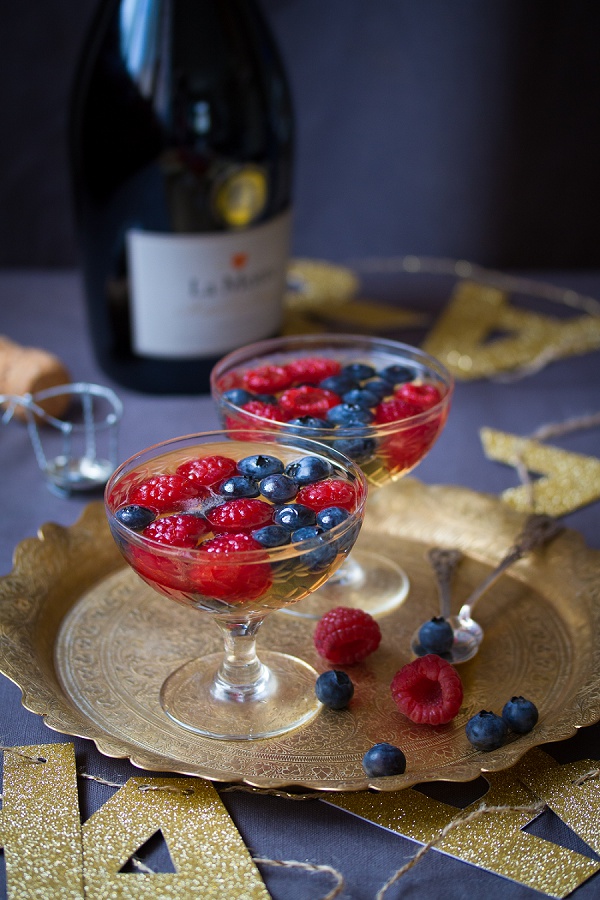 I'm sitting in the lounge at my parent's house in Keurboomstrand, looking out over the tops of the ancient milkwood trees onto the beach. It's a magnificent day, and we've been outside catching up on sunshine and seawater since 07h00 this morning.
New Year's Eve at Keurbooms is always a casual affair: large cheese platters, fish pâté and other small bites – no formal dinner. The one thing that we never go without, is bubbly. Not expensive stuff, but sparkly nonetheless.
On the 31st of December 2012, I went the extra mile and made some fancy dessert – light but full of flavour. These jellies were made from sparkling wine (or champagne, if you can afford it!), with fresh berries locked into the beautifully golden clear centres. They were infused with lemon and orange rind, and they can even
be made a day in advance.
This is a beautiful, stylish dessert for grown-ups, and the perfect way to end off another year of hard work, amazing friendships, and fantastic new projects. I simply cannot wait to see what 2013 might bring for all of us. Happy New Year everyone!
Ingredients:
750 ml champagne or sparkling wine (dry/brut)
15 ml powdered gelatine
180 g sugar
4 strips lemon zest
4 strips orange zest
250 g mixed fresh berries (choose from blueberries, raspberries, blackberries, strawberries etc.)
Method:
In a small cup, pour 3 tablespoons of champagne over the gelatine, and leave to sponge for 5 minutes.
In a saucepan, heat remaining champagne over medium heat with sugar and zests, stirring gently to melt sugar. Do not boil.
Remove from heat, then stir in sponged gelatine. Leave to cool for about 45 minutes, then remove zests and pour into wide champagne glasses.
Add berries, then refrigerate for 4-6 hours or overnight.
Serve cold.
Credits:
This post was especially written for The Pretty Blog by Ilse van der Merwe from The Food Fox.
Food & recipes: Ilse van der Merwe.
Photography: Tasha Seccombe.
Styling:  Nicola Pretorius & Tasha Seccombe.