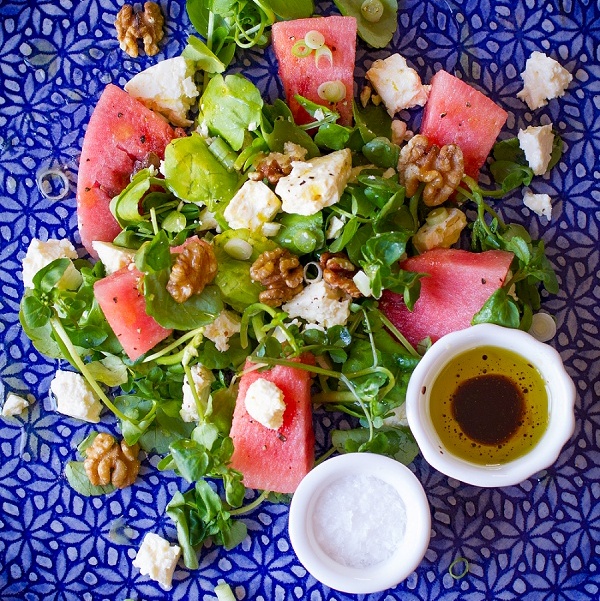 Today is the 7th of January 2013, and most of us have decided on a set of New Year's resolutions. I can bet you that somewhere on that list is the resolution to lose weight in 2013 – don't worry, you are not alone!
As most of you might know, I am not really a low-fat recipe writer. Not at all, actually. Most of my recipes contain butter, sugar, cream or oil (or all of the above). These are the things that make food taste great! But sometimes there is a place for lighter dishes, and I love them just as much as I love my full-fat food.
We are still enjoying the height of summer, and watermelons are abundant. These beautiful huge green bellies with their crisp, sweet, juicy centres epitomise summer in South Africa. They are also very versatile, and can even be eaten in savoury salads. This is my version of the very popular "watermelon & feta salad" with watercress, spring onions and walnuts.
I dress this salad very lightly with a sprinkle of olive oil and a splash of balsamic vinegar. You can also add some freshly ground black pepper, but salt isn't really needed because of the salt content in the feta. Use low-fat feta if you prefer.
Ingredients: (adjust quantities according to the size of your party and your preference – no rules apply!)
watercress leaves
fresh watermelon, green & white parts removed, sliced and roughly cubed (remove seeds if you want to make the effort)
feta, roughly crumbled
spring onions, finely sliced
walnuts, very roughly chopped
black pepper
extra virgin olive oil
balsamic vinegar
Method:
On a large serving platter, arrange watercress leaves, then watermelon, then feta, then  spring onions and walnuts. Top with some freshly ground black pepper, then dress very lightly with olive oil and balsamic vinegar. Serve immediately.
Credits:
This post was especially written for The Pretty Blog by Ilse van der Merwe from The Food Fox.
Food: Ilse van der Merwe from The Food Fox.
Photography: Tasha Seccombe.
Styling: Tasha Seccombe & Ilse van der Merwe.