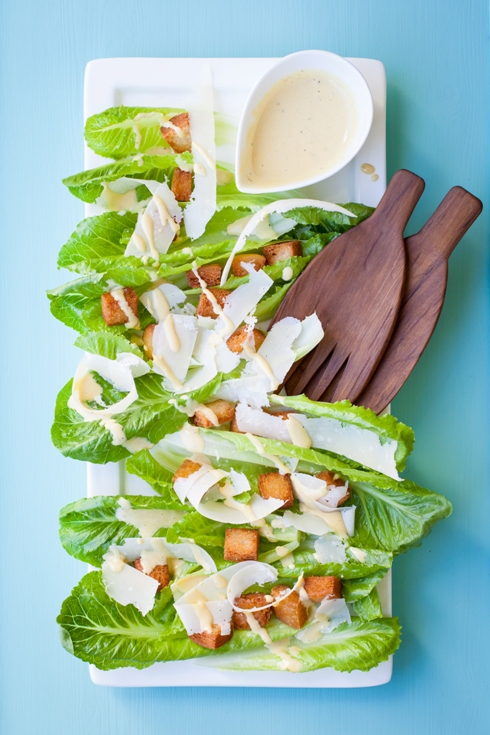 Someone once said that you can judge a restaurant by how well they make a Caesar salad. I have to agree. It is such a simple salad, but one of my absolute favourites.
My ultimate Ceasar salad can be found on the tapas menu at The Common Room at Le Quartier Francais. A small portion of perfect cos lettuce leaves drenched in a tangy Caesar dressing (the BEST!) with shavings of parmigiano reggiano and freshly made croutons. Simple, but utterly scrumptious.
This is my version of the delightful, classic Caesar salad. It's all in the dressing, so be generous. Use only very fresh small cos lettuce leaves, real parmigiano reggiano, and don't be afraid to eat the salad with your hands!
Ingredients for dressing:
2 egg yolks at room temperature
30 ml lemon juice
2 anchovy fillets
1 clove garlic, sliced
5 ml Dijon mustard
5 ml Worcester sauce
30 ml finely grated parmigiano reggiano (parmesan cheese)
a pinch of salt and a grinding of pepper
50 ml canola oil
For the croutons:
1/2 slices of white bread or sour dough bread or ciabatta, cubed
vegetable oil for frying
For the salad:
one small head of cos lettuce, broken into separate leaves and rinsed well under cold water
shaved parmigiano reggiano
Method:
In a tall cup (I use a 750 ml plastic measuring jug), add egg yolks, lemon juice, anchovies, garlic, mustard and cheese. Season with salt and pepper, then give it a proper whizz with a stick blender.
With the stick blender's motor running, add the oil in a thin stream to create a thick sauce, very much like mayonnaise. Set aside.
In a small saucepan on the stove top, heat oil (if you have a thermometer, it should be around 160 C). Add bread cubes and fry until golden brown – it only takes about 30 seconds, so watch them carefully. Drain on kitchen paper and set aside to cool.
On a large flat platter, arrange washed cos lettuce leaves (I always give them a spin in my salad spinner to get rid of excess water, but you can also just drain the water with a clean tea towel). Top with shaved parmigiano reggiano and croutons, then drizzle with dressing. Serve immediately with extra dressing on the side.
Credits:
This post was especially written for The Pretty Blog by Ilse van der Merwe from The Food Fox.
Food & recipe: Ilse van der Merwe from The Food Fox.
Photography: Tasha Seccombe.
Styling: Nicola Pretorius, Tasha Seccombe & Ilse van der Merwe.