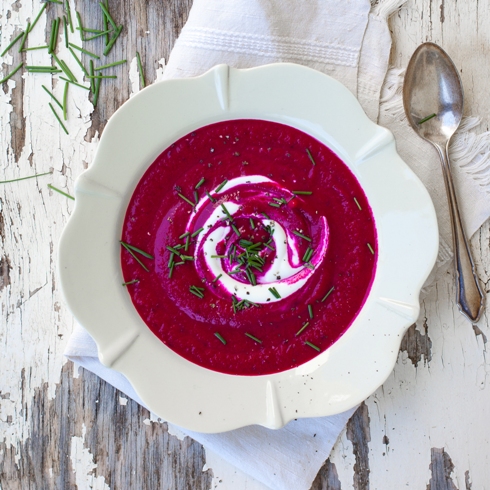 My friends at Genesis Farm surprised me the other day with another basket full of beautiful organic vegetables: an assortment of chillies, some quirky-looking carrots, perfectly round squash, a few large beetroots, and the most beautiful red noodle beans that looked like purple little snakes!  It's always such a treasure to cook with organic produce that's just been picked from the farm.
The first thing I made was a summery beetroot soup – something that's meant to be eaten cold, but can also be enjoyed warm. The organic beetroots were just so sweet and full of flavour, and really didn't need a lot of work to be turned into something special. And the colour is quite spectacular!
This is my version of a cold, summery beetroot soup – perfect for a light rustic lunch, yet striking enough to serve as a starter at a fancy dinner table. Add a dash of good quality vodka to turn it into a classic Russian "borscht".
Ingredients:
6 large organic beetroots, trimmed and washed (not skinned)
400 ml chicken stock
30 ml lemon juice
30 ml chopped chives
50 ml double cream Greek yoghurt (or crème fraiche)
50-100 ml cream (optional)
salt and pepper to taste
Method:
In a large pot, add beetroot and cover with water. Bring to the boil, then simmer for about 60 minutes until tender (smaller beetroot will cook quicker). Remove from the heat, then drain water and let it cool until easy to handle.
Remove skins (they should come off quite easily if just nudged with your fingers). Don't worry if your hands stain, just wash them well with soapy water afterwards. The red colour on your hands should disappear after a few washes during the day.
Cut the beetroot into smaller chunks, then add them to a food processor with the stock, lemon juice, chives, yoghurt, cream, salt and pepper. Process to a very smooth consistency, then test seasoning and add more salt/pepper if necessary. Remember, cold soup will need more seasoning than hot soup.
Refrigerate until ready to eat. Serve cold or at room temperature with a swirl of extra yoghurt or cream and some chopped chives.
Tip: If your soup is too thick, add a bit more chicken stock. If you are using small beetroots, start by adding less stock. The soup should be thick and really smooth, but not thick like baby food.
Credits:
This post was especially written for The Pretty Blog by Ilse van der Merwe from The Food Fox.
Food & recipe: Ilse van der Merwe from The Food Fox.
Photography: Tasha Seccombe.
Styling: Tasha Seccombe.